Steve James covers Chicago neighborhoods end to end: the people, the problems, the politics and recent protests. This thorough and engaging 5 part series at times feels more like a newscast than a documentary focusing on "The City That Works." And it's an example of what's going on in big cities across the nation.
This is the fourth collaboration of twice Oscar nominated, producer, director, cinematographer, editor, James with Emmy award winner and producing partner, Zak Piper. James is known for the acclaimed documentary, Hoop Dreams, following Michael Jordan wannabes from high schools in and around Chicago. 
This portrait of the city started out as a film about the neighborhoods and the Mayoral race when Rahm Emanuel decided not to run for re-election after 2 terms. James had his work cut out for him following 14 colorful candidates vying for the office. That's when Kartemquin Films turned it into a 4 part series for National Geographic which premiered at the Chicago International Film Festival. But James and his team added a 5th segment when COVID hit and then Black Lives Matter protests filled the streets after the death of George Floyd.
We interviewed James and Piper who told us that they really had no set structure for the film when they began. They just ping ponged from one neighborhood to another showing where it was on a map and the name of the area. They effectively show the diversity of the city, but also how segregated racially and economically it is from the North to the South and West sides.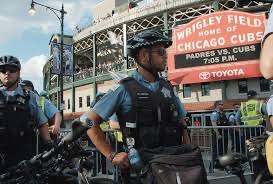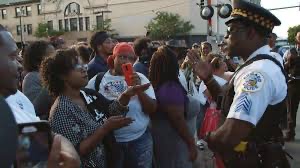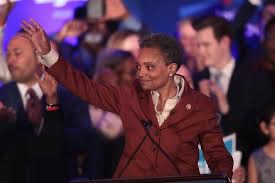 Covering the Mayoral race is a real lesson in bureaucracy.You see several of the candidates go through challenges proving their petition signatures are valid in the most time consuming, picayune, nail biting process that could make anyone scream. James simply puts his camera at the table and lets the insane process play out. It's especially interesting in the case of candidate Neal Sales Griffin who as James shows, is so pleasantly patient and optimistic. 
Segment #3 follows the candidates as they campaign, have press conferences, and work the neighborhoods. Eventual winner, Lori Lightfoot, is followed going door to door in freezing conditions even though the filmmakers almost got brushed off by her handlers. That didn't stop James from blowing past them to get permission from Lightfoot herself and you get to see her work her magic on potential voters. Lightfoot became the first Black LGBTQ female to become Mayor, winning every precinct.
It's also fun to see the other candidates and their handlers in action. It seems James uses Willie Wilson for comic relief as hegives out big checks to churches to influence votes. Former White House insider Bill Daley is shown bringing in Al Gore in to speak for him to little effect. The funniest is when Paul Vallis, a former CEO of Chicago Public Schools, was continually leaving iPads (9) in taxis and was caught on camera after a campaign stop confessing he'd just left another one, right on cue. James pulls back the curtain on the newspaper editorial board meeting where the candidates get pretty contentious, albeit entertaining, as they make their case for an endorsement.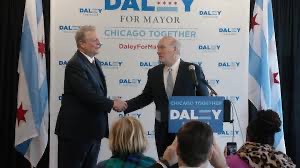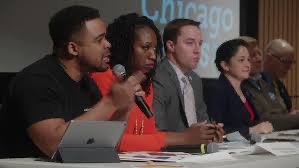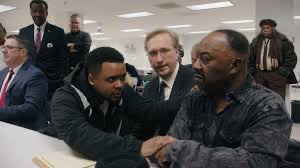 The 5th segment is so current it's more like watching the evening news, rather than a documentary on past events. When the streets erupted in June, James' son, Jackson, went solo with his camera, fearlessly covering the marches, protests, and even the looting. The visuals are rough and disturbing, showing the diverse protesters going up against the police. 
James also covers how some neighborhoods are changing, or being forced to change. The Lincoln Yards Project is a huge gentrification project in the affluent North Side. James exposes the backstories of how it got financed, rezoned, and introduces the owners of a one-hundred-year-old bar who are trying to save their legendary Nelson Algren themed joint.
Chicago has an abundance of colorful characters and neighborhoods, each with their own personality, and culture. Music Director, Will Miller Resavoir adds more flavor with music indicative of each neighborhood. Steve James and his team of filmmakers have succeeded in capturing the essence of Chicago, but with history being made in this city every day. Will they keep adding more segments? We hope so. 
Kartemquin Films         Five Segments         
Premiered on National Geographic.  Now available on Hulu. 
The post City So Real first appeared on Movies and Shakers.
from Movies and Shakers https://ift.tt/34PPbcn