Why in the world would such an amazing cast take on this predictable, cliché written, slapstick family comedy? Robert De Niro, Uma Thurman, Christopher Walken, Jane Seymour, and Cheech Marin all have far more talent than this script delivers. Director Tim Hill has plenty of experience writing and directing entertaining movies for kids (Sponge Bob, Square Pants, Alvin and the Chipmunks) but this isn't one of them. Maybe it was just fun for these seasoned actors all to go old style doing physical and rude comedy getting messy, doing prat falls, rolling off roofs, and playing a violent version of trampoline dodge ball. 
Based on the award-winning book by Robert Kimmel Smith, the screenplay was written by Tom J. Astle and Matt Ember. It's not unusual for grandparents to relocate into their children's homes for a variety of reasons. 
De Niro is the cantankerous Grandpa whose reluctant move into his daughter (Thurman) and son-in-law's (Rob Riggle) house pushes his grandson into the rodent and bat infested attic. Resentment is high and finally comes to blows with plans to make Grandpa so uncomfortable he'll either move out or give grandson Peter (Oakes Fegley), his room back. Fegley is an accomplished child actor who has done a fine jobs in Pete's Dragon, The Goldfinch, and, in particular, Wonderstruck. Fegley's character has his own problems starting middle school with the older kids seeing he and his friends as targets for abuse. Now he's getting it at home, too! Life for tweens just isn't fair.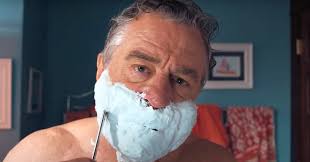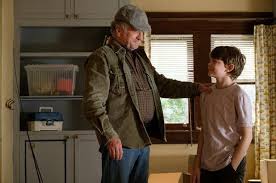 His older sister Mia, (Laura Marano), is also a piece of work. She's the traditionally temperamental teen sneaking as much time with her boyfriend as possible, much to the chagrin of her helicopter Mom, Sally (Uma Thurman). 
Thurman as that Mom seems to be going through the motions, as is Rob Riggle, the placid Dad who is just trying to stay off Grandpa's radar. The best scenes are De Niro with littlest sister, Jennifer, played by Poppy Gagnon, who talks with a cute little lisp. Theirs was the best chemistry of the lot. Even grandpa with potential girlfriend, Diane, (Jane Seymour) was a stretch that was not set up well. 
Even though they profess their love for each other, Peter declares war on Grandpa to get his room back. It's scene after scene setting up what could become booby traps for Grandpa and his nemesis grandson. The slow paced dodge ball game was the height of inanity, including when Cheech Marin's character's dentures end up bouncing on the trampoline.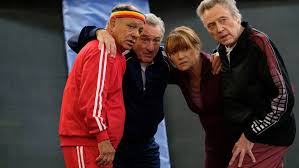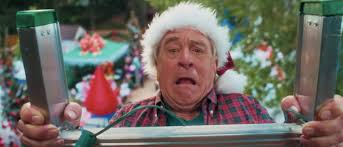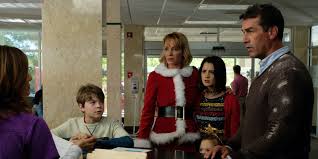 The climax is Jennifer's birthday party in their backyard which has been magically decked out over-the-top with North Pole decorations, lights, and more. Talk about Christmas overload! And of course, Santa Claus is the surprise guest who presents even more mayhem that simply and literally falls flat.
It's all very predictable and supposed to be funny and fun with a heartwarming meeting of the minds ending with hugs. This could be a family film to see at a time when we all need any kind of silly distraction. But we found this to be a sad misuse all of these amazing actors drawing more groans than laughs. It may have been better to see this with an audience of kids to see how they responded. Seeing kids' films should make you laugh and feel like a kid yourself again, but this isn't it. 
101 Studios         1 hour 34 minutes           PG        In theaters now
The post The War with Grandpa first appeared on Movies and Shakers.
from Movies and Shakers https://ift.tt/36MJBsG