Director Julie Taymore uses her Broadway stage directing acumen telling the gloriously adventurous life of activist Gloria Steinem. But some judicious editing could have helped the pacing of this 2 hour and 20 minute film. Some of the scenes seemed unnecessarily slow in getting the point across. That said, Taymore spins the tale of Steinem's life from childhood with fascinating stories of this gutsy writer who broke barriers along the way. 
Julianne Moore shows great likeness in appearance to Steinem and carries her subdued  demeanor and soft way of talking well. Alicia Vikander as the young activist/writer fills the bill, but is stiffer in the role of a meek but attractive woman trying to be taken seriously in a man's world. 
They are 2 of the 4 Glorias who break in to talk with each other at different stages and ages revealing secrets and regrets of this life well-lived. Ryan Kiera Armstrong plays the youngest and Lulu Wilson plays the teenage Gloria. The film covers Steinem's life based on the memoir of her adventures and what she learned from them in My Life on the Road. 
The film shows how she traveled solo in India, created Ms. Magazine, fighting, supporting and protesting for women's rights, even became a Playboy bunny to write an article exposing their ludicrous rules in costume pandering to their male customers.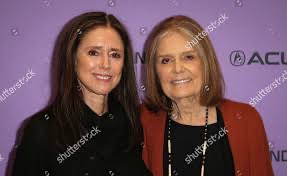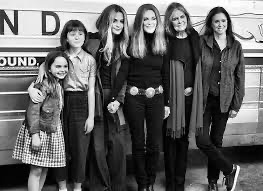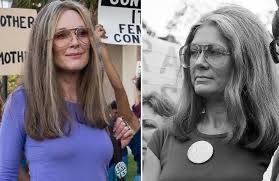 The film doesn't follow her life chronologically, bouncing around her jobs, travels, and ups and downs in her personal relationships and self discovery. Taymore intersperses the Glorias in black and white on an old bus reminiscing about their choices and mistakes from her difficult childhood to her activism. 
Her father, Leo, (Timothy Hutton) was a traveling antiques dealer and dreamer who taught his daughter to travel because "Travel is the best education. It's the only education really." Her mother. Ruth, (Enid Graham) was a frustrated writer who suffered a nervous breakdown leading to severe depression. She was not there for Gloria growing up. Dad took off when Gloria was young, and her parents divorced. Gloria still loved both, even though they were more involved with their own lives than hers. 
She inherited her passion for writing from her mother and breaking through the male dominated magazine publishing world became her focus. Her Dad's wanderlust made her fearless. The film shows how stage fright almost got in the way, but encouraging friends, a speech therapist, and her need to speak up for her causes helped overcome it. 
The political climate was ripe during the 1960's when political activism and women's liberation gave rise to protests to burning of bras. What better symbol of freedom! Steinem finally realized that, with help from her female compatriots, Dorothy Pitman Hughes (Janelle Monáe) Flo Kennedy (Lorraine Toussaint) she could spearhead publishing a women's magazine of their own. Ms. was the first such publication that became highly successful. 
Taymore embellishes the film's look using Broadway lights and music in scenes depicting episodes from Steinem's life. The director shows off Gloria's tap dance skills in a Black barber shop as girl becomes a neon lit performance until police show up to stop the show exhibiting blatant racism. Now in her 80's, Steinem has tap danced upon request at speaking engagements.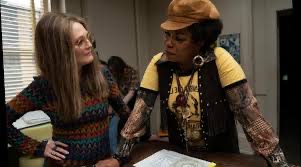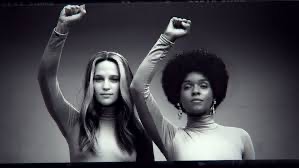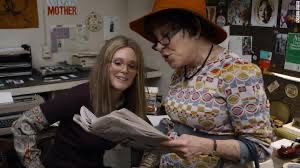 Interspersed with archival news footage, including news broadcasts and Women's lib contemporaries like Congresswoman and Presidential candidate, Shirley Chisolm, gives the film some historical context as does Coretta Scott King with many more. Bette Midler as lawyer and Congresswoman, Bella Abzug, gives personality to the politics and the movement. Midler is, at times, cartoonish, but Abzug was a colorful character, and adds some much needed energy in contrast to the low key Steinem. 
Taymore also uses archive footage of the 2017 Women's March, pink knit pussy hats and all, and is still, at 86-years-old, a prominent activist in the woman's movement. As at the end On the Basis of Sex, of the life of the late RBG, Ruth Bader Ginsberg, Steinem, herself, is seen at the end of this film. Taymore shows her  speaking at the Women's March and then seen in a pull back revealing her on the bus with all of the Glorias. It does bring the film full circle with the stages of her life.
Taymore gives a complete history of Gloria, but we're not sure it was necessary to delve as deeply having all four Glorias in the film. The scenes on the bus symbolizing her life journey explain her motivations, but drag the film down. Still, this film explains why Gloria Steinem is still on the front line fighting for women's rights. 
Roadside Attractions/Amazon Prime   2 hours 19 minutes     R
The post The Glorias first appeared on Movies and Shakers.
from Movies and Shakers https://ift.tt/3nhQp7v