This theater of the absurd with lessons how not to be a family is hard not to like. Writer Director July Miranda creates a dramedy that is alternately infuriating, befuddling and unnerving, but uniquely creative. Get ready for awkward humor with some nervous laughs. 
Miranda uses her performance arts skills on a journey through the seedier side of LA to profile Old Dolio, a curious, 26-yer-old woman played by Evan Rachel Wood in a bravura performance. She been raised like a lab rat by unorthodox parents, (Richard Jenkins and Debra Winger). They are totally devoid of human tenderness. Nobody is really taught how to be parents.
Who could raise a child like this? Her grifting, swindling, thieving parents Robert and the limping Theresa Dyne (Jenkins and Winger) imbued her with deep distrust of everyone especially emotions. Everything they do is transactional, motivated by profit and that includes stealing. Robert and Theresa split everything with Old Dolio 3 ways. She's not a daughter. She's a partner. Kajillionaire is what Old Dolio and her peculiar family were aiming to achieve as their goal.
She doesn't know she's missing love or even know it exists! Early in the film, we realized that Old Dolio was about to go on a journey. July makes it fun to watch this character's transformation discovering what it means to be human. It starts when Old Dolio attends a session at a new parenting-class just to pick up a quick 20 bucks. Listening to the people in the class make her start to wonder. 
Evan Rachel Wood takes an unexpected turn playing the gawky, androgynous Old Dolio (named after some weird neighbor). Wood ably never lets her character become too cartoonish or silly. She has extremely long, stringy hair, a monotone voice, and clothes that don't fit. Old Dolio's demeanor is completely ill-at-ease at all time, with arms hanging long and forward, always moving like a robot or automaton.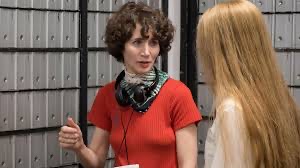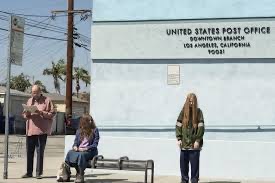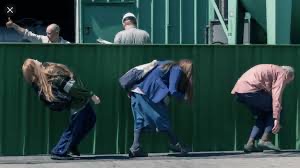 There is a line to be drawn between Kajillionaire and two other celebrated movies about families engaged in small-time crime, Shoplifters and Parasite. But while they cheat and steal because they've been poor their entire lives, the Dyne parents are clearly educated and well-read, but have no emotional responsibilities. They're just business partners who have  chosen to drop out of conventional society to pursue their own life of crime for profit. Yet director July finds a way to give them a bit of charm. They are totally committed to making their schemes work and they need rent money for their home-sweet-home which is office space that's part of a bubble factory. 
The closest thing to a family activity is scraping of mounds of pink foam that seeps through the walls daily in their rented space joined to the bubble factory. They're always behind in the rent and behind removing the foam from the walls in compliance with their landlord's demands. They have to sneak by the landlord to avoid being interrogated. Old Dolio does what looks like a painfully sharp backbend to keep from being seen by him over the fence. It is so awkward. 
Even though the pace is sometimes sluggish, Director July uses Emile Mosseri's (The Last Black Man in San Francisco) music effectively to punch up and give some emphatic punctuation to the unfolding story. Sebastian Winterø's camera gives us a stark, bright-sunlit view, but what his cinematography really captures is the underbelly of L.A. no tourist would ever want to see.
Tremors from little earthquakes under their feet create questionable moments of family bonding. They seem to be used by July as chapter markers for the story line. Dad Robert, is terrified of the rumbling ground and just keeps hoping for a quick death when "The Big One" hits. It's an entreating device that is unnecessary and given too much importance in the film. These people are already shook beyond belief.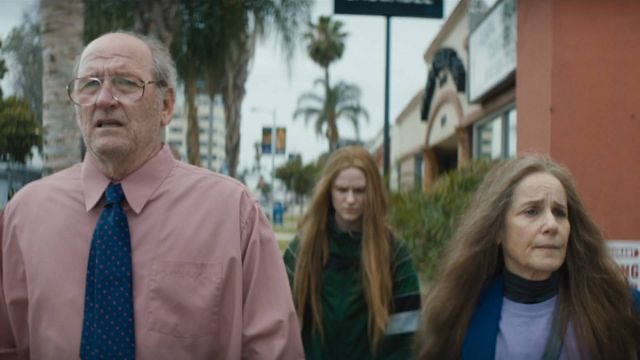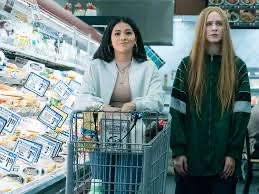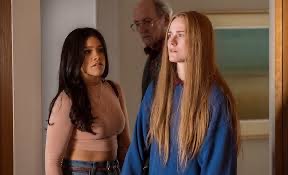 While pulling a scam that puts them on a plane to NYC, Robert and Theresa engage in a long conversation with seat mate, Melanie (Gina Rodriguez). Rodriguez's role in this film is a total surprise and she plays her character to perfection. By the time they land, she is part of their team, ready to pull more jobs. Rodriguez succeeds in opening Old Dolio's eyes as get to know each other. Melanie devises a plan to get them all more cash through her own contacts which make Old Dolio realize there may be more to life than money.
While Old Dolio has never known what a mother's love is supposed to look like, Melanie is constantly taking calls from her own. They both have Mother issues which helps them learn about emotion.
Da'Vine Joy Randolph plays two roles in the film, one, as a masseuse Old Dolio thinks might be an easy mark, and then, surprisingly shows up as a waitress serving Melanie and Old Dolio. The creative weirdness of character interaction continues.
Even though it's ostensibly an absurd comedy, this movie ought to resonate with anyone who's ever felt isolated. There is no handbook on how we're supposed to express love, and that may explain the triumphant, long closing shot. Old Dolio may have been deprived growing up, but this amusing journey shows that Kajillionaire is full of heart. 
Focus Features (Universal internationally)               106 minutes                R      In Select Theaters
The post Kajillionaire first appeared on Movies and Shakers.
from Movies and Shakers https://ift.tt/3i4Cm1h