This movie doesn't work on multiple levels. Instead of paying homage to the Black Lives Matter Movement the plot devolves into a disjointed, cartoonish, blood-lust revenge story. It's preposterous, outrageous and some of the acting is just over-the-top. Unfortunately, long, languishing shots of beautiful plantation visuals can't make up for the time line confusion and the brutal violence of slavery in this film.
Jonelle Monae is a multi-talented, singer/songwriter who has established herself as an actress in Moon Light and Hidden Figures. But this is different. It's 12 Years a Slave plus Gone With the Wind from the slaves' point of view and a horror thriller a la Jordan Peele's Get Out and US. It's painful to watch and even more painful to understand. 
This is the directorial debut for Gerard Bush and Christopher Renz who also also wrote the script. The opening scene is a 8 minute tracking shot well planned by Cinematographer Pedro Luque Briozzo (Jacob's Ladder, Extinction) to set the scene.  It shows the dichotomy between the Black slaves with Confederate soldiers and a White family at their lush plantation. There are a couple of wobbles but it is impressively long leading up to the White slave owners' mansion. The slaves are being brutalized to keep silent as they pick cotton and the film just doesn't get any better from there.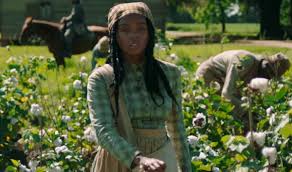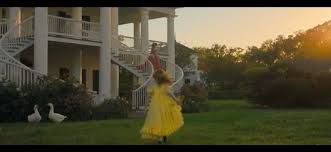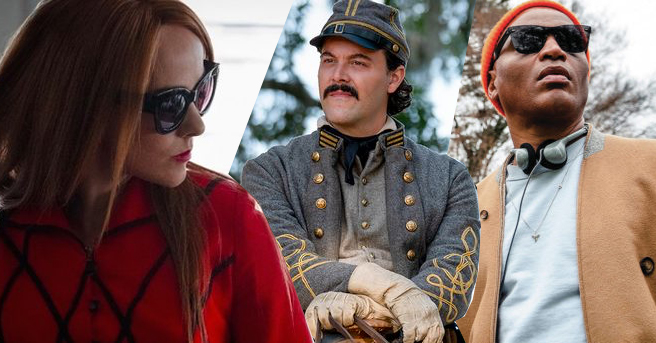 Eden (Monae) watches in silence but is hand-picked, branded slave of the man she's told simply to call Him, (Eric Lang). The first 50 minutes at the plantation setting puts the audience squarely in the horror of slavery with repeated instances of torture and death. Curiously, the cotton picked by the slaves is burned in front of them. That's a clue that there's more to this place. 
We've also seen a little girl and her Mother, the wife of the White owner of the plantation. Jena Malone (Donnie Darko, The Neon Demon) is scary from the start. She was given book "They Were Her Property" by Stephanie E. Jones-Rogers which helped her characterization. White women during Civil War times were often more ruthless than men and got rich owning and trading slaves rather than land. 
About 55 minutes in, Eden suddenly wakes up from a disturbing dream on the plantation and is in a rich, urban setting. Eden is now Veronica, with her ideal family. Her little girl is perfect and so is her husband. She is a quasi Oprah and a renowned therapist, adept at yoga, traveling to speak at a conference in New Orleans about her new hot book. She gets a weird vibe from the hotel desk clerk, but is all happy when she meets up with friends and colleagues, Julia (Kiersey Clemons) and Dawn, (Gabourey Sidibe- Come as You Are, Precious) who just want to go play together. 
When this diverse trio of females gets to the posh restaurant and are put at an undesirable table by the kitchen, Dawn goes rogue on management to get a suitable table. Sidibe is a good actress, but here she plays so over-the-top and phony, especially when she dresses down a man who sends over a cheap drink to meet her. We never see his face, nor that of their waiter who she also berates.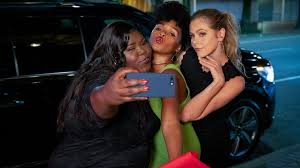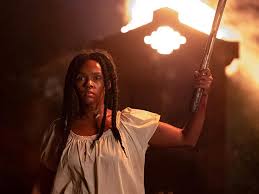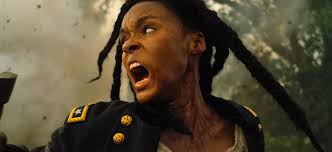 The film cuts Elizabeth (Malone) in a slinky red dress and spike heels walking slowly down a hotel corridor where she turns on fake Southern charm to get a maid to let her into Veronica's room. There, she purposefully pushes her possessions around, puts on Veronica's lipstick and smiles. The score interjects a sense of foreboding throughout the film composed by Roman GianArthur and Nate Wonder.
Veronica decides not to go partying with the girls after dinner and gets into the limo to go back to the hotel. Big mistake. She's screaming in trouble, and even though her buddies go by in a car next to her, they're too busy singing Lizzo's "Juice" song to hear her.
Now, she's at the plantation, in old Civil War Confederate digs being called Eden. Her desperate struggle to survive and escape kicks in, even showing off impressive yoga moves. The last chapter is the ultimate good vs. evil. She magically transforms into a steely-eyed martial arts expert, a champion equestrian and fearless rampaging revenger. There's gruesome bloodshed in what becomes more horror than thriller. The ending is contrived and unsatisfying, and will probably make you groan. 
Writer/Directors Bush and Renz put in a lot of effort dreaming up this plot which probably sounded better on paper than executed in this film. We were excited to see what Monae and Malone would deliver. But the warped timeline confused this sordid plot. The film quotes William Faulkner, "The Past is never dead. It's never past." But on this one, take a pass. 
Lionsgate         105 Minutes             R
The post Antebellum first appeared on Movies and Shakers.
from Movies and Shakers https://ift.tt/3cgaE0v