You get to know each and every one of these inspiring athletes and how they've overcome physical disabilities summoning the courage, talent and drive to compete in the Paralympic Games. Never complain about your own work out again. 
Directors Ian Bonhôte and Peter Ettedgui follow each athlete with new interviews and archival footage, from childhood to now. They show what physical diagnoses and challenges they and their parents have had to contend with on the road to fighting for greatness in the sports they love.  
You also get to meet the daughter of Dr. Ludwig Guttman, the man whose work treating injured soldiers inspired to use sport to heal them which led to  starting the games. Guttman left Germany leading up to WWII because he was Jewish but was able to treat soldiers at a Jewish hospital in Britain. Previously, soldiers with spinal injuries and amputated limbs were cast aside. Guttman decided that they could be rehabilitated physically to lead more normal lives which included sports. That led to recreational followed by competitive sport in 1948 and the first Paralympic Games in Rome in 1960.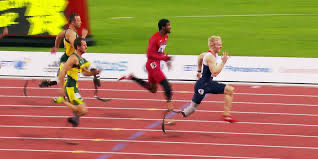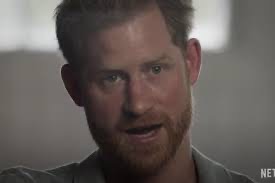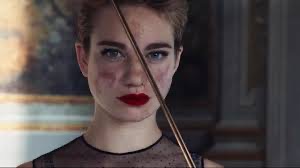 The Duke of Sussex, better known as Prince Harry and founder of The Invictus Games is an ardent supporter saying "There isn't anything else in the world that can bring you back from the darkest places than sport." The film also exposes the politics of running the Paralympic games alongside the Olympics from raising the money to picking the country where they will be held. These athletes train their hearts out getting ready to compete and any threat to be cancelled can erase years of training as well as hope to be able to compete at their best. 
Paralympic fencer, Bebe Vio, representing Italy, calls herself Rising Phoenix. Why? Because, "A phoenix can live and die and burn, and live again." That is true for all of these athletes. McFadden came down with meningitis as a child. Her face and body are still scarred, and she is missing multiple limbs. But she is strikingly beautiful with bright red lips always always appearing ready for battle. She is interviewed wearing her fencing equipment in what looks like a room in a castle. The dramatic core of the film is her quest for fencing gold. The championship match is monumentally tense. The music played along with the moves becomes like a ballet. You get to see the beauty as well as the concentration and athletic ability needed to compete in this sport.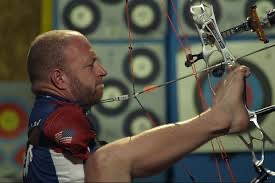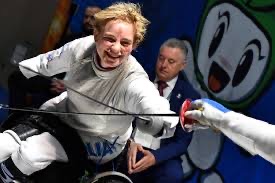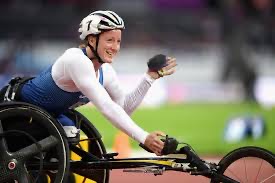 Matt Stutzman's aim with a bow and arrow is spot on even though he was born with no arms. You also see Matt as a child with parents who encouraged him be active and do things for himself from the get go. He's engaging with a great sense of humor, and self confidence in competition.  
Tatyana McFadden had spina bifida and was paralyzed living in an orphanage in Russia until she was adopted and brought to the U.S. at the age of 6. She says the moment she got into a wheelchair fit for racing, she knew it was for her. She's won 17 medals, 7 gold and is still going strong.   

Rugby is rough enough, but seeing Australian Ryley Batt tool around the court in Wheelchair Rugby is super tough. It's nerve-racking to watch the  players spin around the floor and slam into each other on the way to score. 
Amazing to see Cui Zhe, a female powerlifter from China. She may look slight, but she's amazingly strong. You'll wonder how she is able to do it. South African Ntando Mahlangu runs like the wind on prosthetic blades. Just getting to know Britain's Jonnie Peacock running on a blade in the 2012 Paralympics in London against the famed Paralympian, Oscar Pistorius. You see Peacock shocked at getting star treatment in front of Pistorius who surprisingly goes up to Jonnie before the race to give him encouragement. That scene and that race bring back very special moments. 
The Paralympics are huge and every bit as exciting as watching any able bodied athlete. As Prince Harry notes, it not only changes the lives of the athletes but of those in the stands watching. Directors Ian Bonhôte and Peter Ettedgui along with the editor Otto Burnham assemble insightful new interviews with archival film and tape to let these courageous athletes tell their own compelling stories. 
Netflix        1 hour 45 minutes      PG-13        Documentary
from Movies and Shakers https://ift.tt/2FTPedo