a
Music helps tell this story of a frustrated jazz trumpet player from a broken family who just wants to follow his passion full-time. The problem is that he has to live with, help support and contend with his mother and sister while raising 2 little girls from his own broken marriage. All he wants to do is play trumpet. 
This film is based on Ahamefule Joe Oluo's semi-autobiographical off-Broadway stage show, "Now I'm Fine. Written by Oluo, Lindy West and Charles Mudede (Police Beat, Zoo) who also directed, It took several years to raise the funds to produce the film. It's creative and imaginative, but also dark and depressing until music saves it at the end. 
Oluo's real sister, Ijeoma, plays his sister in the film. Annette Toutonghi plays his ditsy Mama with a lilting voice who keeps a menagerie of strange animals. Mama still carries a torch for the Nigerian professor she married who left when the kids were young. Aham, as he likes to be called, and Ijeoma resent their father who checked out decades ago to start over in his Nigerian village.  But Mama still instills the culture, customs and even wears the beautiful costumes of Nigeria at special times in the story.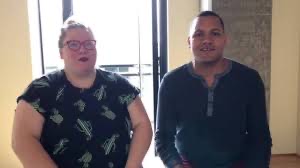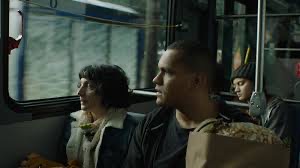 Aham bitterly resents his father, not only for leaving them high and dry, but for reaching out now with a letter and a phone call where he tells his father about his dream to be a musician. The father only says how "disappointed" he is in Aham. Mama tries to defend her ex-husband, but that only makes things worse. 
It doesn't help that Aham has to work a boring day-job to help support the family and then burn the midnight oil sitting in at jazz clubs around Seattle doing what he really lives to do. Uluo is a talented musician. We happen to have a professional jazz trumpet player in our family. You can tell when he plays that this is when he is really in his element. One very poignant scene shows  Aham in profile against the Seattle Skyline playing soulful horn for an audience of one, himself. It's a melancholy image. 
Aham's boss, played by Jennifer Lanier, kind of understands her burnt out employee. She is a real live-wire who adds some fun and compassion. We wish she had been used even more in the film as she added some light comedy to Aham's depressing situation. She's strict about work, but has a soft spot for him and tries to be encouraging. She even sends him home when, exhausted from working days and playing nights, he gets terribly sick. 
His doctor, played by Hari K. Konabolu, is another bizarre character. We kept thinking he was going to break into a comedy routine. After his first misdiagnosis, we were really hoping Aham would switch doctors.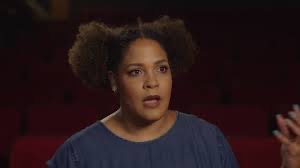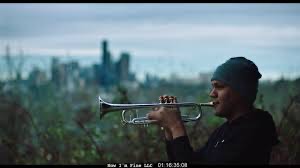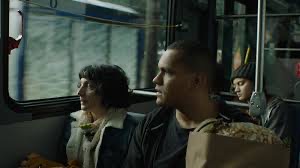 Aham contracts no ordinary illness. It's fairly gruesome. His immune system breaks down and his skin starts to disintegrate. He literally has to cut his scabby, bloody lips apart with a scissors when they get stuck together. He can't play trumpet anymore with those lips. It's as if someone cast a spell over him and he's living in purgatory. 
Then comes a confusing portion of the film. Is he really beginning to heal or is this a dream sequence showing his dream come true.The film uses too many long black outs like a stage play which makes you think, at first, that this is the end, but it's not. 
Instead, it leads up to a grand finale slowly revealing a big band in a glitzy stage setting with the musicians from the jazz clubs all dressed up plus singer, Okanomodé Soulchilde, singing full out in Nigerian dress. It is totally unexpected, and then it zeroes in on Aham playing doing what he loves best. Music helps tell Aham's semi-autobiographical story of broken family and it's journey out of emotional depths. Ahamefule's story about a family struggling to keep it together is creative, chaotic and cathartic,  as he  keeps the music flowing. 
Press Pictures                1 hour 32 minutes          Not rated
from Movies and Shakers https://ift.tt/3gpOuZY