Ron Howard's first documentary about a catastrophic event takes on more than the raging Camp Fire that leveled Paradise, California in 2018. Howard, drawn by the emotional stories of the residents who lost it all, shows their "cycle of grief" in great detail. With the Coronavirus pandemic ravaging the world now, this film is an odd parallel showing how a situation can spiral out of control, upending peoples' lives forever. 
We attended Director Howard's talk at Sundance in January about why and how he made the film. His interest stemmed from having relatives in nearby Redding which had a fire of its own, and he knew more people in Paradise. Howard, who has directed so many films (Apollo 13, A Beautiful Mind) has done two docs on famous music icons (Pavarotti and The Beatles). Howard had experience directing, Backdraft, but says that was nothing compared to Paradise. 
There is spectacular archive video on the ground and from helicopters shot by news operations and drone video showing the rampaging fires. It includes video taken with compelling audio by police dash-cams. But Howard was able to get the most devastating scenes taken by residents with their cell phones trying to flee the area on roads barely passable. You see the raging yellow and orange flames coming closer with black smoke against the disintegrating skeleton of homes. You can almost feel the heat. Five people actually died in cars. 85 people died in all. 50 thousand people were displaced and the scenes showing residents going through charred debris trying to salvage anything from their burned out homes is sad to watch.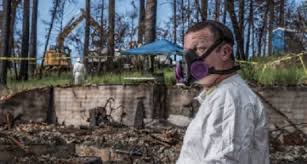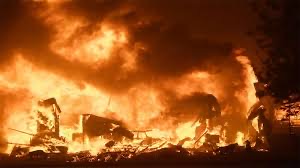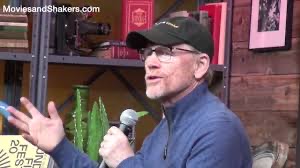 Howard admits he didn't really know exactly what he was after when he started this project until he started talking to the people trying to figure out how to put their lives and the community back together. He focuses in on three people in particular, the former Mayor, the Superintendent of Schools and a Police Officer.
Cinematographer Kelly A. Cook shot the three of the main characters who paint a picture of the insurmountable obstacles they faced. Colorful character, Woody Culleton freely admits that he was the town drunk who cleaned up his act to become Mayor of Paradise in 1981. He's been on the straight and narrow ever since. He is committed to the people he serves and a lot of fun. 
Matt Gates is a Paradise police officer who was right in the thick of it, round-the-clock trying to save whoever he could, including his own wife and kids. He's the guy you want on your side when tragedy happens. The dedication to his job took a toll on his marriage as well.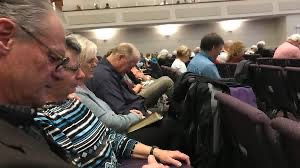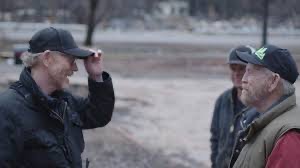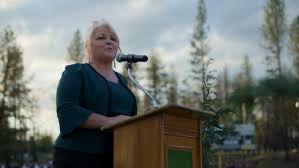 The film goes into why this happened. Climate Change causing temperature increase over time, 5 year's of drought combined with the old PG & E electric grid from 1921 with wires that ignited. And whoosh, it is described in the film as the perfect storm. PG&E was recently punished having to come up with $13.5 billion, but the potential for more disastrous fires caused by their grid has not been solved. The film even shows activist Erin Brockovich who came to Paradise 3 months after the fire to shine a light on PG&E's neglect. Howard follows the endless community meetings with residents, PG & E, FEMA, insurance adjusters and more trying get help and financial assistance they needed so desperately.
This time, Howard used his knowledge and vast experience as a filmmaker storyteller to tell a different kind of story. This very human documentary shows the trust the residents put in this empathetic director to share all. Hearing the residents recalling, in detail, the horror the night of the fire, and the subsequent struggles to restart their lives, is gut wrenching. But know that the film does end on an emotional high note. Howard shows Paradise lost, but on its way to being found. 
National Geographic    1 hour 35 minutes       PG-13 
from Movies and Shakers https://ift.tt/39Gaqym