Rosamund Pike gives her all as Marie Sklodowska Curie, but the uneven script can't keep Radioactive ticking. This film is definitely relatable to so many women who are still not being recognized for their work because of misogyny. It shows that not enough has changed since 1903. 
The film is based on "Radioactive: Marie & Pierre Curie: A Tale of Love and Fallout," the 1910 novel by Lauren Redniss. Director Marjane Satrapi (Oscar nominated for Persopolis) creates a dark and detailed film about the remarkable work the Curies did, but the structure of the film, with flash forwards and flashbacks, is confusing. There are missing links. 
Curie's life story shows a dedicated and brilliant scientist who was blocked repeatedly from taking credit for what became discoveries of the century, all because she was a woman. Marie was awarded 2 Nobel Prizes for her work, but the first was presented only to her husband, despite their work together on the discovery of radium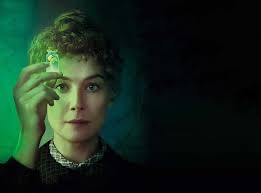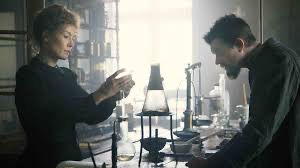 Screenwriter Jack Thorne does a credible job with dialogue, but the timeline is hard to follow. There are some ethereal visuals of a dancer whose flowing costumes remind her of the flames she uses in her experiments which is kind of interesting. And the scenes of the romantic courtship show a more human relationship between Marie and fellow scientist, Pierre, (Sam Riley). Their skinny dipping on their honeymoon is one example. 
Madame Curie is not portrayed as a nice person. Here, she is shown as angry, driven, and selfish. She is cold and abrupt, especially with her children. She had 2 daughters, one of whom also became a scientist as an adult played by Anya Taylor-Joy (Emma, The Witch). Taylor-Joy's scenes are impactful especially at the end of the film.That's when she goes with her mother to see Marie finally get recognition for her work, as Marie received her 2nd Nobel Prize. The women attending the ceremony start a standing ovation celebrating her achievements. 
But there are more scenes that show how stubborn and hard-hearted she was regarding Pierre's getting more attention for their work. Marie also had no conscience creating a scandal when she took up with Pierre's prominent colleague and friend, Paul Langevin (Aneurin Barnard) after her husband's tragic death.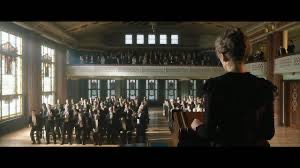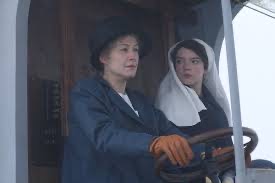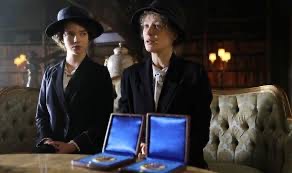 Director Satrapi shows how lucky Marie was to find Pierre who not only loved, but respected her knowledge and determination about science. Riley plays the more compassionate and loving of the couple. But Professor Lippmann (Simon Russell Beale –The Death of Stalin, Mary Queen of Scots) was her biggest obstacle. She had to fight for a lab and equipment and for any opportunity to continue her research. He continually and disrespectfully put up road blocks. 
Pike's portrayal of Marie is definitely worth noting and the accomplishments of Marie Curie are worth knowing. She helped find new treatments for cancer but her work was also used for horribly inhumane purposes as you see scenes from Hiroshima and Chernobyl. The best take away is that Marie Curie was a woman who didn't let gender stand in the way of her passion for science. But in spite of Rosamund Pike's excellent performance, this film does not light up the screen. 
Amazon Studios       1 hour 49 minutes           PG-13
from Movies and Shakers https://ift.tt/30H81PW