This is one sci fi, supernatural, super bloody, battle heavy film. Charlize Theron delivers her role with a vengeance as a fearless, immortal warrior, like a Mad Max plus! As Andy, short for Andromeda, Theron is the ring leader of a secret band of buddies she's fought with for centuries. And she picks up a new, young female protege on the way. Theron is always fighting. It's so physical, you may find yourself moving to dodge kicks and punches.
Based on The Old Guard graphic novel, by Greg Rucka and Illustrator Leonardo Fernandez, director Gina Prince-Bythewood's (Beyond the Lights, Love & Basketball ) concentrates more on going from one brutal combat scene to another with effective special effects showing how all their wounds heal so they can go at it again. There's a lot of blood, but the blood doesn't last long as bullet holes and knife stabs just heal and disappear. Author Rucka also wrote the screenplay and, unfortunately, he didn't concentrate enough on good dialogue to enhance the characters and their backstories.
It takes awhile to figure out what this secret, supernatural band of immortal warriors has already been through. They've participated over centuries in a living history of conflicts. Andy is getting tired of it all. She's world weary trying to make sense of her purpose, trying to right wrongs by having to go into battle. She doesn't think all her sweat and blood has made a difference. As time has gone on, she's become more and more selective and reluctant in getting involved. But when there's a cause she can't resist, she gathers her team.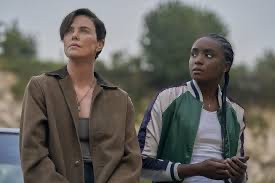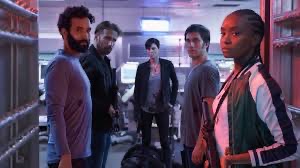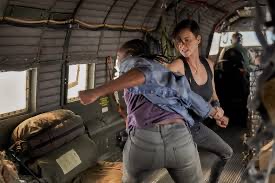 A new, youngblood suddenly emerges as an immortal candidate. She is a Marine named Nile (Kiki Layne) who's been killed in combat in Afghanistan, but she miraculously recovers without a scar. Andy shows up to kidnap this new immortal reluctant recruit. She's got plenty of attitude. Theron and Layne trained with a fight coordinator and a stunt coordinator for 4 months. One of the first scenes they shot together was a down and dirty battle against each other on a plane. It is heavy duty.
Kiki Layne made her mark in If Beale Street Could Talk as a rebellious teen fighting for justice in her Black community. Here, she goes from playing a tough Marine to being an even tougher warrior mentored by combat master, Andy. But neither she, nor we, know why she's been singled out. The only thing we know is that her father was a Marine who was killed in action when she was 11. Nile is trying to live up to the family legacy.
Director Bythewood picked a good cast for this comic book style epic. There's an original team of 4 led by Andy. Other members include her right-hand man, Booker (Matthias Schoenaerts, A Hidden Life, The Mustang), Joe (Marwan Kenzari), and Nicky, (Luca Marinelli). They've been through many wars together. One of the film's tensest moments deals with Andy's bestie from the past, Quynh (Van Veronica Ngo). Set back in the Middle Ages they are accused of witchcraft. The scene of Quynh being submerged in metal casing plays like a scene from a horror film.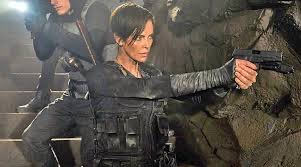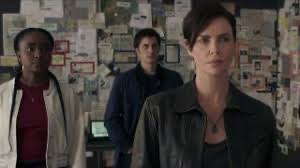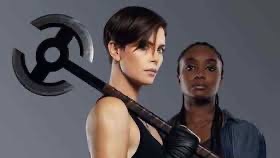 Andy and her team meet with former CIA agent Copley (Chiwetel Ejiofor, 12 Years a Slave) who wants to enlist their help for a mission. Andy is rightfully suspicious. Ejiofor's portrayal of Copley and his motivation is weak. It's graphically explained, but the emotional punch line doesn't ring true.
There are so many films where villains are scientists who want to experiment on someone with exceptional powers. And what better mark than warriors who never die. Merrick (Harry Milling- Harry Potter) is the creepy head of a Pharma company. We found Milling's character to be a kind of paint-by-the-numbers villain, and not strong enough.
It's always good seeing Charlize Theron fighting, and here, she gets to do so literally, to the death and back, for justice, freedom and humanity. If you're squeamish, just remember, this is based on a comic book, graphic novel and these warriors can come back to life. In fact, there is a strong nod at the end that this could be the first film of a new female led franchise. With delays of the big studio films, if you're looking for action during this "Summer of Streaming," Netflix may be delivering this as the closest thing to a blockbuster.
Netflix               2 hours and 5 minutes                    R
from Movies and Shakers https://ift.tt/300Rrd8