Ella Fitzgerald became the First Lady of Song because of her extraordinary voice and jazz vocal gymnastics. Leslie Woodhead's fascinating film details Ella's journey from a homeless Yonkers teen to a world class jazz master who dealt with gender inequality and racism.
Woodhead follows Ella's story from start to finish, chronologically, with stark archival footage in Harlem during the Depression through her magical performances around the world. But it also documents the trials and tribulations of her life starting with the death of her mother when she was just 13, having to become a street "hoofer" who loved to dance. She was supposed to dance at the first Amateur Night at The Apollo, but was intimidated by two dancing sisters she had to follow. Ella, decided to sing before an audience for the first time in her life instead. She brought down the house and singer Ella was born ands loved singing. It's too bad there is no footage of her singing that night, but there are enough photos and dynamic performances in this film that more than make up for it. 
Woodhead interweaves comments from entertainers and critics who knew her and describe why they idolized her vocal gift. Music Critic/author, Michael Friedwald, adds an abundance of anecdotal detail about Ella, her enormous amount of talent and innate skill. She had an ear and could scat like nobody else, incorporate riffs with lyrics from other songs and change keys on the fly in the middle of a song and it worked.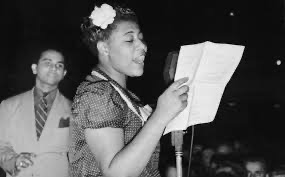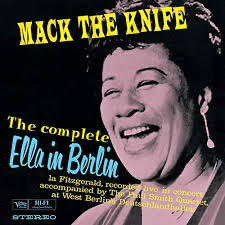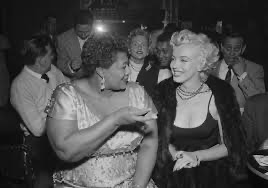 Her crowning achievement in scat was during the recording of the1960 album recorded live, Ella in Berlin, where she sang "How High the Moon" incorporating pieces of 40 songs! Friedwald names many that she worked into the 5 minute performance of that one song! Ella's vocal gymnastics and range in this piece of film will blow you away. 
Director Woodhead also has legendary swing dancer Norma Miller, singer Patti Austin, writer and Jazz aficionado, Margo Jefferson, English jazz/pop singer songwriter Jamie Cullum all tell why they revere Ella's incredible skills and talent. We also hear from her musician son, Ray, Jr., adopted as a young boy from her step-sister, who talks about their rocky relationship which was resolved later in life.
Woodhead has done his homework showing the barriers she vaulted being the first female to tour with 16 African American male musicians in Chick Webb's band. He also shows how, though blocked from performing in the high end clubs in New York and Los Angeles, big stars campaigned for her right to perform in any venue with diverse audiences. Marilyn Monroe was a big fan and champion for Ella telling the owner of the Mocambo Club in LA that if the club was not open to everybody, Black as well as White, to see Ella perform, she'd make sure nobody would show up. And Marilyn showed up every night in the front row and there are photos to prove it. 
There are scenes depicting how the singer had to fight racism throughout her life, suffering indignities and humiliation just because of her dark skin. Ella was frustrated when she reached stardom because she could not have her own TV show even having performed with everyone from Frank Sinatra, to Count Basie, Duke Ellington, Tony Bennett and more. She was even arrested with her whole band in Houston,Texas on a trumped up charge to keep them from performing. They wouldn't let her sing in Houston, but when she arrived at the jail, they all wanted her autograph. The photos of her sitting on a bench, dejected, show utter frustration.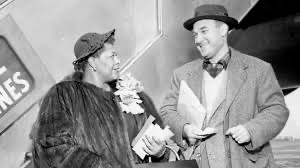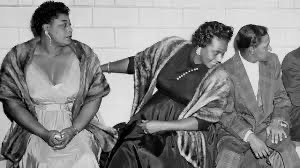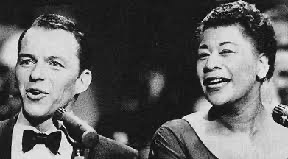 Woodhead introduces Norman Granz, the white manager who made Ella an international phenomenon. Known for promoting jazz for justice, Granz was anti-racist, He was an eccentric, and could be difficult, but fair and generous. He knew talent and boosted Ella's career headlining Jazz at the Philharmonic, and having her record songbooks of the famous Broadway show composers including Irving Berlin, Cole Porter and Gershwin. He also made her an International star performing in large venues in Berlin, Brazil, Japan and more. But when she wanted to buy a house in Los Angeles, It was Granz who had to buy it with her money, because they wouldn't sell to a person of color.
Woodhead also procured an interview with popular radio personality, Fred Robbins. It was recorded when Ella returned from touring internationally at the time of the civil rights riots in the in the 60's in the U,S. She relayed how embarrassed she was when asked about the unrest because of prejudice in her country. It was unusual for her to express herself politically..The interview was never aired! Tony Bennett adamantly relays that Ella summed up the ignorance of the world regarding race in just three words. She said, "Tony, We're all here." 
Ella Fitzgerald entertained people, traveling to countries all over the globe, and although she was married to a musician for a short time, she later regretted not having someone to come home to. She talks about being lonely and you can feel it n her heartbreaking rendition in the film performing "A House is Not a Home." Woodhead's film reveals Ella Fitzgerald as an exceptional talent who was able to put so much energy and emotion into connecting to millions with her voice. She was a powerhouse performer who may have been a lonely woman, but she is still keeping us company with her music. 
Eagle Rock                         1 hour 29 minutes                        Documentary              VOD and Virtual Theaters
from Movies and Shakers https://ift.tt/2YOE5S7