This is no fun buddy road trip. Spike Lee hits a current nerve looking from the past and present of Black Lives Matter recounting war and racism in Da 5 Bloods. Lee uses creative techniques to flashback 5 Viet Nam war buddies bouncing between then and now. They want to go back to the site of their battle for life and death. They want to return to where their 5th Blood died in combat with Viet Cong to repatriate his remains. They also want to recover a fortune in gold they left behind at the time of that attack. 
Lee and writer Kevin Willmott reworked a script by Danny Bilson and Paul De Meo. They chose to show the trauma that Black men faced in Viet Nam and how they were made to feel invisible and powerless during and after the war. These were brave and heroic soldiers who were fighting for a system that denigrated and abused them in an unnecessary conflict. They fought while systemic racism was still being preserved and stacked against them. Black soldiers had more casualties. 
Otis (Clarke Peters) organizes this expedition bringing the men back together. He also meets up with Tien (Ley Y Lan) with whom he had a relationship during the war. Eddie (Norm Lewis) is the high-powered successful businessman who just wants to do right. Melvin (Isiah Whitlock, Jr.) is the calm, level headed member of the team. Paul (Delroy Lindo) came out of the war the most damaged. He is loud, brash and opinionated, especially about politics. He wears his MAGA hat proudly and isn't afraid to let it be known where he stands on everything. Paul has PTSD worse than his buddies and it creates problems more than once. Spike Lee gives each of the men their own emotional revelation scene as they remember this place and what happened there.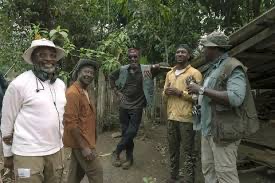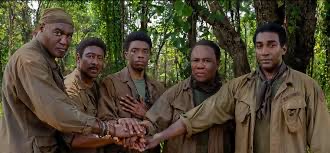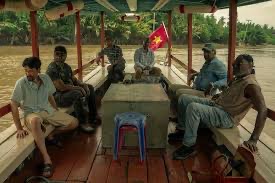 They start in Ho Chi Minh City. Spike Lee incorporates his iconic films and music from the past to set the scene and the mood for this journey. They meet in a bar called Apocalypse Now (the real name of that bar) to reminisce and plan their adventure. And he uses the iconic monumental Ride of the Valkyries cruising down the river to get to where they will start their journey into the jungle. Lee extensively uses the music of Marvin Gaye right from the beginning and through in the film to set the mood with more music from the Viet Nam era. (Mother, Mother, What's Goin' On). The director also pays homage to his favorite old films as in The Treasure of Sierra Madre, with the story line of infectious greed to find gold.  
Director Lee changes the aspect ratio during flashbacks, especially when using historic footage Lee shows of Martin Luther King, Jr., Mohammed Ali, Angela Davis, 1968 Riots, LBJ and Nixon, the My Ley Massacre, even the drawing of Crisps Attucks, the first Black man to die in defense of this country in 1770. The screen narrows to look more square. That also took some adjusting as a viewer. As do a couple of scenes that switch quickly and one where the four vets are seen side by side, each framed in red, which looked somewhat out of place in this film.  
Spike Lee considered using de-aging technology to show the men young in flashbacks, and then back to being old. But he decided he had to come up with a better, more creative way to tackle the problem for two reasons. Filming in a jungle at 100 degrees would cause makeup and prosthetics to melt. And he had to keep the budget at $100 million. So, the actors appear as the same age in flashbacks as well as the in the current time scenes. It was a little jarring and confusing at first, but Lee thought the audience would get used to it and we did. And after awhile, it made sense, since the only character that didn't age was Stormin' Norman, (Chadwick Boseman) the 5th Blood who died in the jungle 5 decades earlier. He stays young. 
The four vets meet their guide, Vinh (Johnny Tri Nguyen) at the bar, who offers to go with them on their journey, but they say no thank you. Tien, uses her contacts to arrange a meeting with shifty French businessman, Desroche (Jean Reno) who is willing to help smuggle the gold out of Viet Nam for a cut. He's a little stiff in the role.
Complicating matters as the 4 living Bloods are about to take off on their journey, Paul's son shows up, concerned for his father. They have more than a contentious relationship. Paul is really rough on his son and unhappy he's there. David's a school teacher back home and a good guy. The guys  agree to let him come. Maybe he'll be able to control his Dad's PTSD outbursts and meds.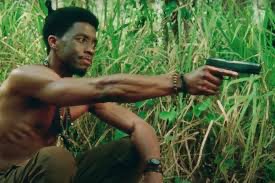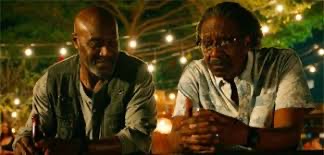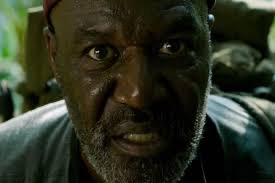 David meets a pretty French lady in the bar. Hedy (Melanie Thierry). She has two sidekicks, part of her organization to detonate land mines left from the war in Viet Nam. They become friendly and she takes interest in David's trip with Dad and friends, but the 4 Bloods and David step off by themselves. Incidents along the way test their strength and trust. Then you get to see who survives their last tour of duty.
A notable, emotionally charged scene is an incredible take, more than 3 minutes long where Delroy Lindo delivers a monologue that bears his character's soul. Lindo, as Paul, is non-stop, bringing up every raw emotion, close up, looking straight on. It's a tour de force, not only for the actor, but for cinematographer, Newton Thomas Sigel, (Bohemian Rhapsody, Drive), perfectly framed, then panning up to Paul's Black power fist against the sky. It's jaw-dropping punctuation. 
Spike Lee draws a straight line from the assassination of Martin Luther King, Jr. to today's explosion of protests over police brutality reminiscent of those on race and war during Viet Nam and now with Black Lives Matter. Spike Lee, as with Black KKKlansmen, Do the Right Thing, has managed to weave together history, solid performances and storytelling. There's humor, emotional depth, suspense and violence in a strong statement on race, politics and war. Though unplanned, this film could not have come at a more crucial moment.  
Netflix                      2 hours 34 minutes                 R
from Movies and Shakers https://ift.tt/3fkMq5s