You may not like the first half of this film, but if you stick with it, Pete Davidson could win you over. Director Judd Apatow takes his first dive into drama with equal parts comedy in this delayed-coming-of-age movie. It's a fictionalized story incorporating elements of Davidson's real life. Might helps to know that Davidson's father, Scott, was a fireman and died in the line of duty at the World Trade Center on 911. Davidson, known for his comedy on SNL, co-wrote this Apatow and SNL writer, Dave Sirus.
The comedian plays a 24-year-old slacker named Scott, still living in his mother's basement. Davidson is still living in the basement in a house Staten Island with his mother. His character is one disgruntled guy ready to take it out on the world. We watched about half of the film and almost gave up on it because it's raunchy, raw, uncomfortable and Davidson's portrayal of Scott is just ugly on so many levels. He spends most of his time hanging with his buddies (Oscar, Richie and Igor- Ricky Velez, Lou Wilson, Moises Arias) getting high and playing games.The film is too long, but eventually Davidson and Scott both get to redeem themselves.
The source of his depression is that he never got over his fireman father's death in the line of duty when Scott was just 7 years old. His mother, Margie (Marisa Tomei), is an ER nurse who barely tolerates her son's strange, loud, abusive behavior towards her and everybody. Besides being abrupt, with a short fuse, he is always high. And he is covered haphazardly,  in tattoos. The comedy comes in with his irreverent banter that is signature Apatow showing gross, cringe-worthy, attitudes interacting with everyone. Scott's superpower is the ability to gross out whoever's in front of him.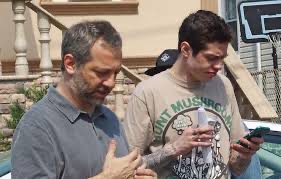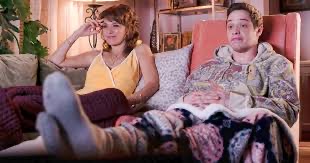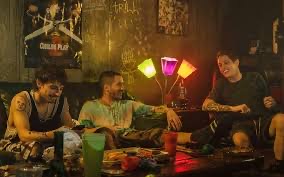 Scott has some artistic talent and is passionate about tattooing. Some day he dreams of owning a tattoo restaurant which he constantly has to explain to his Mom, and his girlfriend who is also his best friend. Kelsey, (Bel Powley, The Morning Show, Diary of a Teenage Girl) has known Scott since they were little and she understands his anger about losing his father. Apatow makes her sound like she's not that smart, but proves she is. She gets that she can't do anything to change Scott's attitudes, and she wants to make something of herself. Powley is English but she really nails that New York accent and she does a great job with her layered characterization. 
Scott gets in trouble trying to tattoo a young kid. When the kid's father, Ray, (Bill Burr) shows up to scream at Scott for his misdeed, Ray becomes interested in his mother, Margie. When Scott finds out they've started dating, and that he's a fireman, he gets crazy. And it gets worse when Margie uses tough love telling her son it's time to grow up and get out. Now Scott's homeless, even more angry and he keeps getting into trouble. 
His younger sister, Claire, (Maude Apatow) doesn't have the same resentment about not having a father because she was so young when he died. Claire tries to be a good little sister, including him her party plans when they all drop her off at college. But these siblings are like day and night. 
When Scott finds out that Ray is a fireman, the arc of the story changes having a more human tenor.
When Scott goes with Ray and his firehouse crew to see the Staten Island Yankees play, the conversation turns personal. Scott argues that shouldn't have kids because one day they might not come home, like his father.  Steve Buscemi, who, ironically was a fire fighter before becoming an actor, plays a Captain named Papa, and a pivotal role in this conversation. That was a very effective scene that reveals a lot about Scott and about the firemen. That's the beginning of Scott's relationship with the people he swore he would never have anything to do with.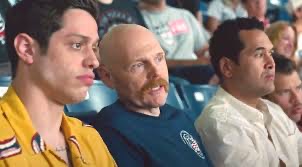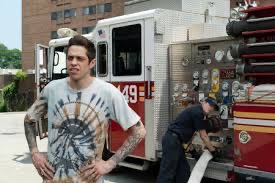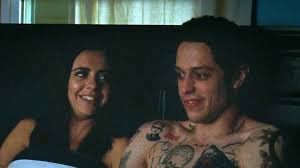 The relationship between Scott and his Mom, and Scott and Ray is the heart of the film. There are ups and downs as Scott feels his way. Bill Burr is excellent fielding the barrage of insults being hurled at him, but there's comedy in that he gives as good as he gets. And his outrageous mustache adds to his character. 
Most of the film was shot on Staten Island and the Captain of the Firehouse is played by John Sorrentino who actually worked with Davidson's father in the same Brooklyn ladder company. He was hired first as a consultant and Apatow smartly decided to cast him. The movie unfolds as a bunch of bits which are just Scott's interactions with different people, mostly bad. There aren't that many good laughs. But fortunately, the tide turns and he grows into his own tattooed skin. Throughout most of this film, Davidson is hard to like, but Apatow draws out heartfelt sentiment by the time the ink dries on his last tat. 
Universal Pictures                       2 hours 17 minutes                       R                         Video on demand
from Movies and Shakers https://ift.tt/2XReAPA