This grim fairy tale turns Punch and Judy on its head in a dark comedy deftly addressing misogyny, injustice, grotesque crowd politics, isolation, domestic violence and, ultimately female revenge.
Set in what has a medieval feel to it, Director Mirrah Foulkes handles all of these current issues in her first feature film. She uses the Punch and Judy puppet show born in 16th century Italy that became popular in Britain and France in the 18th century and still known today. 
Here, it's husband and wife team, Punch (Damon Herriman-Once Upon a Time in Hollywood) and Judy, (Mia Wasikowska – Damsel, Alice Through the Looking Glass) working Punch and Judy puppets in outrageous and violent interplay in their puppet theater. Their antics are performed in a local tavern to uproarious laughter from a huge, unruly, crowd cheering to see  more unnecessary roughness. But what makes it more disturbing is that the real Punch and Judy are having marital problems of their own. 
Wasikowska plays perfectly as the sweet as the complacent wife taking care of just about everything at the theater plus their baby at home. She is also the more talented puppeteer and the workhorse behind the scenes. But it's her brash husband with his enormous ego who takes the spotlight and the applause. 
She is kind, but her husband, Punch, is not. Herriman is too good as the  gruff, self centered alcoholic husband who constantly berates his wife and has a roving eye. Judy tries to keep him in check. They live with a kind elderly couple, Maid Maude, (Brenda Palmer) and Mr. Frankly (Tom Budge) in the village of Seaside, which is not near the sea but sits on a picturesque countryside. The town itself is filthy and ugly, filled with suspicious townsfolk easily influenced and quick to blame.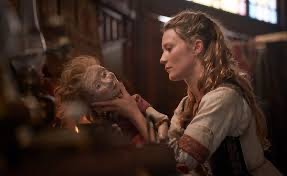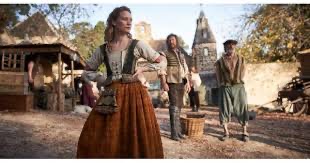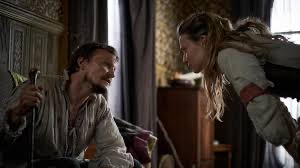 Foulkes stages the stoning of 3 women accused of being witches with the whole town joining in. Judy, too, reluctantly attends as Punch gleefully accepts the "honor" of casting the first stone. It's somewhat comical and horrifying at the same time. Foulkes judiciously edits the stoning so it's not too gruesome and lets your imagine do the rest. 
Every time you think Judy is going to be successful steering Punch away from his vices, something terrible happens. He uses his notoriety and charm to get what he wants for himself, without thinking of the consequences. Alcohol, sausages, a dog and the baby all result in tragedy which Punch tries to cover up. Judy discovers what he's done and goes berserk. He does too, in a shockingly violent scene, made even more brutal staged backlit in front of the fireplace. The coverup continues by framing the elderly couple for the tragedy that struck the baby. 
Herriman gets to play the villain again. He played Charlie Manson in Once Upon a Time in Hollywood. Herriman plays cad Punch almost too well, relishing every time he gets away with his abusive bad behavior. He never misses a chance to puff up his Punch-drunk popularity as the master showman. He's out to impress talent scouts to glorify himself and make it to the Big Time. 
Fortunately, a very engaging, young, red-headed girl named Scotty, (Daisy Axon) comes to the rescue. She was enamored with the puppet show in the first scenes of the movie and her expressive face is not only a bright spot, but her look and attitude adds a fairy tale element to the story. 
Scotty finds Judy in bad shape and takes her to the secret heretics colony where she gets help healing mentally and physically, from the kind enclave of outcasts. There, she hatches a plan that turns her into a feminist type hero. She uses her talents reminiscent of puppeteering and showmanship as the crowd gathers for the lynching of Maid Maude and Mr. Frankly at Punch's behest.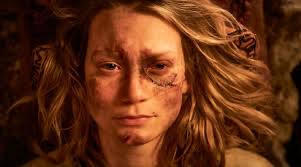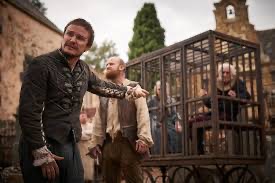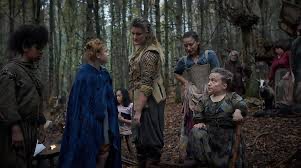 Folkes makes this a #metoo fable where Judy not only gets revenge, but justice as well. Judy gets to play master puppeteer and exact her punishment in a very clever and unique way in line with the dark comedy of their puppet play. Yes, it's disturbing, but so was the original Punch and Judy show, as evidenced by the historical black and white footage at the end of the film showing children reacting with laughter or horror to the puppets pounding each other. 
Foulkes covers a lot of territory in this, her directorial debut. She succeeds in the challenge of juxtaposing Herriman's loud and obnoxious Punch against Wasikowa's internal rage hidden beneath her placid demeanor. Both actors deliver compelling performances. Despite the violence, Foulkes tackles a myriad of contemporary issues well in this enchanting but disturbing fable, and without pulling any punches. 
Samuel Goldwyn Films 116 minutes     Not Rated      Video on Demand 
from Movies and Shakers https://ift.tt/3cBc0RO