Willem Dafoe is at his watchable best in Abel Ferrara's often confusing study of a troubled indie film director trying to deal with his inner demons. The writer-director delivers his first scripted drama in five years after making what's called off-the-cuff documentaries. Dafoe previously worked with Ferrara on Pasolini, the biopic of Italian writer, director and poet Pier Paolo Pasolini. 
This could be considered a confessional autobiographical film since Dafoe plays the director trying to conceive his next project. He's an American living in Rome with his much younger wife and 3-year-old daughter. Ferrara shot this on a shoestring using his own apartment as the setting. Ferrara's wife, Cristina Chiriac co-stars as Tommaso's wife, Nikki, and the couple's own daughter, Anna Ferrara, plays Deedee, the little one they always refer to as "the Baby."
Dafoe's performance is, by far, the best aspect of this film. He finds a way to make every scene an interesting progression of his descent. The story arc takes the audience through the devolution of Tommaso. What begins as an idyllic vision of a middle aged family man finding his best self in a quaint Rome neighborhood slowly disintegrates into uncontrollable rage. Tommaso had been an alcohol and drug addict who works hard to stay clean and sober, frequently attending AA-type meetings.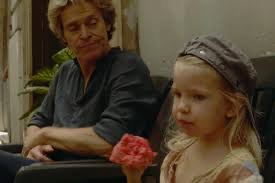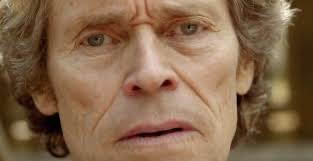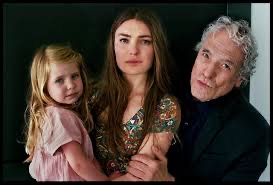 Nikki is a beautiful woman from Moldova who is 3 decades younger than Tommaso."The baby" is the glue that holds the family together, but also the distraction that interrupts their own relationship. We hope, knowing that Chiriac is the director's wife , that her portrayal, on some level, is not like a mirror of her real life. It's a very brave performance. We have to wonder if the making of this film affected their own spousal relationship. Ferrara himself is 67 years old. 
One shortcoming of Ferrara's script is that he shies away from delving deeper into Tommaso's work as a filmmaker. We are only given brief glimpses of his ideas. Seeing what he was working on would have been a more compelling reveal on Ferrara's own life. A few shots showing Tomasso's storyboarding process and an imagined scene of an actual bear attack are startling and effective, though all too brief. They piques curiosity but go nowhere. 
Joe Delia's music adds a generally melancholy tone to the atmosphere. The subdued color palate also adds that same slightly oppressive feel to the film that is about this man who is desperate for happiness that eludes him. Ferrara also adds a Terrance Malick-like animated explosion sequence that again, comes out of nowhere without context. Just one of these many moments that are just tossed into the mix. 
Besides working on his film, Tomasso also leads acting classes that generally show him in enjoying leading the group of young people in the creative process. But there are some bizarre side trips that appear to be dream sequences thrown in. In one of his classes he's engaged in intensely erotic movement with a naked woman. And again in a coffee shop. These encounters with nude women come and go without explanation. They don't feel real but are they fantasies or flashbacks?
It's notable that Ferrara chooses not to take the predictable path and allow Tommaso to return to his addictions as the rage, from his point of view,  builds at Nikki. Instead we see that she provokes him by not trying to keep the relationship alive. In the middle of a very sexy and sensuous love scene, "the Baby" cries out and Nikki runs to her side.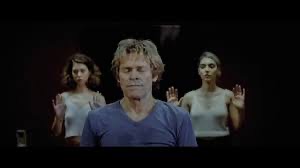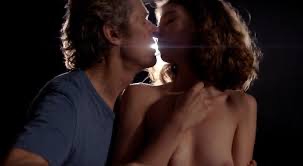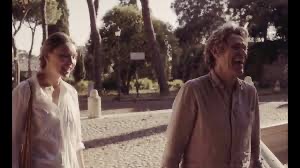 Ferrara chose to make this almost entirely about the slow breakdown of the husband-wife relationship and gives subtle hints of the betrayal that's coming. Tomasso observes his wife in the park, for instance, but chooses not to confront her. The camera quickly tilts and pans giving us brief views of the action, but only enough to get the message across that all is not well with this marriage. 
The ultimate destination of all this anger is self-destruction. Is Ferrara's message that men need to find outlets for their rage before it overtakes them or simply about a man who truly changed his life, got clean, but still felt betrayed?
Dafoe shows both side of this coin. Especially in a scene where he goes into a rage as he confronts a drunk man screaming underneath his apartment window. He de-escalates the situation, gets his anger under control, ends up shaking hands and giving the man a hand-out. Good and evil live side by side as Ferrara demonstrates throughout the film and with a very dramatic ending. Given all that, Willam Dafoe's performance as Tommaso is still  very much worth this trip to Rome.
Kino Lorber Marquee            115 Minutes                    NR
Virtual Cinemas include Gene Siskel screening room, New York/Lincoln Center, LA/ Laemmle, Acropolis Cinema & Lumiere Cinema. 
Go to https://kinomarquee.com/tommaso for more listings near you. 
from Movies and Shakers https://ift.tt/2Y4p5xF