Music, glamour and a great cast delivers a pleasant diversion from the daily dark headlines. Even though it is filled with showbiz cliche's, Tracee Ellis Ross nails it as a legendary diva Grace Davis, and her personal assistant Maggie, (Dakota Johnson) fighting the mysogynistic music industry. 
Diana Ross' daughter Tracee lives up to the family business actually singing the songs in the film. The big production sequence of Ellis Ross singing "Stop for a Minute" in concert is reminiscent of her mother who was present during the shoot and reportedly brought to tears watching her daughter sing. Ross is known for her comedy, but, here, she also gets to stretch her dramatic acting muscles. 
This is a female centric story that focuses on the relationship between this music icon and her under appreciated and overworked, personal assistant, Maggie, (Dakota Johnson). And, of course, underling Maggie has dreams of her own to be a music producer. We see her in a studio recutting Grace's recording to update her boss' sound without Grace knowing anything about it. There are shades of other movies about women trying to make it in male dominated industries. Director Nisha Ganatra handled a similar situation directing her film, Late Night starring Mindy Kaling and Emma Thompson.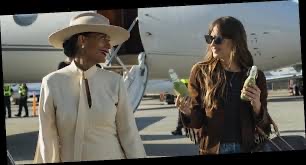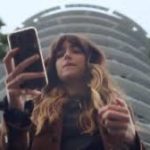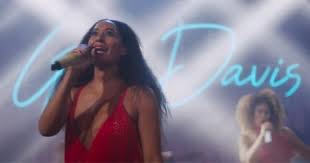 Maggie happens upon handsome young singer, David (Kelvin Harrison, Jr. – Waves Luce) in a free outdoor concert and sees him as an opportunity to mold this raw talent. As expected, they get to know their strengths and weaknesses as they work together. They both seem to be holding back, but you know some kind of a relationship is inevitable. Harrison, Jr. is a talented up and coming actor who has impressed playing heavy, dramatic roles. Here, he is upbeat, charming and even sings well. He performs 6 songs in the film. Although, it was distracting that some of the closeups of his singing seemed a bit out of lip sync.
Johnson plays the good-hearted gal who lets Grace order her around and walk all over her. She's been doing it for 3 years and you want her to rebel. She is best when she is playing off Tracee Ellis. The best scene in the film is between Ross and Johnson when they bare their inner most hopes and fears to each other. It is the most raw and revealing. It makes up for some of the other more shallow moments. However, the scenes with Johnson as Maggie playing producer at the sound board in the studio just don't seem to resonate. 
Gail, (June Diane Raphael) is the very entertaining truth teller who wryly runs Grace's mansion. Gail gives Maggie pointed pointers on how to survive working for the diva. Raphael is deadpan and hilarious as the tuned in survivor. Zoë Chao, as Katie, checks off the box nicely as Maggie's best friend, there to encourage her to stand up for herself with some funny lines.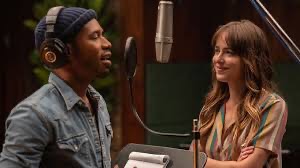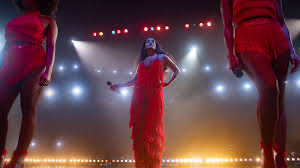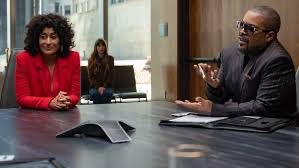 The guy who fights Grace and her music choices most her manager, Jack (Ice Cube) who has been with her from the start. He's trying to talk her into getting off the road to take up residency performing in Las Vegas. He's pretty crusty even putting down Maggie and threatening her when he sees her in a studio. He's kind of like a toothless lion who is trying to figure out how best to play up to the young music industry hot shots trying to capitalize on Grace's reputation and big following. Ganatra exposes their smarmy attitude having no appreciation for her history and talent in an effective scene. 
There are some predictable contrivances in this film that include the relationships of Maggie with Grace, Maggie with David, and Maggie getting constantly put down by Jack. In the end, there are a few coincidences that make the plot unbelievably outlandish. Tracee Ellis Ross exhibits range as the star of this show. Taking pieces from other films you've seen, there is still  enough glitz, glamour and music to hit some high notes. 
Focus Features          1 hour 53 minutes        PG-13
VOD starting May 29th.
from Movies and Shakers https://ift.tt/3d8pZQn