There is an abundance of shortcomings in this long thriller mystery which keep you moderately curious until it transforms into a horror film. Director Vaughn Stein with Writer Matthew Kennedy, make this film about what a patriarch of a rich family leaves his family into something that feels very formulaic. With the exception of a few overhead shots, and scenes too dark to see what's going on, the directing is all very straight forward. And there's not a lot of great character development here, except for Simon Pegg who plays the shadowy, dark Morgan,
Lauren (Lily Collins) inherits the dirtiest family secret of this man locked up by her banker father, Archer (Patrick Warburton) in a hidden underground bunker on her rich family's property for 30 years. She is given a pittance compared to the rest of the family when the will is read by her father's lawyer, Harold (Michael Beach). He also hands her an envelope with the father's secret, not to be shared with anyone else.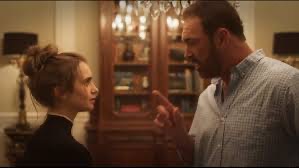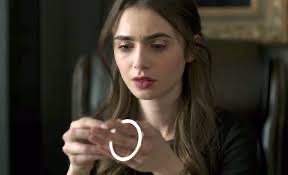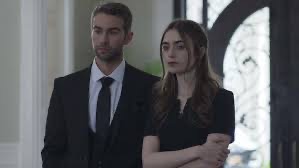 Lauren is a high-powered, crusading New York DA, but she looks too young to be in that role, more like a girl playing grownup. She supposedly has brought men like her father to justice. He has always treated her like a second class citizen and was disappointed when became a DA. He wanted her to become a corporate lawyer and defend people like him. So she was always looking for his approval. 
Her brother, Will, (Chace Crawford), running for reelection as a Congressman. He's another good-looking guy who looks too young to be cast as a successful congressman. His Mother (Connie Nielsen) is fundraising his campaign, but otherwise, non-existent. 
Lauren finds keys in the envelope and, of course, has to unlock her father's secret. There, underground, chained to a wall, is Morgan, but why he is there and what it has to do with her family continues for three-quarters of the film. Morgan strings Lauren along, giving her details, little by little, of an incident that happened 30 years prior that could have imperiled her father's success. There is underlying tension, but it's all just too drawn out.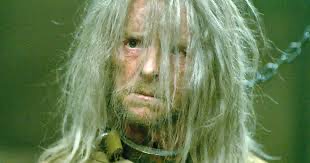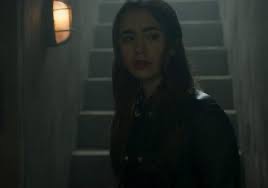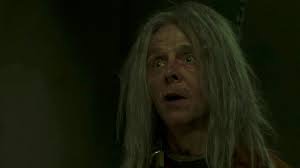 The only redeeming performance in this film is Simon Pegg as Morgan, the disheveled captive in the bunker who keeps repeating the recipe of Key Lime Pie, over and over again, one  ingredient at a time, probably as a way to keep his sanity. Another obvious device is a chess game in the bunker Morgan obviously played with Lauren's father, that he is now playing with her as she gets information about why he's chained up there. Pegg seems to relish this opportunity to play against type and he does it well. 
The clues are there for Lauren throughout, but this supposedly brilliant DA isn't given the smarts by this director and writer to pick up on them. If you make it to the last act, the plot finally leads to a climax of sorts. But this patently absurd plot plays slow and dull. Bury this one.
Vertical Entertainment  1 hour 51 minutes   Not Rated 
VOD
from Movies and Shakers https://ift.tt/2XhoZmd