This slickly produced love story to Hollywood is as Ryan Murphy and Ian Brennan (both known for Glee) wished it could have been, per the tagline, "What if you could rewrite the story." Even though this series is sexy, salty and sometimes raunchy, Murphy and Brennan sanitize the Hollywood culture in that era. Is it style over substance?
This Hollywood series, with stellar cast, sharp cinematography and fashions to die for, creates characters and scenarios that hold your interest despite overproduction and an incongruous plot line. This 7-part series has some exciting moments, pushing the envelope taking liberties with famous personalities in post World War II Hollywood.  
This follows the people with power and the people with Hollywood dreams. It's the intersection of these two camps that sets the lights, camera, and action! 
Dylan McDermott as Ernie is a standout as the sly and ever smiling owner of the Golden Tip gas station/male escort service whose mechanics fix more than cars. You can tell he relished playing this role. David Corenswet plays handsome Jack who reluctantly signs up to make money while trying to break into acting. Jeremy Pope as  Archie Coleman, is the screenwriter who can't break the color line. They all work for Ernie at the gas station. Darren Criss as Raymond Ainsley, dreams of being a great director. Handsome and pathetically naive Roy Harold Scherer, (stage name Rock Hudson) is played by Jake Picking. He's manipulated sexually and psychologically by a real viper.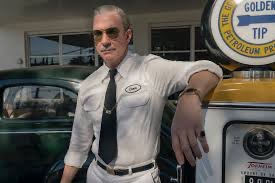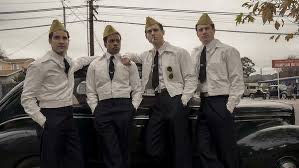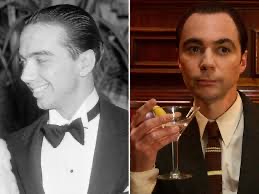 They come in contact with a collection of power brokers. Talk about juicy roles. Henry Willson was a real person, and he is the worst of all. Jim Parsons dons weird hair, teeth and prosthetics to play this self-loathing alcoholic talent agent. He will use anything or anybody to get what he wants, and that includes sick sexual scenarios, and Mob style beatings. Parsons plays the villain almost too well. He is disgusting, but we understand that the real Willson was way worse than he appears in this series.
Joe Montello, is Dick Samuels, the head of production for Ace Studios. He is decisive and knowledgeable but so abrupt, and he is hiding something. Montello makes this one of the most complex characters in this series. Holland Taylor is incredible as the head of talent development working with Dick. Her hair is literally a sculptured masterpiece and what great hats! Her wardrobe is exquisitely tailored reflecting the era.
Broadway star, Patti LuPone, is a revelation in this series. She is superb and superbly costumed as Avis, wife of Ace Amberg, head of Ace Studios, played by a blustery Rob Reiner. LuPone is sexy and strong in a role that would not have happened in the '40's, but she really adds a lot of punch to the production. (Sherry Lansing didn't become the first female head of a studio until 1980). LuPone gets to show great range, from being ultra sexy and vulnerable to using her new found power to make risky decisions. They are reinforced in entertaining scenes welcoming Eleanor Roosevelt to the studio for a visit, magnificently played by Harriet Sansom Harris. Roosevelt was an eloquent crusader for women, especially women of color and, in a charming scene, takes the opportunity to influence Avis' decision to inject diversity that creates a Hollywood shockwave. 
Stunning actress, Laura Harrier is wide-eyed and beguiling as Camille, waiting for her chance to be the first great lead actress of color. Her staunchest supporter is her director-boyfriend, Ainsley. She wants to be the first actress of her race to show she can play more than a maid. She crosses paths with Hattie McDaniels, played by Queen Latifah. McDaniels was the first actress of color to win an Oscar in real life, and she urges her to go for the gold.  
Samara Weaving is Ace and Avis' blond, knock out daughter, Claire. She, too, wants to be an actress and becomes Camille's competition. Her character goes through a significant arc in this story as well, especially the relationship with her mother.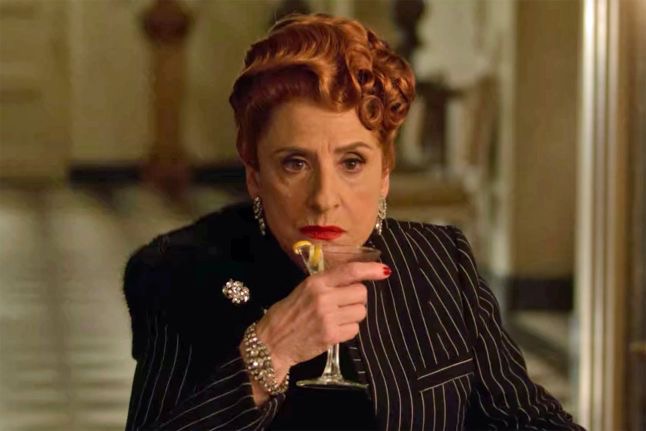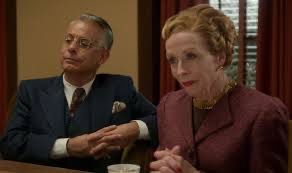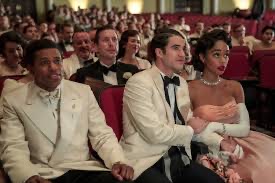 Just about every issue comes into play in this series, from race, sex, prostitution, homosexuality, lesbianism, infidelity, suicide, alcoholism, blackmail, even crossing paths with the Mob. And all of it takes place in glorified and glitzy Hollywood. There are a lot of references, phrases and attitudes that have no business being included in this time frame. The script seems ill conceived and some of the more contemporary dialogue and liberal sexual attitudes distracts you from the story. They're just out of place. It gets bogged down in the middle, but the last two episodes redeem the series, just for the Oscar ceremony spectacle alone. This is not the Hollywood that actually existed, but one that Murphy and Brennan wish could have been. It may not be true to life, but if you like over the top glitz and glamour, here it is. Hurray for Hollywood! 
Netflix      7 episodes run 5 hours and 47 minutes        TV-MA
from Movies and Shakers https://ift.tt/2L2j0vL