This very moving documentary is an uplifting heart tugger.  It follows kids with profound disabilities who found freedom and friendship being treated normally and equally at a camp in 1971. They, played and created relationships that lasted their whole lives. Their ties to each other lasted so they later worked together to make enough noise fighting to get equal rights, finally getting the Americans with Disabilities Act passed that has made a huge difference for kids and adults with similar challenges today. 
We saw a stage full of these kids, now adults, with the filmmakers at the Sundance Film Festival premiere of Crip Camp and captured their comments on video. They are still working to gain more access for those with physical challenges. They want to open up opportunities for better living, housing, education and employment.
Writer/Directors Nicole Newnham and James LeBrecht have compiled absolutely charming old home movies at Camp Jened, which was located in upstate New York near Woodstock around the same time of the iconic music festival. They use music from that era and added recent interviews with the campers that follow them in adulthood.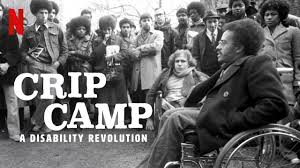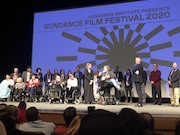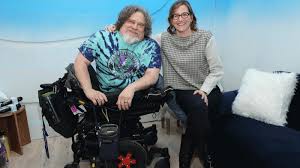 Wheel-chair-bound LeBrecht was one of those campers. Footage graphically shows how he became a sound engineer/designer/editor, climbing around theaters and working in studios on documentaries, including last year's Oscar nominated, Minding the Gap. He and Newnham show these kids swimming, playing ball, making art projects, theater productions, cooking classes and even giggling in make-out sessions. There are some very funny and touching moments. 
Watching these young people able to be themselves is shown in the joy they exhibit interacting with their peers and hippie counselors, some of whom were also physically challenged. Being pushed around or carried, they participated in camp activities. You get to see how much fun they had, when not being judged, or intimidated with awkward glances from the outside world. Crip Camp, as they came to call it, also activated their minds, their sense of humor and emotions they hadn't dared explore before. Subtitles are subtly and artistically used, when necessary, to make sure they're understood.
There are profiles of the campers talking about feeling freedom for the first time so they can be themselves, totally accepted in a world all their own. It shows how they grew and developed their own personalities to have limitless fun and express themselves as a complete person.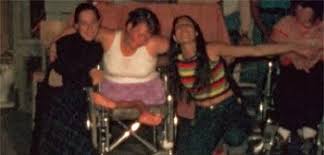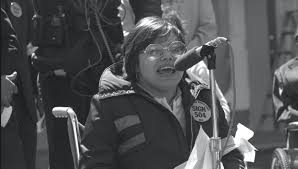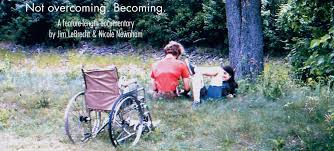 This film also follows their journey into adulthood and, incredibly important, into activism. Judith Heumann, with her thick New York accent, rose from her experience at Camp Jened to become the lead activist spearheading protests and sit-ins during the Carter and Nixon administration. The object was for kids and adults to gain equal access to schools, buildings, and transportation by lobbying Congress which finally resulted in passing the Americans with Disabilities Act. But Heumann made clear at Sundance that it doesn't stop there. She wants the work to continue globally with more people getting energized after the film is shown in nearly 200 countries in 22 languages. It 's also a plus that Executive Producers of this film are Barack and Michelle Obama. 
These past campers are an inspiration. The film feels a little repetitive in spots, but it's obvious that Newnham and LeBrecht wanted to give everyone a chance to express what the camp meant to them. It not only changed their lives, but helped change attitudes to make life easier for others who had been marginalized way too long. Sign up for this heartwarming, funny and important trip back to Crip Camp.
Netflix    1 hour 46 minutes      R        Streaming now
from Movies and Shakers https://ift.tt/2JjrwFP