Reviewed: Bloodshot, Spenser Confidential
Top 5: Back From The Dead Movies
Trivia: Quiet Place 2 Movie Trivia
Sponsored by: Overcast, Jiffy on Demand
SPECIAL NOTE: With many parts of the country, and indeed, the world on some sort of lockdown or restrictions due to the Covid-19 Pandemic, we do not wish to seem flip or glib by releasing this podcast episode. It was recorded last week on Wednesday, March 11th which seems like a lifetime ago in this rapidly evolving situation – things were different then and it seems odd that we recorded this together, in person, in our studio. In our small way, we hope to add to public morale and mental well-being by continuing to record and release podcast episodes during this period, and hopefully provide a distraction to the stress we are all feeling.
JawHeads we love you, be safe, be well, and keep on jawin' about the movies! – Matt K. & Ry The Movie Guy
This week on CinemaJaw in honor of the new Vin Diesel movie, Bloodshot, we are taking a look at Back From The Dead Movies.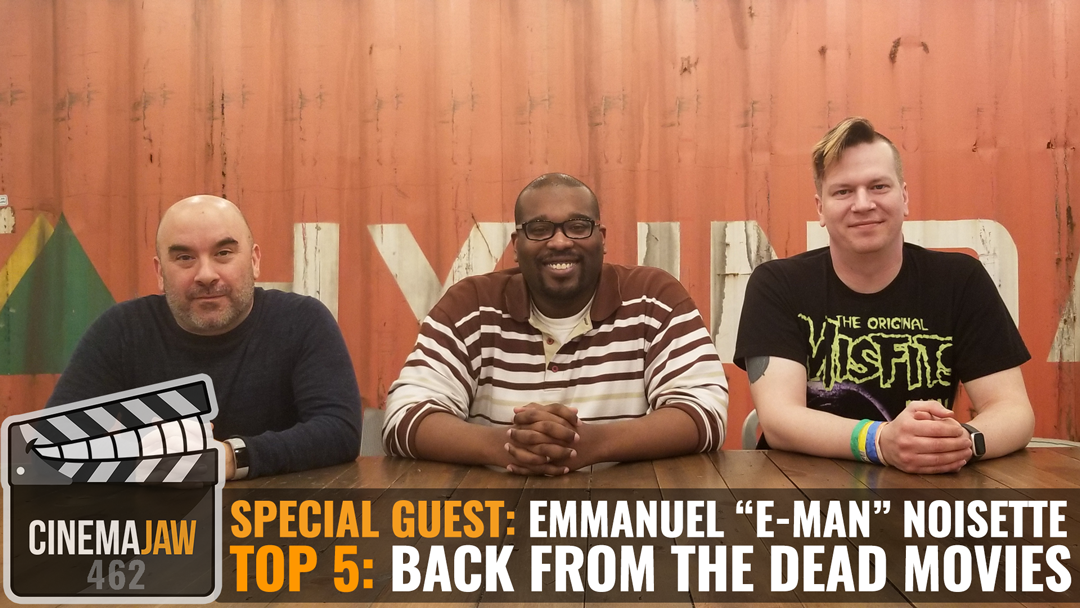 Joining us is our fellow critic, and one of the Directors of the CIC, Emmanuel "E-man" Noisette! E-man has been writing movie reviews since 2012. He's lived in and around Chicago his entire life and is the author and creator of EmansMovieReviews.com. These day's he is perhaps best known for his work on YouTube on his channel Eman's Movie Reviews. He seeks to be somewhat of an unconventional film critic. His unique style takes on the approach of making his reviews brief, concise, and spoiler-free. His mission is to help average movie goers spend or save both their time and money with any given movie. We can get behind that!
So enjoy this podcast. We know times are strange out there. Hopefully this will help!
Matt:
5. Star Trek 3: Search For Spock
4. Edge Of Tomorrow
3. Flatliners
2. Reanimator
1. The Princess Pride
Eman:
5. The Crow
4. Spawn
3. Transformers
2. Passion of The Christ
1. Constantine
Ry:
5. Alita: Battle Angel
4. Frankenweenie
3. The Abyss
2. Wall-E
1. Batman Returns
from CinemaJaw https://ift.tt/2U5hz3O
via IFTTT