This re-imagining of The Invisible Man is a frightfully good time. Elisabeth Moss is committed as the woman who refuses to give in to the sociopath who stalks and torments her from the opening scene.  Writer/Director Leigh Whannell makes sure that even though she made the dumbest move by hooking up with this guy, she is not dumb. This film is relentless with a #metoo trope in that the director keeps showing Moss as Cecilia strong physically and mentally. What makes it white-knuckle-worthy is that you can't see her enemy, nor can she.
Universal has put this modern version of H.G.Wells' classic monster  into the capable horror-movie making hands of Blumhouse and Leigh Whannell (Upgrade) on a low $7 million budget. Whannell's Cinematographer, Stefan Duscio, has taken advantage of every angle and sharp camera moves around corners to help you feel terrified for what this woman is up against. 
Many scenes contain a lot of stunt work created using CGI, mechanical techniques including wires to drag actors as if they're been pulled by the Invisible Man. The combat choreography is impressive.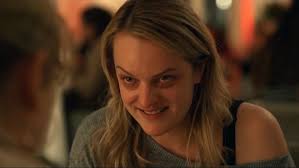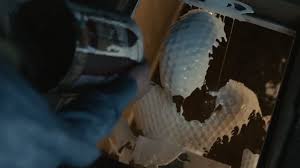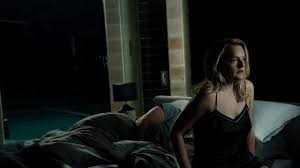 Elisabeth Moss as Cecilia Kass, being kept a virtual prisoner in the lush oceanfront home of her obsessive, brilliant-scientist boyfriend, Adrian (Oliver Jackson-Cohen). Cecilia has finally decided to stand up to him.When she makes a desperate dash to freedom in the middle of the night, you're introduced to the strong sound design that makes the tense elements in this film so effective.
Little, subtle sounds like the waves crashing outside on the beach are contrasted with Kate's nervous breathing and then punctuated with the shock of a kicked metal dog bowl. The sound transforms these little mundane instances into white knuckle moments. Long, low bellowing sounds come out of silence as she tries to be silent looking for signs of her tormenter coming for her throughout the film. The music by Benjamin Wallfisch (Blade Runner 2049, IT, Dunkirk) enhances the action when there is not silence. 
Cecilia is aided in her escape by sister Emily (Harriet Dyer), then seeks refuge in the home of their childhood friend and cop, James, (Aldis Hodge- Straight Outta Compton)  and his daughter Sydney (Storm Reid). But Adrian is determined to torment the only woman who once spurned him and go after all those trying to help her. The supporting cast is good, especially Aldis Hodge as good friend and defender. Adrian's brother, Tom, (Michael Dorman – TV's Patriot, Pirates of the Caribbean), seems as cold and sinister as his sibling.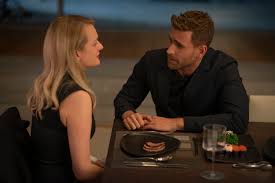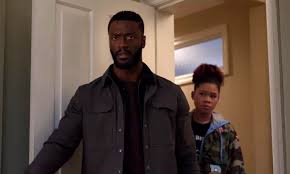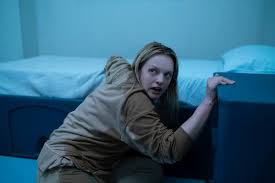 But Ceciia is the desperate but strong woman who shows she can take care of herself. Moss definitely has a dark side as evidenced in her many projects (The Handmaid's Tale, Her Smell). She is strong in this film, too. Her closeups show how she has refined, even more, expression of terror and complete disdain for the man who is bent on trying to completely control her. But You also see that the gears are always moving, plotting what she can do to expose her unseen foe. Whellan does not hold back from showing plenty of blood and gore while Cecilia and her friends are being hunted and haunted by her former lover. You see that Cecilia and James are amazingly resilient. 
There are several flaws in the movie which make some of Cecilia's brave moves seem unlikely and the film a little contrived. Some of her methods of escape seem to work better than they probably should have, like the attic scene. And how did that cell phone magically appear in her hand to call an Uber? 
The structure, pace, sound design and camera work, along with the dogged performances add to the suspense which more than keep your glued to the screen. And just like the villain, there's a twist you won't see coming. The Invisible Man is a sight to see, even if you can't see him. 
Universal Pictures          122 minutes            R 
from Movies and Shakers https://ift.tt/3crWYz0