Watching Emma orchestrate the movements of her repressed friends swoon and spar in this elegant production of Jane Austen's romantic comedy is fun. Anya Taylor-Joy (Peaky Blinders)  fits the part of Emma Woodhouse like the gloves she wears in this film. Uppity might be the best description of her stellar performance as a busybody who judges everybody in her circle and she has great comedic timing.
Director Austin de Wilde's pace is a little choppy at first, with the score so loud, it overpowers the clever repartée. But once you get to know the personalities of these up-tight English characters, it becomes a fun romp. Becoming familiar with all of the different personalities of the overly dramatic men and women in this prim and proper 1800's lush and beautifully detailed setting, is confusing. Austen moves her characters like chess pieces until they're all paired up equally, with Emma's help, or perhaps spite of it,  by the end. 
First time feature Director Austin De Wilde is known for music video shorts. She combines a script that goes at a fast clip, written by Eleanor Catton with the lush production design of the elaborately decorated mansions of the English countryside. Cinematographer Christopher Blauvelt captures the detail manors these people inhabited. And the framing of the wide shot of  Emma and Knightley on the estate grounds under a massive pink flowering tree is romantic and memorable.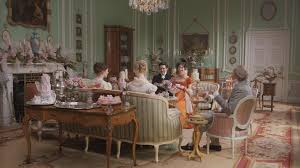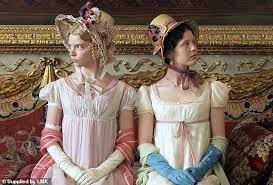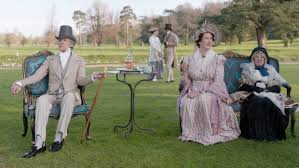 The costumes by Alexandra Byrne (Mary Queen of Scots, Murder on the Orient Express, Avengers movies) are all perfectly and delicately tailored for both men and women, down to the ladies' bonnets over well-coifed hair. Even the men look elegant in their top hats and tails. And the high white collar on the pastor (Josh O'Connor, The Crown) gives him a comedic presence, especially when he smiles that goofy grin.
This is a romantic drawing-room comedy, with more and much richer doors, even outdoors. (Think of Emma as the original meddler, a century before Hello Dolly leading lady.) Her opinion is sought by her circle of friends and acquaintances. She's more than happy to play amateur matchmaker and push in the direction of whomever she thinks suits them at the time. She really sets her sites on meddling in the loves of her innocent friend Harriet (Mia Goth). She is so naive and malleable. But there's a twist even Emma doesn't see coming.  
Bill Nighy is a kick as Mr. Woodhouse, Emma's father. He comes flying down the stairs and moves screens around in rooms to keep the heat in the room either in or out. Emma does not wish to marry, as she has promised undying loyalty to live with her father forever. Nighy's blank expressions as Woodhouse show how he ignores his daughter's machinations, and sees no need to get involved. Nighy employs well his own brand of British humor and he is very entertaining.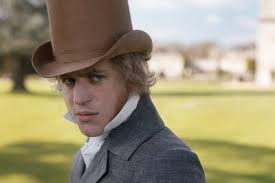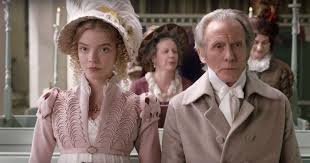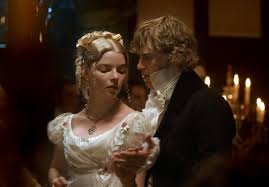 Johnny Flynn plays her "Knightley in Shining Armor" after many a scene together. You begin to see that this could lead to something between them if she doesn't mess it up. Knightley is considered quite the rich catch. He is the only macho character.  Flynn is good as the romantic lead who would rather walk than ride a horse or in a carriage, even though he's got plenty of money to do whatever he wants. De Wilde shot a lot of scenes of Flynn as the young aristocrat walking that the actor says never ever made the film. It's all part of his strong character. And he is just as smart, but he is more principled than Emma. That's a characteristic that Emma doesn't understand, but it draws her to him. 
Knightley is her perfect match, but you don't know if Emma is going to spoil it. Their dance at the big party with more pairings going on on the dance floor is fascinating. It was interesting to watch these actors perform the intricate choreography. You don't know who will end up with who. As perfect as she portends to be, Emma makes a lot of mistakes, not the least of which is a painful scene with her friend, Miss Bates (Miranda Hart), where she humiliates the poor woman in front of all of their friends. It will make you uncomfortable. Knightley rightly calls her out on it. 
Generations of readers and movie goers are familiar with Austen's work, so there's little in the story to surprise you. But this is a lush, plush production and Anya Taylor-Joy is a thoroughly engaging lead actress. In contrast, De Wilde's direction of the rest of the cast is almost unintentionally absurd. Nonetheless, once you get past the confusing first third, the film draws you into this erstwhile drawing room comedy, especially when it starts pulling at Emma's own heartstrings. Love always wins and this is no exception. 
Focus Features   122 minutes  PG
from Movies and Shakers https://ift.tt/32BKvUN