Watching hotel guests every move gets one night clerk in a heap of trouble. Tye Sheridan, in an unusual role, plays Bart well as a tech savvy young man with Asperger's syndrome. The young actor obviously studied well and is convincing. But is this film? 
Pulitzer prize winning playwright (The Shadow Box, 1977), Michael Cristofer is the writer/director of this film. He had taken a 15 year hiatus from writing, but returned to acting first (Mr. Robot, among other series) before putting this film together. With an A-list cast, the plot keeps your attention, but watching Tye Sheridan's Bart watch everybody, even for innocent reasons, is disturbing.
Bart puts cameras in hotel rooms where he works at so he can surreptitiously observe other people, not for prurient reasons, but to get the tools to learn how to have more normal social interactions. It backfires.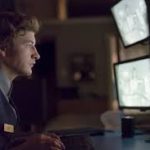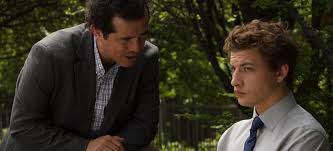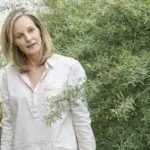 Bart is able to watch his cameras both at work and from home where he lives in the basement of the house he shares with his mother, Ethel, (Helen Hunt). We wish Hunt's role had been less bland. We think Cristofer could  have done more with her character to explain their relationship and his actions. 
Cristofer gives us views of the activity at the hotel through the cameras as Bart watches intently. There are so many closeups of Bart's eyes as he reacts to the behavior of the people who stay there. 
When Bart observes a man murder a woman in one of the hotel's rooms, he rushes back to the hotel to try to save the woman, but he's too late. Detective Espana (John Leguizamo) finds Bart sitting on the bloody bed. He becomes the prime suspect, but the detective, becomes both sympathetic as well as suspicious of this strange young man and his involvement. Bart can't reveal that he's stashed cameras all over the premises which would prove his innocence. 
Leguizamo plays a Colombo type of detective. He's not a super sleuth, but  curious about this young man and his involvement in what happened at the hotel. He's sympathetic but doesn't seem too adept at putting the pieces together.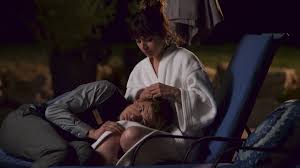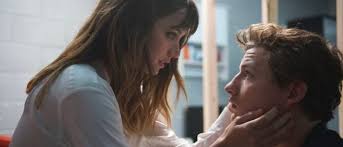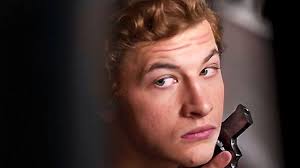 Of course, it gets more complicated when another beautiful woman, Andrea, (Ana de Armas)  shows up at the hotel with a man Bart has seen  at the hotel before. Andrea and the guy are definitely a couple, but she is being so attentive and kind to Bart that he's slowly becoming attached to her. Andrea reveals that she had someone in her family who was like Bart, which is why she relates to him. De Armas is captivating, sexy and mysterious, but this misdirection doesn't make a lot of sense. It's virtually a dream sequence for what could become an unlikely romance. But what about the other guy?
Tye Sheridan definitely stretches his acting chops convincingly playing a young man on the autism spectrum. Leguizamo's role as the detective could have been a tool more efficiently used by the director to add to his relationship with Bart. The film moves slowly and, credit to Director Cristofer, the payoff is unexpected and bittersweet. But is it satisfying? Not so much.
Saban Films         1 hour 30 minutes      R
from Movies and Shakers https://ift.tt/2SSBqnj