This is not technically a Holocaust movie, but it plays a pivotal role. The focus is on two boys, their association with classical music and their estrangement from childhood to 30 years later.
Director François Girard (The Red Violin, Thirty Two Short Films about Glenn Gould) structures the film with Martin, as an adult, telling the story with flashbacks. It's based on the novel by Norman Lebrecht with the screenplay written by Jeffrey Caine. There is more dialogue than music in this film about a talented violinist. 
Clive Owen and Tim Roth are the stars of the film. They play the adult versions of Dovidl, a young, Jewish, boy from Poland who is a violin prodigy and Martin, the son of music teacher, Gilbert Simmonds (Stanley Townsend) an English non-Jew who wants to help the young Pole pursue his unique talent.
The opening scene shows young Dovidl and his uncanny ability to play the violin so expertly at such a young age, it is awe inspiring. Staying in London to pursue his music ends up saving his life. When World War II gains momentum, young Dovidl (Jonah Hauer-King) is beyond Hitler's lethal grasp. But his family in Poland is not. When the letters from his parents stop coming, he worries about what has happened to them, but stays safe, continuing his studies in London.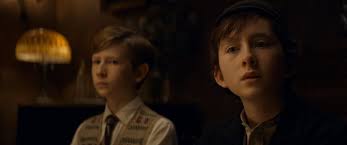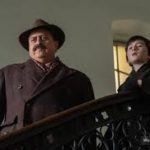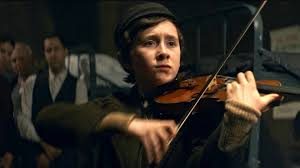 As he continues living with this family, Dovidl is raised as the brother of Simmond's son, Martin (Gerran Howell) who is jealous of the attention Dovidl and his talent is receiving. Simmonds even promotes Dovidl to follow his religion by studying Hebrew and having a Bar Mitzvah. 
When Dovidl turns 21 Martin's father puts all his faith and money into a 1951 concert to introduce this magnificent talent to the world. Dovidl never shows. We find out late in the film why and the consequences for Simmonds and his family. The film becomes like a detective story with Martin, now adult (Tim Roth) obsessed about finding the "brother" who disappeared for the next 30 + years. 
Catherine McCormack, as Martin's wife, is worth noting. She doesn't think Dovidl is worth all the effort her husband exerts trying to find him. She has a wry, sarcastic way about her. She looks past Dovidl's talent and sees a self-centered, egotist who has driven her husband crazy.
Clive Owen doesn't show up at all until the last quarter of the film when Martin finally finds him. We find out why he never showed up for the concert which becomes the reason the film is called The Song of Names. The scene showing what made Dovidl realize what happened to his family in Poland is gut wrenching. It's a list of names of those men, women and children who died at the hands of the Nazis. 
Tim Roth is obsessive, but not very emotional in his characterization. You really don't know if it's out of curiosity, revenge, or that he cares. Martin, now a music teacher, notices how a student handles the rosin treating the strings of the violin bow. He does it in a particular way, just like Dovidl which is how he picks up the trail of his long-lost violinist.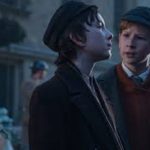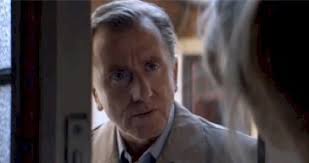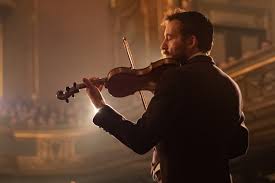 When Martin finally finds Dovidl, we're not sure he was worth the effort either. Clive Owen tries his best, but the script keeps beating him down. His is simply a grim, lifeless, dead-eyed character. That said, some of the most interesting moments of the film are watching Clive Owen make us believe he is competently playing the violin. Owen worked with a violinist who taught him how to finger each note and the complicated technique to play the difficult music. To laymen (like us) his bow and finger work appear in sync with the music track.
Director François Girard has experience helming music-themed films and there score for this film is almost better than the story. Music Department and Sound Track composer Howard Shore is responsible for the score. 
The exposition of Dovidl's tortured "survivor's guilt" comes late in the movie. The explanation of what the title (Song of Names) really means should have been a climax for this script, but it is a prelude to the final act that is unsatisfying; much like the whole film. It skips around too much and distracts from the impact it could have had about those who died in during the Holocaust as well as the survivors. We think this film needed to build to a much more dynamic crescendo.
Sony Pictures Classics               113 Minutes                PG-13
from Movies and Shakers https://ift.tt/2NdqL3C