You might want to take a muscle relaxer before seeing Adam Sandler's exasperating, unleashed, but memorable performance as Howard Ratner. 
Uncut Gems is the very definition of why we watch auto racing: there's an imminent crash coming, we just don't know when.
Sandler becomes the dentally challenged New York City jewelry/gem dealer perpetually looking for the score of a lifetime while walking a tightrope on the precipice of destruction every moment of this tense, funny, and fraught film.
Under the innovative direction of Josh and Benny Safdie (Good Time, Heaven Knows What), Adam Sandler's gives the best performance of his career. But there's so much more going on in this film. It grabs you from the opening scene showing a bloody, horrific injury to a jewel miner in Ethiopia, switching to a mesmerizing psychedelic color travelogue through Howard's colon and ending out his butt! It's a bit of a bizarre transition. 
Outwardly Howard is an established jeweler, but his real vocation is trying to cover his gambling debts. He especially loves to bet on the NBA and loves even more being able to rub elbows selling high priced jewelry to high profile sports figures. Howard's showroom is very informational. The way jewelry is sold in New York's diamond district is unique. There are buzzers to let customers in  the first set of glass doors by someone known or escorted in by someone known. And there's no getting out unless you're buzzed out both walls.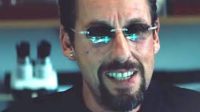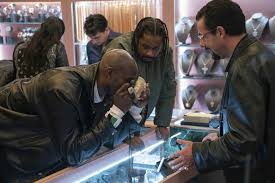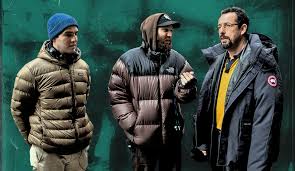 It's game on! When Boston Celtic's Kevin Garnett becomes obsessed with owning the huge stolen uncut opal Howard has acquired from that Ethiopian mine seen in the opening scene. Howard is putting the gem up for auction, for an ultimate score. This film takes place in 2012 when Garnett was still playing and he believes that this stone is his personal good luck charm. The scenes of him admiring the fiery opals as he turns it in his hands show how much he relishes having this item in his possession. Garnett does a more than credible job as an actor. 
Howard doesn't give the stone up easily. He talks Garnett into giving him his championship ring as collateral. Garnett wants the opal in his locker during a playoff game. As with so many moments during this movie you want to shout, "Don't do it!" as Howard uses the ring to make more bad decisions. He just never learns. Even having a couple enforcers hang him upside down outside a window many floors above the street threatening to bounce him on his head can't convince him to make better choices.
Writers, Josh and Benny Safdie with Ronald Bronstein, contribute to the frantic situations with colorful dialogue, layered at a fast pace. You'll hear more than 400 F-bombs. Can't believe they were all written into the script, but we're sure a number more were thrown in. It's yelling, non-stop, so loud, your ears will be ringing.
One of the major sources of nervous tension throughout is the sound design. This is a noise machine of a movie with 14 listed credits in the Sound Department. Multiple conversations, including yelling and screaming create a constant din in the background of Howard's jewelry store, yet it's always possible to catch the thread of his speech. Quite an achievement.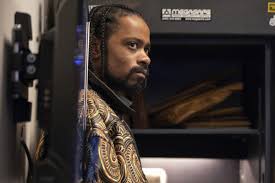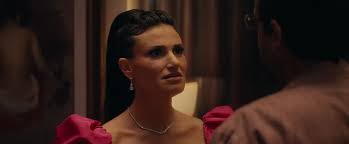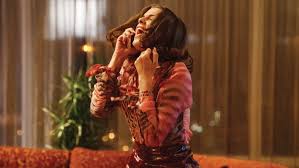 Sandler runs with it, managing to infuse Howard with some of the smart-aleck, bumbling qualities of his past comedic characters that infuriated audiences, as in Grown Ups and more. Sandler adds so much more to Howard's personality. There's more desperation and scheming, but also a desire to try to do right by his family. The scene at a Passover Seder brings that all into focus. He's at his best and worst, all at once, but, because of his actions, it's hard to like Howard, but easy to be frustrated by his actions. 
The constant movement of cinematographer Darius Khondji's camera also contributes to the nervous feel of almost every scene.  It must've been hard following Sandler as he is constantly moving. He bobs and weaves as if he is always on the make, looking for his next deal or a way to fix the last bad one. There's a grainy quality to the shots that gives off an ominous feeling that something dangerous is always on Howard's horizon.
Howard stays married, in name only, to Dinah (Idina Menzel) for the sake of his two children. She's gad enough. The on-going affair with sexy, knockout, Julia, one of his employees,(Julia Fox) is an open secret. Fox is a surprise delight in this film as a vixen who has a love/hate relationship with Howard. Julia is New York sassy and alternately ditzy in a pivotal role helping Howard facilitate his big bet finale. She is adorable, stunning, smart, dumb, but may really love Howard. 
LaKeith Stanfield, fresh off his sedate but amusing detective performance in Knives Out does a 180 degree turn in this film as Howard's tough, backstabbing employee Demany. He procures high-profile customers like Garnett and The Weekend who become the target of Howard's ire for messing around with his girl. But it's not just what Howard does. It's how Sandler manifests the characterization. His wheels are always turning, trying to figure out how to beat his pursuers by making the next deal. It's so frustrating how Howard always manages to turn what should be big wins into major screw-ups. You'll want to yell at the screen! 
The earsplitting sound and layered dialogue coupled with the Safdies' frenetic directing and pace create a film that careens off the screen bombarding your brain. Watching Adam Sandler is like watching a sped up version of dodge ball, talking non-stop to justify his every move. And once you get into his rhythm, it's hard to look away. Adam Sandler has given life to an unforgettable character in a "gem" of a performance. 
A24             2Hours 15Minutes              R
from Movies and Shakers https://ift.tt/35lVW2E