Greta Gerwig's realization of this mid 19th century novel proves to be as relevant, relatable, and heartwarming today, and it's not just a chick flick. Writer/Director Gerwig has elegantly visualized, and updated this classic while staying true to Louisa May Alcott's superb content and vivid characters. The saga of the March girls is beautifully written, performed and well cast, shining a light on family relationships, values, charity, war and, of course, love. 
Even more relevant is the attention given to what are now feminist issues. They include the desire for financial and artistic independence for women, and the importance of marriage as an economic necessity. We think this film could become a classic film for today's generation, not unlike what happened with the audiences who first saw Gone with the Wind, also set during the Civil War. 
Writer/Director Gerwig proves with this film that her Lady Bird was no fluke. She gives Soirse Ronan another opportunity as Jo to show her talent as a lead in a more pivotal and challenging role. The camera loves her, capturing Jo's slightest expressions. Her emotions come through in the fast delivery of the dialogue which add to her passionate performance as the free spirit writer, and rebel March girl. That is particularly interesting in her interaction with publisher Mr. Dashwood (Tracy Letts-Lady Bird, Ford v Ferrari) bargaining, with amusing repartée, to have her stories bought under a pen name so she can help her family. Jo's real ambition is to become a great writer using her own name. Letts, once again, proves what a great character actor and their scenes verbally sparring with each other are clever and very entertaining.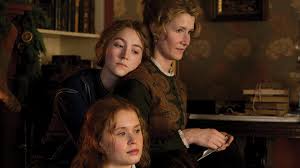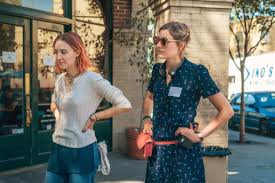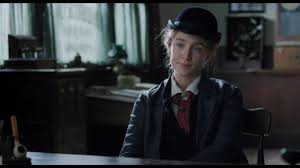 Florence Pugh delivers an outstanding stands out portraying Amy showing her many layers as the character with the most dramatic arc. She goes from petulant prankster as a young girl who then grows into a mature woman facing her own shortcomings as an artist. She also expresses the limits for women in the mid 19th century. To survive, you had to be married, hopefully to a rich man and the scene where Gerwig has her verbalize it is Articulate and enlightening.  
Let's not forget the most important man in Jo and Amy's life. Laurie, played by Timothy Chalamet shows amazing range in his performance. Laurie is the reckless, feckless spoiled, arrogant grandson of a very rich man (Chris Cooper). He changes dramatically, finally regretting and admitting his mistakes, especially when it comes to pursuing the love of his life. Chalamet plays drunk and disgusting to playful and fun, and finally self effacing by the end, becoming a more mature and likable character. He is absolutely charming on the screen. 
Meryl Streep as Aunt March is remarkably funny. She plays the rich Aunt who teaches the girls to be practical in their choices to marry and holds Jo in disdain for not wanting to marry. Her sage advice does not always go over well, but her delivery makes it very amusing. Streeps characterization adds so much to the texture of the film. Gerwig paces it well throughout the film.
Laura Dern gives a passionate performance as the mother who knows and appreciates the crazy ups and downs of her girls. She is the moral compass who has gentle, but strong influence on their relationships with each other while being compassionate and charitable to others. Yes, Dern plays sappy at times, but tender and loving as well. Gerwig gives a tender touch to the scenes where the girls all gather lovingly around her. Also when they react to neighbors in need, sickness in the family, and her husband,(Bob Odenkirk) away fighting for the Union in the Civil War.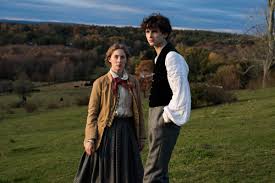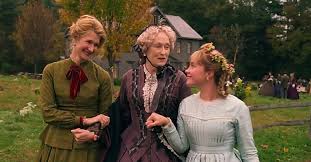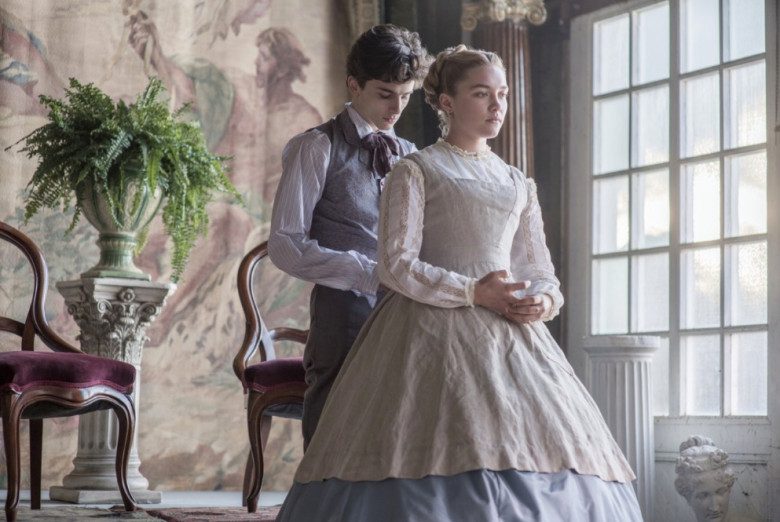 Meg (Emma Watson) and Beth (Eliza Scanlen) adequately fill their roles as the sister who marries for love and a family, and the young musical prodigy whose life is cut short adding tragedy to the family. 
Gerwig's casting and characterization of Professor Freidrich Bhaer from the New York Boarding house brings in another issue. French actor Louis Garrel gets a nice introduction to American film audiences as a man interested in Jo and her work. The reference to his being an immigrant resonates with today's issues as well. 
The characters are based on Alcott's own family which started as a novel and literally became a popular franchise from its publication in the mid 19th century. The book turned into a series of novels, several beloved adaptations for film, a broadway play, a musical, and a staple on the book list for high schoolers across the nation.
The timeline is a little confusing at first, but once you get into Gerwig's rhythm, bouncing back and forth, you find it a masterful way to construct the film rather than by presenting Alcott's book chronologically. She teaches you how to follow the characters's stories individually. Gerwig gives you a clue by having French cinematographer, Yorick Le Saux. (Personal Shopper, Non Fiction) shoot present day in more cool shades and flashbacks in warmer, in some cases almost sepia or muted tones. The framing of scenes, as well as the lighting add to the emotion of each setting. One scene in particular is the showdown between Jo and best friend, Laurie. The subsequent pull-back on a green hillside surrounded by Autumn colors that match Jo's clothing and red hair is reminiscent of an exquisite painting.
This film is memorable, from the brilliant directing to the excellent performances to the many minute details of the camera work and production design. There have been many versions of this work for the screen since 1917, including the classic one with Katherine Hepburn as a Tomboy Jo in 1933. This Writer/Director has proven herself more than capable taking on the enormous challenge of picking up the mantle of this iconic classic franchise. Greta Gerwig's version of Little Women stands tall. 
Columbia Pictures           2 hours 14 minutes              PG
from Movies and Shakers https://ift.tt/2QiOPCH