Can this final Star Wars movie live up to the fevered anticipation? It's a split decision. While delivering an action packed fantasy that fans demand, Director J.J. Abrams pulls a few punches. To placate stalwarts who gave Rian Johnson's dark re-tooling of the storylines in The Last Jedi, Abrams brings back some original villains to test Rey (Daisy Ridley). Abrams has to provide some answers about family trees and political alliances without bogging down the pace. And Abrams keeps this one frantic. 
The film begins with the epic full screen crawl getting the audience up to speed from the end of the last movie. Rey is getting ready for the final battle with the First Order. She's training under the tutelage of Leia Organa (Carrie Fisher). The late actresses lines were pulled from previously unused shots in The Force Awakens. Carrie Fisher is just the first of a parade of iconic Star Wars characters who walk across the screen as if taking nostalgic curtain calls.
The three main heroes, Rey, Finn (John Boyega), Poe (Oscar Isaac)  and the heavy Kilo Ren (Adam Driver) were introduced by Abrams in 2015's The Force Awakens, so it's fitting he gets to close these chapters. Boyega and Poe get a lot more screen time and their relationships are more fully developed.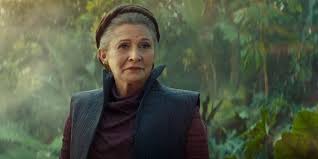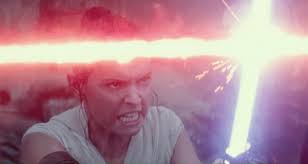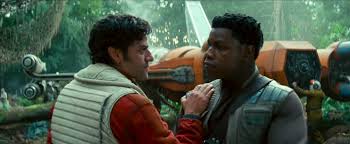 The script by Abrams and Chris Terrio has so much ground to cover that the enterprise becomes a manic exercise trying to fit in plot points while stuffing the screen with hyper-battles, light speed space travel, and audio pounding explosions. The sky is filled with every kind of starfighter and , for the first time, stormtroopers fly through the air! Some even sport stylish red stormtrooper shells. Abrams throws in everything eye-catching device. 
We have to learn Rey's real origin story and lineage. What was Poe up to before he became a Resistance good-guy. And how does über-villain Emperor Palpatine (Ian McDiarmid), who supposedly was killed off back in 1983's Return of the Jedi, get back in the game to rule the universe?
With such a massive to-do list Abrams and Terrio simply leave holes in the story. It's impossible to write about any one Star Wars movie in a vacuum. They all have to relate to the others. Where Rian Johnson gave a despondent persona to Luke Skywalker (Mark Hamill) and a Resistance that teeters on the brink, Abrams ignores most of those devices to make a Saturday matineé popcorn throwback to the past. He's more concerned keeping the fan base happy than innovation.
There are also underused characters we were hoping to see more on this  journey. Chief among them is Rose Tico (Kelly Marie Tran) from The Last Jedi. She was a winning, charming presence that is relegated to a near extra-role here. Zorii Bliss (Keri Russell), makes appearances, we think, because she is completely covered in her red space suit and helmet. You can't even see her eyes! New to the Resistance is Jannah (Naomi Ackie) Both Zorii and Jannah come and go so fast it looks like they're only introduced to be used in whatever next Star Wars movies are in development. Without giving away all the old faces who pop up, one who gets more than a moment is Lando Carlissian (Billy Dee Williams) back in the pilot seat with a lot of added closeups.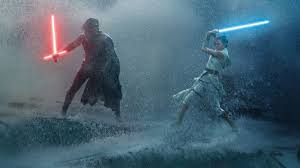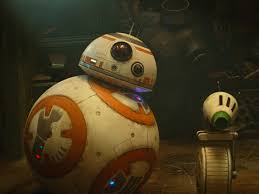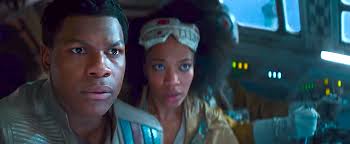 All the droids are back too, and a new charmer, D-O, who reminds us a bit of Wall-E who will likely get more screen time down the road. Wish there had been this time so we could become more attached to this new character. 
Even the battling machines have a nostalgic tenor. Rey and Kylo Ren engage in Light-Sabre battle on the destroyed hulk of the Death Star amid massive crashing surf. The CGI effect of battling the enormous  waves Rey has to traverse, while going at each other, rank among the best effects in the film. But that's not all. Rey even takes to the sky in Luke's original X-wing for aerial dogfights. Nice touch.
Of course sound and fury are central elements to generate excitement and cheers from the audience. But what this film lacks are more gentle, quiet moments like when C-3PO takes a pause to look at the heroes surrounding him and says, "I'm just taking one last look at my friends."  There aren't many openings for touchy-feely moments like this in a movie that moves frantically like a video game on a quest to find a prize while hop-scotching across the galaxy.
The music from John Williams not only strikes the same chords we've heard for generations and that's as it should be. He also writes powerful new music to get your attention during the action scenes. But in a nod to present day composers, J.J. Abrams accepted the offer from his friend Lin-Manuel Miranda to write the music for what we'll call the obligatory "cantina" scene.
Does this final episode of the third trilogy put a proper bow on the franchise? George Lucas began Star Wars in 1977 because he couldn't secure the rights to the hero he really wanted to bring to the screen, Flash Gordon. Now, with all the movies, TV (Mandelorian) and spin-offs, this franchise re-shaped entertainment culture with the dawning of these blockbuster events. Will you get final answers to the questions about the Skywalkers, Vaders and Palpatines? J.J. Abrams has competently brought this mythology about family, power, hope and love to a conclusion. But fear not, true fans, Disney is sure to find a new action adventure in a galaxy far, far away… and as close as the cineplex.
Walt Disney Pictures       155 minutes              PG-13 
from Movies and Shakers https://ift.tt/36PF05O