Here's a trio of Blonde bombshells who dropped the bomb on Roger Ailes and sexism in newsrooms. The title more than lives up to the dual meaning associated with the term. Three stunning blond women took on Fox News and Roger Ailes in a real life dramatization that is both disturbing and enthralling. Both of your reviewers have worked at Major Market local TV news operations. We have seen such blatant sexist behavior and know of lawsuits that were brought because of it. This movie hits the mark. 
Comedy and political film and theater Director, Jay Roach (Recount, Campaign, Game Change), and writer Charles Randolph (The Big Short) expose the sexist culture at Fox news. They infuse this work with satire in their deep dive into behind-the-scenes office politics to curry favor to move up the ladder into the limelight at the network. But Roach treads lightly when it comes to partisan politics in Fox's TV newscasts. 
Charlize Theron loses herself in the role as Megyn Kelly, taking on her hard-edged demeanor belying her soft look. Roach sets the film up with Theron as Kelly admitting she has a big mouth after challenging a presidential candidate, Donald Trump. Then she takes us on a long walk through the Fox newsroom shot by Cinematographer Barry Ackroyd. That totally immerses us into the place and the cast of characters involved.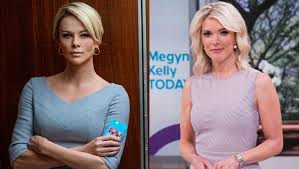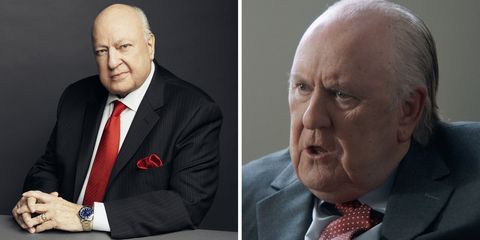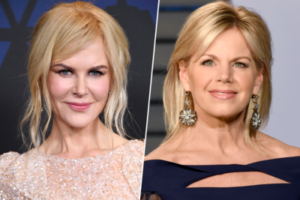 The extensive makeup department succeeds in helping Theron as Megyn and Nicole Kidman in her role as Gretchen Carlson take on the facial appearances as close to the real images we've seen on TV. Oscar winning Colleen Atwood provided the costumes that duplicate their look. But Theron and Kidman's taking on their personas really delivers. 
Kidman, as Carlson, is made to look like a fading beauty queen. She lets us know that even though she was a Miss America, she was a sum cum laude Stanford Grad. She's nobody's fool. Roach shows she knew she as at the end of her usefulness to Ailes. Carlson knows she's about to be fired,  and strategizes her next move.
Above all, what makes this movie work is John Lithgow's convincing power as Roger Ailes. The actor is completely transformed thanks to the prosthetic work of Hiro Yada. Lithgow takes on the Jaba-like, thick necked, beady-eyed, suspicious Fox News dictator who is more interested in the physical attributes of his anchors than anything else. He not only auditions women privately in his office, but orders them to twirl and show their legs before they can be considered for a place at the anchor desk. The scene where he bursts into the control room demanding more leg from his female anchor is shockingly offensive. 
Margot Robbie plays Kayla, a true believer and a Fox anchor wannabe. Her role is a composite of women, not a real person who worked at the TV network. Her scene with predator Ailes in his office is the most tense and troubling moment in the movie. Having to do a leg and butt test as if they were auditioning for the Rockettes is more than disgusting. It will make your stomach turn. Robbie painfully endures the subjugation and embarrassment he foists on her. You can see the heartbreak on her face when she realizes why she's really there.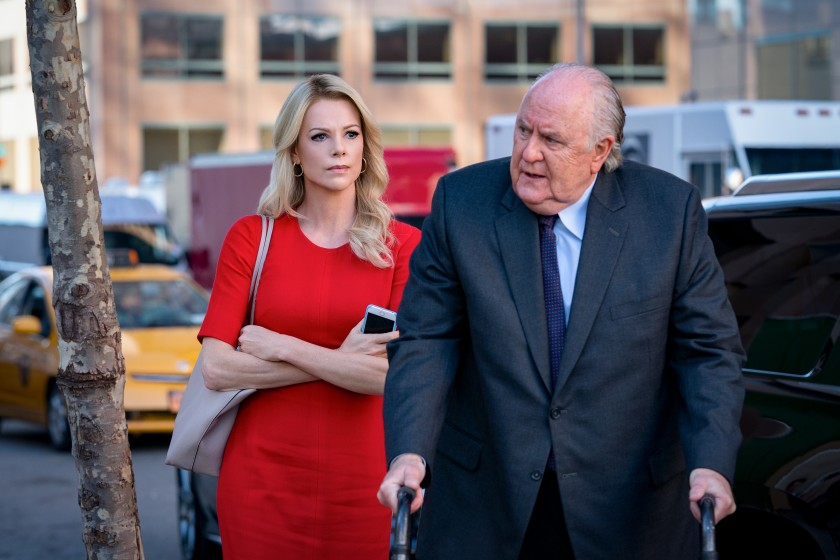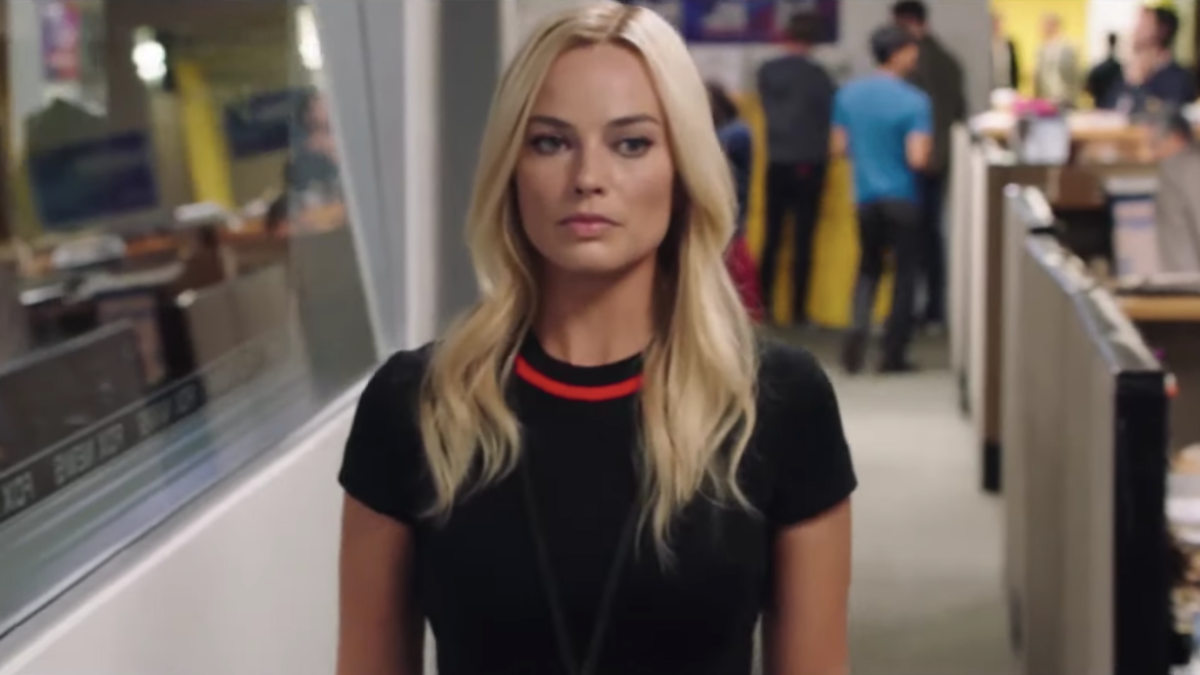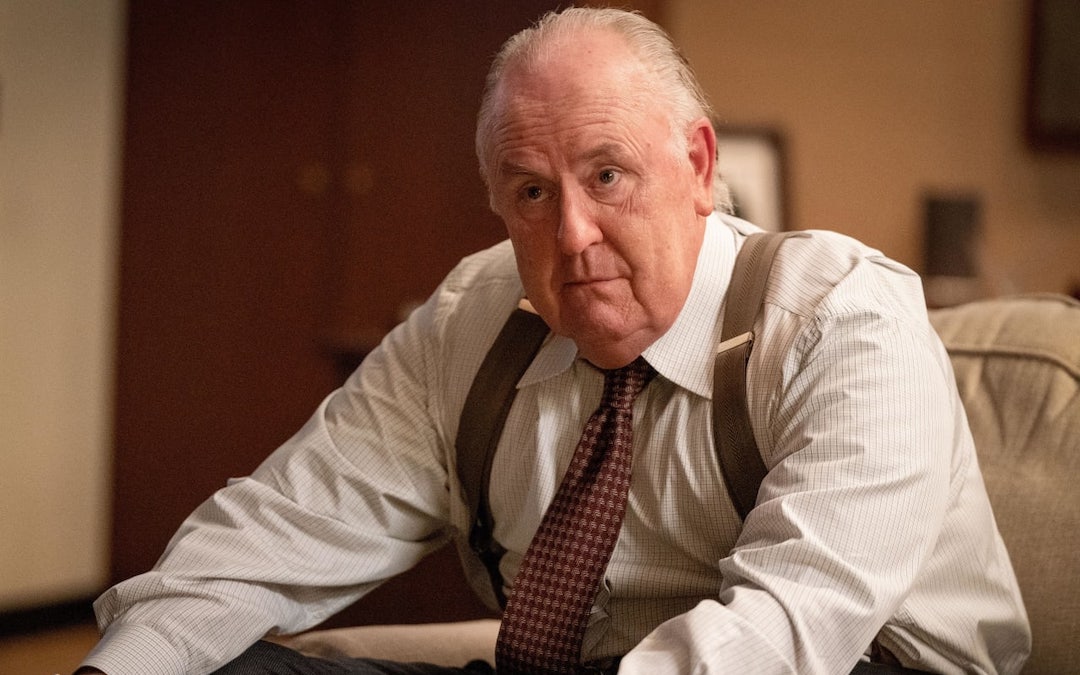 Kate McKinnon plays Jess, another fictional newsroom employee to represent those who only work at Fox for the paycheck, hiding their real selves. She mentors Kayla, clueing her into what's really happening about how women are treated in that organization and at other stations. She's very funny and matter of fact poking fun while pointing out the truth. Roach let McKinnon improvise and found that Robbie was good at it too. 
The structure is interesting is because these are not 3 women joining together to battle the evil Ailes. The scene in the elevator with Megyn, Gretchen and Kayla heading up to the boss' office without acknowledging each other tells all. They each have their own agenda. They are not working together to fight the man who victimizes all women. They're competitors. 
The final act, where Carlson fights back through her lawsuit can only bring Ailes down if she gets more women to stand up revealing the toxic conditions in the Fox newsroom. Roach sets up the tension well, leading up to Ailes' eventual take down. The moment when Gretchen gets off her treadmill to sign the judgement giving her a silent victory leaves it up to other women to carry the torch. 
This darkly satirical, suspenseful drama is filled with social issues of the day and tight performances from Theron, Kidman and Robbie. The story unfolds a layer at a time bouncing among the three women. Their bombshells were an opening salvo in this fight that laid the groundwork for women defending themselves today, pre Harvey Weinstein and the #Metoo movement. This is a movie where there are no good guys in this plot line. The women were on their own. Has anything changed at Fox?
Lionsgate                        1 hour 58 minutes                               R
from Movies and Shakers https://ift.tt/2PQGKoD