Controversy mars Clint Eastwood's take on this film almost as much as whether Richard Jewell was really the 1996 Atlanta Olympics Bomber. Impressive acting performances by Paul Walter Hauser as Jewell, Kathy Bates as his mother and Sam Rockwell as their lawyer get hampered by the ham-handed script pushing Eastwood's conspiracy fixations. 
They include the Government/FBI "Deep State" who can destroy an individual's life to fit their pre-determination of guilt or innocence, and, of course, the Media. Journalists are depicted as nothing more than ambitious glory-seekers who will do anything to get the story. 
Clint, at 89, still has a touch for getting his actors to undersell and over-deliver their performances, especially from Sam Rockwell and Paul Walter Hauser. Jon Hamm and Olivia Wilde not so much. The script was written by Marie Brenner, who wrote the Vanity Fair article about Jewell and Billy Ray (Terminator: Dark Fate, Gemini Man, Captain Phillips). They help Eastwood's hatred get channeled through these two characters and it shows in their one dimensional portrayals. Wilde plays a very unlikable ambitious reporter, and the director only allows one moment for her to show she's human.
Despite that, this meticulously documented story is fascinating. Hauser (I,Tonya, Blackklansmen, Supertroopers) is on the screen every minute. He almost looks too much like the real Jewell. The law enforcement fanatic was basically a well-intentioned, lawman wannabe just yearning to serve and protect. But he took it way too seriously, trying too hard, making enough mistakes that he just couldn't get out of his own way. He lost jobs because of it. In the beginning of the film, he ticks off lawyer Watson Bryant by going through his trash to discover his likes and dislikes. He's a meddler, but you ultimately find out that's not necessarily a bad thing.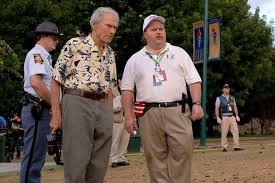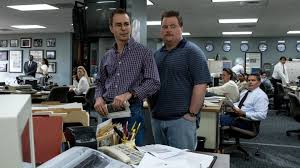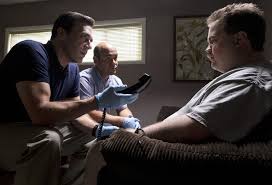 It's his M.O. And he can't help but swagger around the concert stage area at the Olympics making sure nobody gets out of line. He's not a police officer, but an employee of a private security agency. Still it's a way for him to feel important and he wields power where he can, specifically against some beer-drinking boys. A back pack left unattended catches his attention. We're more aware of that now, but not that many people would have picked up on it in 1996 at a positive, friendly family event like this. 
Despite his being careful, and trying to get someone from law enforcement to check out the bag, he gets flustered and starts frantically running around. The bomb squad confirms his fears. Jewell had to repeatedly demand the concert crew evacuate the tower. No one wanted to listen to the overweight guard, but his insistence saved lives. It goes off before the area can he totally cleared, killing one person and wounding hundreds. The mayhem is frightening to watch, with people running and bloodied bodies everywhere.
The film then follows how the FBI, police and everyone in law enforcement begin not only to take him seriously, but make him a hero. He and Mama are pleased as punch until driven reporter, Kathy Scruggs (Olivia Wilde)  of the Atlanta Journal-Constitution breaks the story, citing circumstantial evidence that Jewell may be the suspect. That happens after Scruggs meets up with FBI agent Tom Shaw (Jon Hamm). Shaw was not a real person, but Eastwood makes him an amalgam of law enforcement types. The controversial moment is when Scruggs trades sex with the FBI agent for information that implicates Jewell as the suspect in the bombing. The Atlanta Journal-Constitution was appalled by the insinuation that sex played a part in their reporters getting the story. 
Whiplash! The film takes an abrupt turn. The way Eastwood presents the process of trying to discern if he was responsible or not becomes more frustrating than enlightening, based on real events. The scenes showing the FBI trying to set him up to confess to the crime, tricking him into signing a waiver giving up his rights and having a gay lover-accomplice show Eastwood's disdain for law enforcement. He also shows same for the media swarming over his mother's house and badgering them with cameras. Jewell is so gullible and vulnerable, it's more than possible he'll let something slip and Eastwood will have you on edge hoping this targeted suspect will just be quiet. 
Barbara Jewell, Richard's protective Mama Bobi, is played with convincing nervous worry by Kathie Bates. Richard is a mama's boy all the way who only wants to please authority, and that includes his Mama. They live a modest life and there is no mention of Dad. Hauser plays up to her, always trying to prove how good he is. She coddles him to pieces. The writers keep Jewell always talking trying to justify himself. He opens his mouth just to change feet.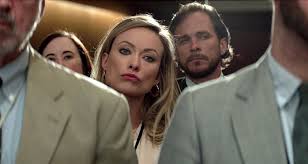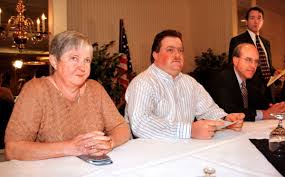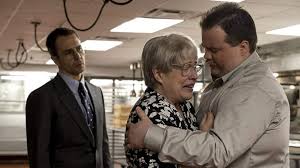 When Jewell finally realizes he might be in real trouble, he looks for help from Watson, now in his own legal practice. Watson, remembering Jewell, takes the case. Rockwell is always good. But here, he is amazing. He has an easy style of communicating with Jewell and his mother, but is intense and forceful when necessary. Watson had other lawyers on his team, one of which was a specialist in polygraph. They did all they could to try and prove Richard's innocence, but he kept getting in his own way. 
Nadya (Nina Arianda), Watson's assistant, based on a real characcter, becomes vital to the story.
The scene where the FBI comes into Bobi's home and takes everything, including her underwear and Tupperware as evidence is heartbreaking and she plays that scene exasperatingly well. But they also take his arsenal of guns and grenade looking paperweights, which makes him look bad. 
It's pitiful and pathetic what happened to this man who only wanted to do good. Interesting that Eastwood ended up make this film. Leonardo Di Caprio and Jonah Hill were attached to make and star in the project, but became its Executive Producers instead. Eastwood cast Hauser, Bates and Rockwell perfectly in a story that is even more relevant today with mass shootings and bombings that have become too commonplace. 
Eastwood's approach uses Hamm and Wilde's characters to represent his agenda regarding government and media. Jewell's story is good enough on its own. This is a well-constructed piece of filmmaking, but even though it is built on shaky ground, you'll learn that Richard Jewell really was a hero.
Warner Bros.              2 hours 9 minutes         R
from Movies and Shakers https://ift.tt/2snm13I