Rating: 2.5/4
"No victim is perfect:" four critical words most struggle to remember. Nevertheless, the women at the epicenter of Jay Roach's Bombshell truly aren't saints. They're three controversial news anchors, and their legacies rely just as much on their roles as oppressive figures than as whistle blowers. And while Bombshell does deliver megawatt performances and sharp one-liners—in a thought-provoking newsroom investigation of the toxic rape culture in Fox News—the exposé often buckles under these characters' moral ambiguities.
During Bombshell, Roach and screenwriter Charles Randolph (The Big Short and Love & Other Drugs) rotate around three perspectives: Megyn Kelly (Charlize Theron), Gretchen Carlson (Nicole Kidman), and Kayla Pospisil (Margot Robbie) in their fight against Fox News chief Roger Ailes (John Lithgow). In most aspects, the picture utilizes the same visual tricks as Vice or The Office, with cinematographer Barry Ackroyd's use of asides and zooms. When portraying women made silent for fear of reprisal, Ackroyd also relies on fourth-wall breaks, walk-and-talks, and voiceovers as interior monologues to rip open the truth.
To these ends, Ailes—the disgraced former chairman of Fox News—is the clear villain. Nevertheless, Roach unconsciously makes great pains to humanize Ailes. In some respects, the honcho is cast as a tragic figure, a scapegoat for the toxic work environment he fostered with the acknowledgement and support of his boss Rupert Murdoch (Malcolm McDowell). The sentiment also arrives through Lithgow's empathetic acting, incredibly rendered even under facial prosthetics and makeup. Having said all of that, Ailes acts are so despicable and vomit-inducingly terrible that these plaintive moves are merely light gestures. Because the chairman values loyalty, and "true" loyalty is demonstrated in only one conniving way: sex.  
His sickening actions come under fire by Bombshell's three leads. During the most terrifying scene, Robbie's Pospisil hopes to become an anchor by making her case one-on-one with Ailes. For much of Bombshell, Pospisil has a go-get em' drive, mixed with a laughable unawareness of the insanity of her outlet's Republican talking points. However, when she meets Ailes in his office, she must show her loyalty. The chairman demands her to slowly lift her skirt, and the camera matches the uneasiness with p.o.v. closeups of Pospisil's fearful expression, her legs, and Ailes' sloven arousal. In a film where Robbie's mostly reduced to a flat character, here she's trapped in a gut-wrenching dilemma. The emotional toll Robbie displays is nothing short of incredible.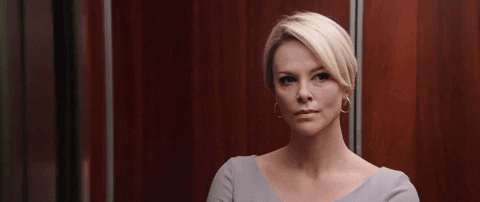 To fill out Roach's film, are supporting players like Kate McKinnon as Pospisil's best friend (a less frenetic role than the SNL cast member usually plays), Richard Kind as Rudy Giuliani, Allison Janney as Ailes' lawyer, and Jennifer Morrison as a key witness. With exception of Morrison, they mostly exist as funny adornments to an echo chamber of ignorance. And Bombshell, even with the aforementioned uneasy scenes, exists as a skewering. However, the balance between comedy and the moralistic microscope never steadies. Instead, Bombshell plays like an episode of Veep but without its astute observations.   
Unnervingly, the film's doubletalk permeates to Megyn Kelly and Gretchen Carlson. The two galvanize the women around them, helping to bring down Ailes, even in the face of his Svengali control of other female Fox employees. While both women were certainly victims of the chairman's horrendous crimes, which can never be minimized, they also served as perpetrators of Fox's other damaging policies and reporting. Roach makes pains to hide many of Kelly and Carlson's imperfections, specifically by solely relying on Kelly's thoughtful reporting on Donald Trump and her role in taking down Ailes. The director never diminishes their luster, which undermines Bombshell. And much like Vice, Roach's work is a display of fantastic acting and hilarious comedy, but doesn't pass as the historical documentary it wishes to be.
from 812filmReviews https://ift.tt/38u7zaH
via IFTTT