This film is much more than a Bonnie and Clyde story. It's about the Black experience, told through a couple harassed by police, finally becoming lovers on the run as they fight for survival. 
Melina Matsoukas not only fully develops her characters, but the challenges facing the Black community today and attitudes that still have not changed in terms of police brutality and civil rights. The basic plot is not that far removed from a Shakespearean tragedy. 
Slim (Daniel Kaluuya – Get Out, Black Panther, Widows) and Queen (Jodie Turner-Smith in her first lead role in a feature film) are two people who should never have even crossed paths. Their first date is a disaster. She is a cold, tough, high powered lawyer defending people on Death Row. He is a softie and a worker bee who is trying to find someone to love. She is striking, smart and classy. He, not so much. He's just a regular, fun-loving guy. 
Driving her home, they are stopped for a minor traffic violation. The cop is belligerent and obviously racist. The situation escalates unnecessarily when the white cop doesn't get the answers or behavior he demands. Bad enough, Matsoukas plays out the scene to make you mad. Way too quickly. the situation gets lethal when a gun is involved. Even though it was self-defense, bad decisions all around cause this mismatched couple to form a bond to protect each other. Hard to do when the dash cam showed the whole thing and the video is plastered all over national media and the internet.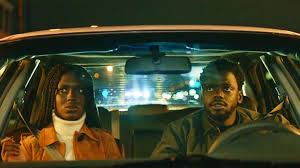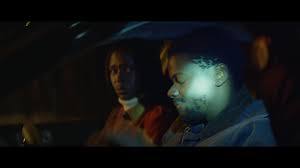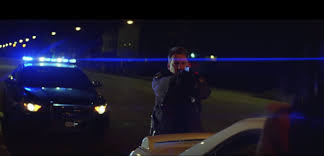 This is Matsoukas directing her first feature film She is known for cutting edge filmmaking directing more than 50 music videos for everyone from Beyoncé, Lady Gaga, Kiley Minogue and even Snoop Dogg. That's where she honed her talent for thinking out of the box, winning 4 MTV Music awards and 2 Grammys. Music is key to this film. Motown's Ethiopa Habermariam, Matsoukas and Lena Waithe picked songs and worked with Deve Hynes (aka Blood Orange) who composed the score to incorporate old to new Black songs and sounds.
Lena Waithe (Boomerang, The Chi) wrote the script from a story line she and James Frey (Producer on Relationship Status and American Gothic) created. It hits on so many issues and incorrect perceptions. Waithe wanted "to humanize this couple so that people would stop killing us." That point is made in this film.  
She praises Matsoukas for collaborating on the set, understanding what they were all trying to project following Queen and Slim's journey. Some of the dialogue seems a little forced or unlikely, but still gets the point across. Desperation keeps the couple zig zagging Southbound from Cleveland, Ohio, where the scenery is prettier but the racism only gets worse. They meet a couple of good samaritans along the way, and a few friends and family who give them safe haven for short spurts of time until it becomes too dangerous. Uncle Earl (Bokeem Woodbine (Spiderman: Homecoming, Overlord, WuTang An American Saga) is a sleazy guy, but he tries to help Queen in his own way. 
Because of the video and their notoriety, Queen and Slim have to change their appearance, hair and clothes (weird that hers were way too revealing for a woman in this situation), ditch cars, and keep running. It's exhausting. They're surprised when they see protests around the country making them heroes for standing up to law enforcement. Too many young men being killed in urban areas where the color of their skin makes them a target.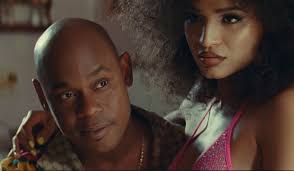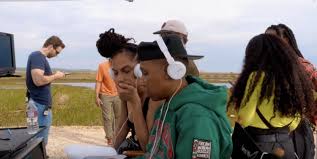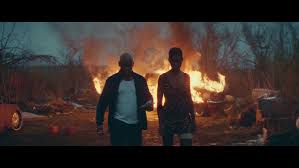 It takes a long time for Queen and Slim to develop a relationship. Matsoukas finally shows them giving in to their emotions in a prolonged sex scene in a car, interspersed with backdrops of protests for the couple and against police brutality. The Sex is graphic and uncomfortably too long. And the film itself is too long, even though it's worth waiting for the payoff in the final scene. 
You want to believe that the lovers will finally find safety and peace, but it's not over yet. Racism, police brutality, guns, drugs, politics, family, love, community all come through in this film. It's a lot to handle and it takes awhile to get to know and like Jodie-Turner-Smith and Kaluuya as Queen and Slim. You start wanting to pull  more and more for them as they meet each obstacle and keep trying to find a way to escape. As you like them more, they like each other more until they really find love. Is there a happy-ever-after for this couple? That final scene is a killer. 
Universal Pictures            133 minutes       R
from Movies and Shakers https://ift.tt/2P81DfK