This visually exquisite action adventure is basically silent and full of hot air! Felicity Jones and Eddie Redmayne (The Theory of Everything) are paired again, as scientific explorers riding up, up and away in a 90-foot tall balloon over London in 1862. In the year of the woman, Jones becomes the physically and mentally strong female action hero in this film who saves the day and her fellow high flyer breaking the record for climbing high in the sky.   
Director Tom Harper (TV's Peaky Blinders, War and Peace) cast Redmayne as real-life meteorologist James Glaisher. In fact, this film is based on Glaisher's journey with famous British aeronaut, Henry Coxwell. It was Coxwell who saved Glaisher's life after they both experienced numbing cold and loss of consciousness from thin air as they went to record height.
Instead, Jones is Amelia Wren, is a fictional character who takes his place. Writer Jack Thorne (Harry Potter and the Cursed Child for stage) created Amelia from an amalgam of several professional female balloonists in the 1800's including Sophie Blanchard, the wife of a balloonist who died in a ballooning mishap. Amelia is also a widow whose husband died the same way.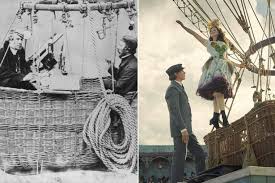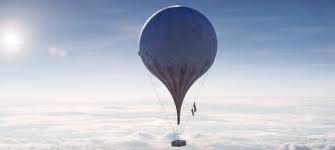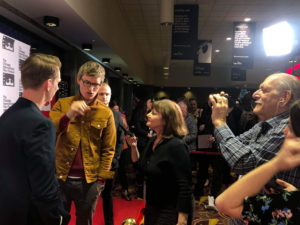 In our interview at the Chicago International Film Festival, Redmayne admits that Jones had the more physical role. She trained for months, not realizing how intense her stunts would be getting in amazing shape. Harper reminded Redmayne that he got his share of bruises, but Jones got more than her share looking strong doing most of the action scenes.
The Director did send both actors 8,000 feet up in a real balloon. Cinematographer George Steel (Wild Rose, TVs Peaky Blinders, War and Peace), gets magnificent vistas of the sphere in flight, floating through clouds shooting from helicopters and using drones. The silence while floating up in a balloon makes the visuals even more unusual and beautiful.
But most of the scenes were shot green screen on a huge soundstage that was cold enough to show the actors' breath in the tight basket as they fought hypothermia, frostbite and lack of oxygen. It's detailed enough that you'll feel as though you're fighting it all right along with them on their dangerous mission.
The beginning of the film gets a bit contrived. Glaisher's speech trying to get funding for his outrageous mission from a society of deniers shows how he is committed to expanding the boundaries of knowledge about weather. He was convinced that the air was different at different altitudes and wanted to prove it by flying higher than ever done before. 
But Wren is portrayed as a kind of circus performer with a cute dog who takes people up for balloon rides. The scenes setting up their getting together are extraneous and somewhat silly compared what they're trying to do.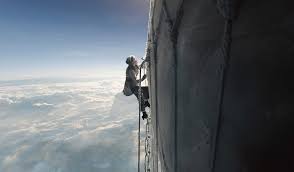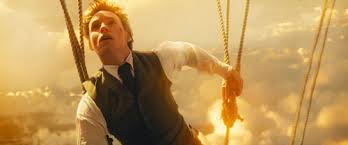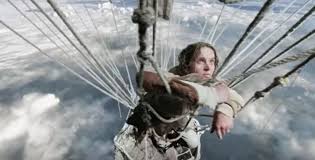 Once they get up in the air, the film takes on a more serious tenor. We were also glad that their relationship never turned romantic or combative. And the juxtaposition of her appearing to be the weak passenger in the beginning, becoming the strong one who saves Glaisher using desperate measures, works well. 
Glaisher actually went up 38,999 feet! But what goes up, must come down, which was another challenge. Despite the fact that this story is embellished from what really occurred (based on the 2013 book, Falling Upwards: How We Took to the Air) it's a great ride with breathtaking cinematic vistas and a breathless landing. We recommend you see if they stick it.  
Amazon Studios  1 hour 40 minutes  PG-13
from Movies and Shakers https://ift.tt/2RroYuE