This film is a work of art and the catalyst for this masterpiece of female filmmaking is lesbian love. It is a sensual, passionate period piece where each frame is visually composed worthy of being put-on display in any gallery. 
There are only four players, all actresses, in the leads. Noémie Merlant and Adèle Haenel are the first professional actors Céline Sciamma has worked with and they excel under this director's tutelage. Their intensity and chemistry between the lovers they play unfolds at a measured pace, down to the number of steps the actors take in the room down to the rhythm of their breathing. Writer/ Director Sciamma (Water Lilies (2007), Tomboy (2011) and Girlhood (2015) has already garnered recognition for its beauty and composition at Cannes and is still winning awards.  
The lush, warm tones of scenes lit only by fire from fireplaces and candles give their faces glowing perfection. Cinematographer Claire Mathon frames each shot as if it were a portrait in itself. The scene showing their profiles side by side on the beach is one of many examples. But there are also mysteriously haunting shots in high contrast. Ghostly appearances suddenly appear for a purpose that becomes more clear as the story unfolds.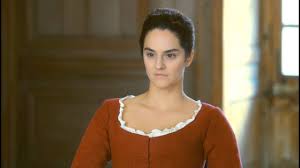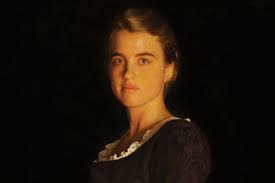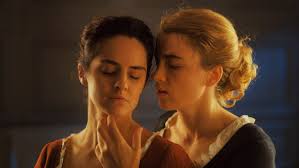 Sciamma set this film, not in contemporary times as her previous films, but in the 1770's on the Brittany coast of France. Marianne (Noémie Merlant) is a painter and teacher, whose father was a respected artist. She is teaching young women, who were not expecting their art to ever leave that room, let alone be put on display. One of the students, going through a pile of paintings, comes across one of a woman whose skirt is on fire. It sparks memories for Marianne and brings her and us back to her meeting Héloise.(Adèle Haenel). 
Marianne is commissioned to create a portrait of the young woman to be brought by her mother, The Countess, (Valeria Golina) to Milan to show to the man Héloise will marry. One caveat, Marianne has to paint the angry, young woman without her knowing it. She is to be her walking companion and paint her in secret, having to study her face without realizing what the artist is doing. As they spend time together, they begin the slow dance of getting to know each other. They are wary of each other and engage in little conversation. The questions become more personal as they spend time together becoming more straight forward. Interesting that, even when the women get close in this film, Sciamma uses the formal "vous" instead of the familiar "tu." Perhaps that was a sign of the times. Eventually, they learn to enjoy each other's company and even read the book Orpheus and Eurydice aloud to each other discussing the meaning of love and death.
Sophie (Luàna Bajrami) is the housekeeper/cook who clues Marianne into what's  really going on. Héloise is just back from the convent where she spent time after her sister mysteriously died. Learning that Héloise misses the religious music at the convent, Marianne plays Vivaldi on the harpsichord which moves her.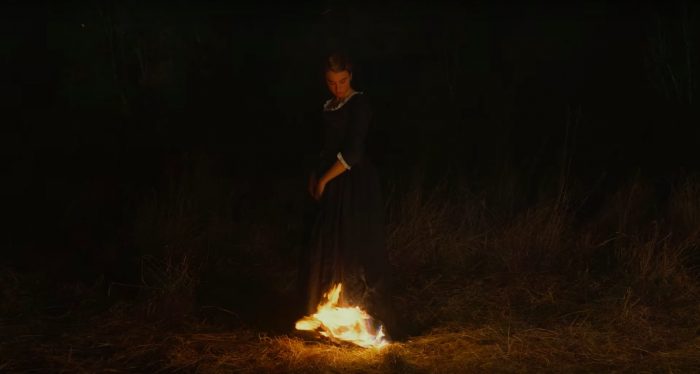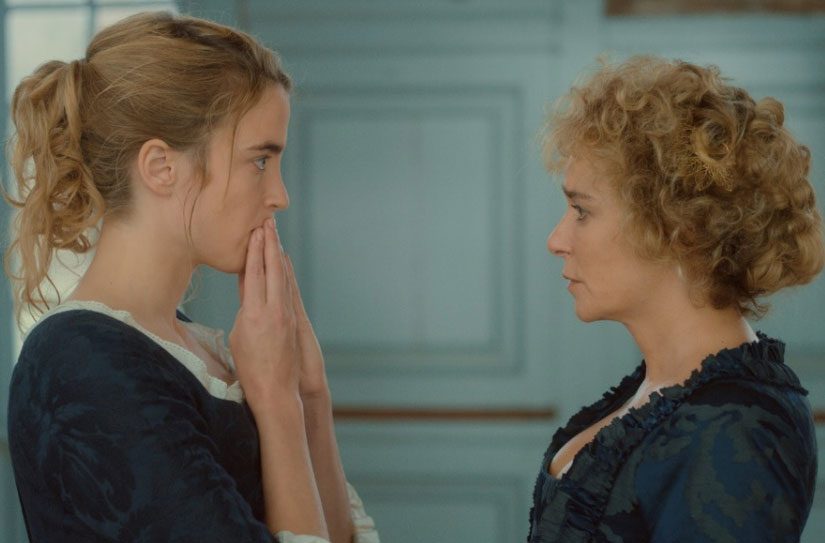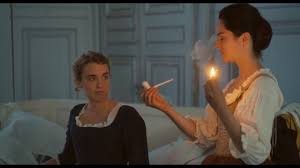 The Countess gives Marianne 5 days to complete a satisfactory portrait and leaves them alone. This is when the two women really get to know each other. Sophie prompts them to come with her to see a group of women who practice their own brand of medicine to deal with Sophie's unwanted pregnancy. The women break into clapping and then singing and dancing around a fire in a very entertaining, show-stopping moment. It's dissonant at first, becoming melodic and upbeat until Héloise's skirt catches fire in the darkness. This scene is frightening but mesmerizingly beautiful seeing the flames burn the bottom of her dress. It's a striking vision. 
The next day, when Marianne discovers Héloise has gone off alone, she panics. Sciamma has Marianne thinking the worst until she reaches her in a cave on the shore. A passionate kiss set against huge waves crashing behind them opens the door to their sensual awakening. Their intimate scenes in the bedroom are graphic, but not terribly disturbing. Sciamma shows what true love looks like. Now that Marianne knows Héloise, she paints a portrait of the woman she loves. 
Even though the painting is finished and The Countess takes Hèloise away to be married, the fires of their passion still burn long after their brief affair. Evidence of that is in the final shot of an emotion filled closeup of Héloise listening to the performance of Vivaldi's "Four Seasons" which Marianne first played for her on the harpsichord. The entire arc of memory is relived on her face. Unknown to Héloise, Marianne is watching intently from across the concert hall. Kudos to Sciamma for the long final shot depicting true love lost, but everlasting. This is a film that will stay with you long past leaving the theater. 
Neon           121Minutes                  R
from Movies and Shakers https://ift.tt/2Pi3DB1