This film is a lesson from the master of kindness, Mister Rogers, who helps a belligerent writer turn his bitter lemons into sweet lemonade. Marielle Heller (Can You Ever Forgive Me?) directs Tom Hanks in an unexpectedly dark story showing how Mister Rogers worked his magic on one tough cynical reporter. 
Hanks watched hundreds of hours of Mister Rogers' Neighborhood and it pays off in his subtle, but effective performance. Even though it takes awhile to adjust to Hanks losing himself and becoming the feel-good icon, he emulates well the slow, soft-spoken, open and honest Rogers. Hanks lets the consistently compassionate demeanor of Rogers comes through. Heller delivers all the positive trappings and iconic sights and sounds of Rogers in action on the set. They include the familiar sound of the trolley and the voices of the beloved characters he used as foils to spread his positivity. 
Credit goes to Heller and writers Micah-Fitzerman-Blue (Maleficent: Mistress of Evil, TV's Transparent) and Noah Harpster (TV's For All Mankind,Transparent). They are effective making Rogers come to life with minimal dialogue that asks questions about feelings, rather than preaching or criticizing. Hanks handles the role with a tender touch that pays tribute to the real Mister Rogers without getting overemotional.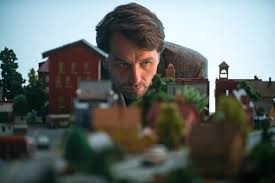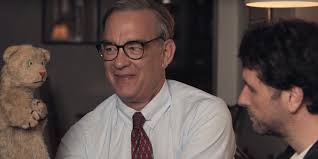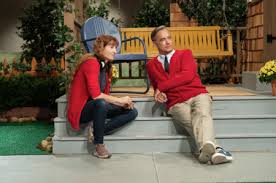 Matthew Rhys (The Report, Mowgli: Legend of the Jungle) plays hard core journalist, Lloyd, assigned to interview Mister Rogers for an article for the Esquire issue on Heroes. It's based on the 1998 article, "Can You Say…Hero?" written by Tom Junod . Rhys plays Lloyd as a crusty, negative journalist so well, you begin to hate him. He is so difficult, bucking his editor, Ellen, (Christine Lahti) making it clear that this is the last article he would ever want to do. But she lets him know, in no uncertain terms, that Mister Rogers is the only one of the magazine's chosen subjects who even agrees to speak with him. Lloyd's bad reputation is that well known. 
It's known in his family, too. He and his unlikable and estranged Dad, Jerry,  (Chris Cooper) end up at Lloyd's sister's wedding where old grudges erupt over Jerry leaving Lloyd's mother when she was dying. They get into a fight, wreaking havoc mentally and physically. Jerry ends up in the hospital, but Lloyd, outraged at the confrontation, leaves. It's left to his wife Andrea (Susan Kelechi Watson), with their infant son with Jerry's new wife to tend to the father at the hospital.  Andrea grew up loving Mister Rogers, and begs her husband not to tarnish her image of him.  
Lloyd, now sporting a bloody scab on his face from the fight, proceeds on assignment to interview Mister Rogers at the show's WQED studio in Pittsburgh.  Anxious, Lloyd has to wait patiently on the set, watching as Mister Rogers turns a troubled autistic child into a hugging, loving little boy. 
Rogers' patience is not really appreciated but noticed by the reporter. Heller handles the scene masterfully without overdoing it, letting Hanks play it out as we saw similarly in the touching documentary Won't You Be My Neighbor? And then, when they finally get to meet, Mister Rogers, seeing Lloyd's  scabby face, in true fashion, inquires first if he's alright. 
Little by little, Rogers shows Lloyd that the TV icon who makes so many children, and adults, happy, is the real deal. The scene where Rogers is on the subway where all ages start singing his theme song out loud is a heartwarming keeper that shows his impact.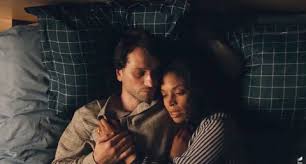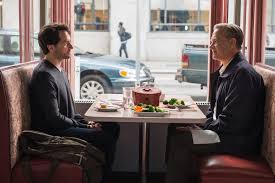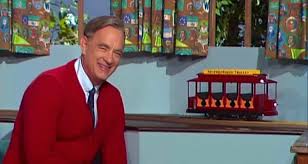 Shot on the real set in Pittsburgh, characters playing Lady Aberlin and Mr. McFeeley and the puppets of King Friday, and Daniel who were voiced by Rogers himself, are fun to see voiced with Hanks working behind the scene. Some of the people who worked on the actual show make cameo appearances, as does  Rogers' real wife, Joanne, when Rogers and Lloyd are dining are dining in a local restaurant. Interesting line when Lloyd asks if Rogers is a vegan, Rogers explains he prefers not eating any food that has a mother. 
There are scenes in the film we wish had been explored further and explained more fully to give more background on Rogers, his daily routines and his relationship with his wife and his two sons. Maryann Plunkett plays his wife, Joanne, in the movie. One scene shows them on the same wave length playing a duet on side-by-side pianos in their home in the film. It's beautifully shot, but like some other scenes, it appears out of context. Rogers was a seasoned musician who wrote most of the songs for his show that ran more than 30 years on PBS. 
If you're expecting a film that is a profile of the TV personality, this isn't it. Instead, Heller chose to show who he was through the eyes of someone who was a skeptic, which is effective in its own way. Even though this is a much darker take, Heller and Hanks do a credible job making this a touching, feel-good movie by the end. They also show the tolerance, acceptance and understanding, still needed now, that  Mister Rogers delivered. 
Sony Pictures       1 hour 48 minutes   PG
from Movies and Shakers https://ift.tt/2Op4IrC