Knives Out is Razor sharp! Writer/Director Rian Johnson has assembled a rogues gallery of a lovable hateful family played by A-listers who feasted on this project. This is Rian Johnson's homage to Agatha Christie in a mystery he started cooking up 10 years ago. 
Johnson has done a masterful job creating mystery, suspense and greed in a wonderfully Gothic setting. The Thrombey Mansion set in rural  Massachusetts is beautiful and ominous. The centerpiece of the main floor is the huge circular display of all sorts of knives that is reminiscent of the Iron Throne in Game of Thrones.
Johnson (The Brothers Bloom, Brick, Looper, Star Wars: the Last Jedi) creates a new iconic genius sleuth with Donald Craig playing Benoit Blanc, a Southern fried Hercule Poirot. Craig seemingly plays dumb with his laid-back Southern Foghorn Leghorn accent,  but the wheels are always turning. He's paying attention to every clue and you should, too. But know there are some red herrings that Johnson inserts just for misdirection.
Christopher Plummer plays Harlan Thrombey with a little twinkle in his eye. He's a fabulously rich and famous mystery writer. He is the example of a tough love father, but also with a compassionate side. The members of his dysfunctional family get together to celebrate their patriarch's 85th birthday. Even Harlan's mother, yes, mother, Greatnana Wanetta (K Callan) is there taking in everything. She, too, is quite a character.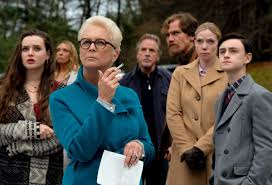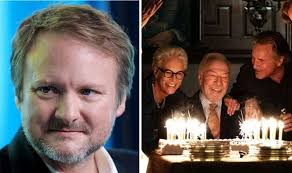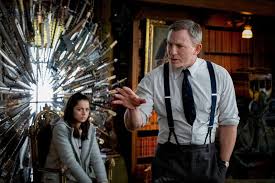 The scene is beautifully lit with all the candles shining bright on the faces of Harlan's supposedly adoring family. Cinematographer Steve Yedlin, who has worked with Johnson on all of his films, not only captures the details of the mansion, particularly all of the collectibles from his mysteries in Harlans study, but the little nuances of the family members inner selves. The closeups on their faces as they react to Blanc's questions provide awkward and often comedic tension. Yedlin and Johnson also project little clues here and there you barely notice until those "Ah hah" moments later. And the score by Nathan Johnson (Looper, Brick) provides the more than ample ambiance to intensify tension and the aura of mystery.
The actors playing these unlikable Thrombey characters each have their own secret revealed, little by little, so you understand their possible motives after he is found dead. It's presumed suicide, But is it? Benoit joins Lt. Elliott (Lakeith Stanfield), and Trooper Wagner (Noah Segan) questioning the family members one-by-one to try to discern if this is a murder. And if so, "who dunnit?" 
The great Benoit Blanc sits listening, relaxed but studiously,  punctuating some of the answers by striking piercing keys on a piano. What is that all about? And his quiet demeanor is unnerving at times. What's going on in that analytical mind? 
That's when Johnson uses his deft powers of observation to reveal each character's personality. And there are a lot of great  actors who went all in with their characterizations. Johnson loved having the whole ensemble on the property during the shoot using the mansion basement as their green room. He'd pluck who he needed for each scene, but really wanted to stay down in the basement with the rest to hear them tell all their stories. Especially from Frank Oz, the legendary actor/director, voice of Yoda, who plays Harlan's lawyer, Alan Stevens, in a fascinating scene reading his client's will to the family. Their reactions are priceless when they find out who, and who doesn't, get what. 
Jamie Lee Curtis is snarly as eldest daughter, Linda, married to Richard Drysdale, (Don Johnson) the stupid, right-wing husband. Their son, Ransom, is the good-looking Black Sheep of the family. Chris Evans (Captain America) who always plays good guys, gets to play the heavy for a change.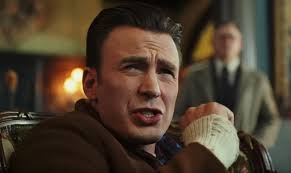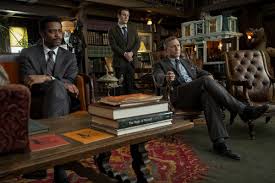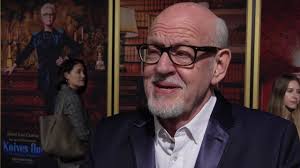 Michael Shannon is Walt, the surly son who manages the publishing house that handles Harlan's mystery novels. He also has a son. 16 year old Jacob is a weird unlikable kid whose eyes are constantly fixed on his cellphone. He's played by Jaeden Martell and is  almost totally uninvolved in the festivities the night of the murder/suicide. 
Toni Collette is the long widowed wife of Harlan's son. She is the voice-fried, Valley Girl, internet-famous lifestyle guru, whose speech pattern and facial reactions to the events at the mansion are hilarious. Her daughter, Meg, played by Katherine Langford is more rational.  
Ana de Armas is the beloved nurse, Marta Cabrera to Harlan who was the last person with him the night of his death. Johnson cleverly reveals a drastic change in their nightly routine. They always play the game "Go" before she gives him his bedtime medication. Nothing unusual here, but is there? Ana is smart, resourceful, beautiful, good-hearted and truthful. Telling the truth could also be her Achilles Heel. She's also the one person Harlan trusts and is his confidante. Johnson picked the right actress to play Marta. She is smart but vulnerable, and drives the narrative. Blanc seems to think so, too. 
The scene is set, now it's up to Benoit Blanc to get to the bottom of everyone's story by questioning them one at a time. Relationships and possible motives are revealed. Johnson shot this film within the past year so he throws in dialogue that plays off current events. There's a lot of comedy interspersed with issues including, politics, economics, business in the tech age and even illegal immigration. None of the family members can remember which Latin country Marta is actually from. This goes to show how little respect they really have for her despite their protestations otherwise. It becomes a running gag. 
Johnson adds more intrigue with odd interrelationships, and a chase even the cops call the worst ever. He even manages a jump out of your seat moment and a blank note that has significant meaning. What about those knives? 
We think Agatha Christie would be proud to see this murder mystery. Johnson respectfully pays tribute to her and the genre, even including a scene where you see a momentary glimpse of Angela Lansbury on a TV in a Spanish dubbed episode of Murder, She Wrote. 
Johnson crafted this film with no loose ends. He assembled an all-star cast and poured over every minute detail to carry out his vision. Sleuth Benoit Blanc says "When people get desperate, the knives come out." And Director Johnson makes sure you get the point.
Lionsgate             2 hours 10 minutes     PG-13
from Movies and Shakers https://ift.tt/2OeBdsp