Communication, competition, tragedy and forgiveness are the focus of Writer/Director, Trey Edward Shults' tragic semi-autobiographical story.
Shults, (It Comes at Night) who is white, made this film about a Black family living in the suburbs trying to make a better life for their kids. Shults picked actor Kelvin Harrison, Jr., just off his chilling role opposite Octavia Spencer in Luce, to represent him in his youth. It's a story told from the boy and his sister's points of view. The first scenes show them as rowdy, jammin' to their blasting songs cruisin' in a car. Shults shows them as free-wheeling and invincible. There isn't one thought of danger. But it's much different at home.
The Director uses hand held mashups to show the kids in action and closeups to get into the characters' heads. He supports it with old and new songs. But sound design was so important that he wrote the script with links to the songs to go along with scenes to set the mood for the actors from the first time they read it. The dramatic score is composed by Trent Reznor and Atticus Ross. The actors relayed that there was music on the set all the time. 
Ronald (Sterling K. Brown) has his own business and is a wrestling coach and self-proclaimed trainer to his son, Tyler (Kelvin J. Harrison). The boy is the star senior on his high school wrestling team with scholarship possibilities in the offing. Ronald's daughter, the sweet and beautiful Emily, (Taylor Russell) just wants everyone around her to be happy. She takes a back seat to her brother, but they are still close.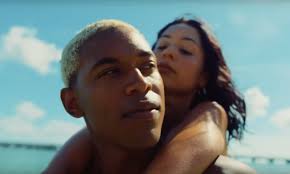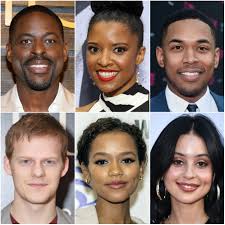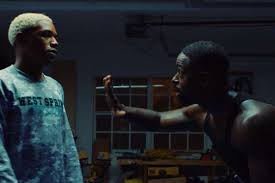 Step-Mom, Catherine, (Renée Elise Goldsberry) is a busy physician who works at connecting with both children. She often acts as a buffer to keep peace between her husband and their kids. Shults makes Brown the tough guy at home, constantly pushing his son to work harder and harder. The Dad  admits being hard on his kids because he says, being Black, they have to show they are tougher, smarter and better in order to get ahead in this white suburban world. 
Shults has put together an ensemble of very capable actors to play this tight knit family. Shults chose Harrison Jr., who played a much different kind of a teen in the film, Luce. In that film, he is the adopted son of white parents and the star of everything. He knows he's the smartest kid, best speaker and athlete in the school. Harrison, Jr. says Luce is totally self-absorbed. In this film, he admits being a lot like Shults was growing up, meaning repressed, less communicative with his family and more vulnerable. 
Dad is domineering in the household, expecting the best from both kids, but does he really know them, or communicate well with them? He shows no mercy competing with Tyler when they just work out at home! And when Tyler pushes way too hard and suffers an injury during a meet, he refuses to give in to the surgery recommended. Instead, he starts secretly stealing his Dad's painkillers and becomes a user. On the night of a big school dance, Tyler sees his girlfriend Alexis on line with another date, gets high and follows her. Their altercation is gruesome and lethal, changing all of their lives forever. 
Harrison as Tyler is a muscle-bound adonis who is crazy about his girlfriend, Alexis (Alexa Demie). They're crazy about each other, and look forward to college together after high school. You can see how close they are physically and emotionally, totally entangled in the water at the beach in a sensuous scene.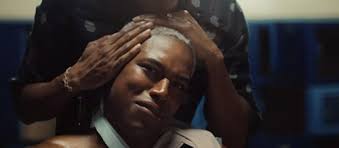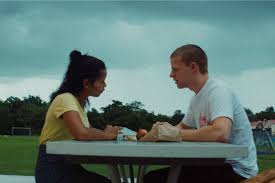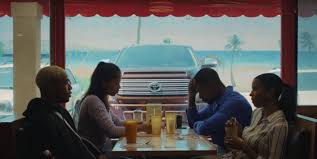 But when Alexis becomes pregnant, it not only changes their dreams, but their relationship. Shults shows how their attitudes take a sharp turn deciding whether or not to have the baby. And Tyler is under even more pressure since it will have direct impact on his relationship with his family, friends and his career path as an athlete. They break up. But it's not over.
Emily is just starting to explore her teen emotions and hormones. She strikes up a friendship that turns awkwardly intimate with her brother's wrestling teammate, Luke (Lucas Hedges) who is not as good nor as driven at the sport, but more sensitive. Hedges jumped at the chance to be in a real love story and he's pretty good at it. But watch as Emily turns out to be the glue trying to come to the rescue of her family's trauma and hold this family together. 
Great casting, acting and writing. This film portrays a seemingly perfect family that falls apart when a cataclysmic event destroys what they had. Shults makes it a warning for families. But as a lesson in communication and forgiveness, this difficult to watch film is worth the effort 
A24    2 hours 15 minutes  R
from Movies and Shakers https://ift.tt/2rVLkcQ