Gorgeous animation and likable sidekick characters can't save this follow-up effort from coming in a distant second to the original. There are moments of enchanted beauty and tenderness that weaves into traditional Disney Magic. But there are too many moments where Co-Writers/Co-Directors Jennifer Lee and Chris Buck's script feels like it's checking off boxes to find a way to appeal to all genders, races, and ethnicities. They even manage to work in another cute little gecko-type creature for the "awwwww" factor.
The plot takes us back in time before the events of the first Frozen where we meet Elsa (Menzel) and Anna (Kristen Bell) as joyful little princesses of Arendelle. This feels bittersweet knowing the trials coming in their future. The bedtime story the King and Queen tell their daughters concerns the founding of their Kingdom, which, it turns out, is a cruel fantasy in itself.
Back in the present, Elsa is faced with saving her world by discovering the true source of her icy magic power and the real story of Arendelle's past. She's joined on her quest by her ever-loyal sister Anna,  loving boyfriend Kristoff (Jonathan Groff), his trusty reindeer Sven, and Olaf the Snowman (voiced again by the crowd-pleasing Josh Gad).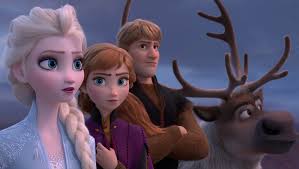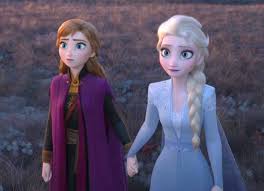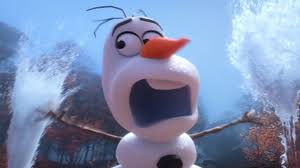 Perhaps the most anticipated part of this movie is the music. This is every bit as much a musical as an animated feature, but there's no song that sticks like,"Let It Go." After all, it won the Best Song Academy Award for Kristen Anderson-Lopez and Robert Lopez and everybody went out singing it. Idina Menzel is once again given the opportunity to show her amazing vocal range, but her two main anthems, "Show Yourself" and "Into the Unknown" don't nail the landing. This time, the climactic high notes attack the ears screeching more than soaring.
The Lopez' songs tell simplistic stories about how a character is feeling at the moment and they all have a cookie-cutter similarity. Josh Gad gets a chance to stand out with his "When I'm Older" tune which found some of the imagination and cleverness lacking elsewhere in the score. But Menzel's remarkable vocal talents don't seem to punch the lackluster lyrics.
Kristen Bell's Anna lights up the screen. She is powerful without Elsa's magic. She also has her musical moment singing "The Next Right Thing." Yet another song that starts with quiet questions and ends with a sustained, loud high note. There are no songs you'll leave the theatre singing, but Kristen Bell pulls this one off very well.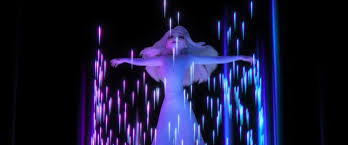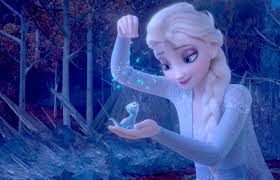 The Disney Animators and create scenes of beauty, wonder and emotion 
that makes Elsa's journey a compelling trip taking her through her family history. She encounters a world of icy figures frozen in time. This is her family and the important moments of their lives is preserved in these sculptured memories.
There is an exceptional piece of this film where you see a rushing wall of water cascading through a fjord. It is brought to life with a frightening, beautiful reality that almost makes you forget this is animation. And Elsa's taming of a wild horse created from water is an other example of how simple drawings can be transformed into elegant works of moving art.
These are moments that remind us of the best of what Disney can be. But there is also a sense of staleness here as well. Much of the motivation for character creation and design seems predicated on what will translate into sellable merchandise, especially in wearables for girls. Family, love, courage and honor feel like commodities instead of aspirations. 
Elsa and Anna may not make as beautiful music this time out, but Frozen II hits some of the right notes in this icy sequel, some of the time.    
Walt Disney Studios Motion Pictures    1 Hour  44 Minutes            PG
from Movies and Shakers https://ift.tt/2O0Ixrw