The success or failure of Writer/Director Noah Baumbach's examination of love and divorce rests not only on his own experiences, but on his pairing Adam Driver and Scarlett Johansson which exceeds expectations. It's also the supporting ensemble that propels the humor and the drama making this a fully formed, satisfying portrayal of these lives. Laura Dern, Ray Liotta and Alan Alda are farcically funny as stereotypical divorce lawyers. 
Baumbach's story of the deconstruction of a marriage and the reconstruction of individual lives begins his story with some clever misdirection. We see Charlie (Driver) and Nicole (Johansson) reading their notes as a voice over showing scenes of what makes each other so special. The tenderness and love in those notes show the care and compassion with which they hold each other. Then the reveal comes when this is an assignment from their mediator that, unfortunately is never read out loud. If it had been, the course of this film and their relationship might have been very different.
Divorce is a well-worn cinematic theme, notably in Kramer vs. Kramer or The War of the Roses, but here, Baumbach inserts his brand of talky-humor, some of it even verging on slapstick. Among these best of these are Nicole's sister and mother player by Merritt Wever and Julie Hagerty. The scene where they over-think serving divorce papers is hilarious moment of physical comedy. 
Charlie and Nicole are a New York couple ensconced in the artsy theatre community. He's the director of a troupe and she's his leading actress. To the outside world they are in a perfect place with a bright, loving son (Azhy Robertson) to round out the fairy-tale life. Except Nicole longs to make new career move back home in Los Angeles. Even though she knows he respects her talent, Nicole resents Charlie's oversized ego deciding what they produce and where they live. He's wants to stay in New York with his play about to go to Broadway.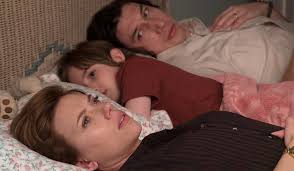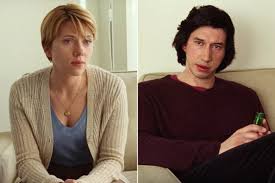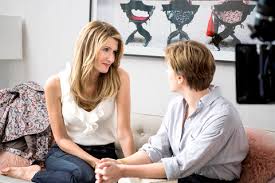 Baumbach's visual palette of New York and Los Angeles locations serves as a metaphor for the mindset of the players. The lifestyle juxtapositions between the coasts turns into the battle for laughs. The running joke about "You can't beat the space" in LA gets a reaction every time. Baumbach also takes the opportunity to poke some fun at the ostentatious, self important LA show folk while taking multiple pokes at the name dropping, over-acting Broadway theatre denizens. Legendary composer Randy Newman adds both lighter background as well as the delicate, emotionally charged musical score at the most dramatic scenes. 
The middle act of the script turns much darker when the lawyers get into the act. But even here, Baumbach finds ways to lighten the mood. Nicole hires tough LA divorce attorney Nora (Laura Dern) who complains about looking "schleppy" while dressed in stylish red stilettos and, extremely expensive jeans. Charlie tries to get a softer, less expensive lawyer, still hellbent on getting custody of his son he loves so much, even though Henry seems often to reject him. Enter Alan Alda, back at the top of his game playing the smart, truth telling advisor with quick come-backs. He lays out Charlie's tough spot, especially regarding custody of their son. Faced with that, Charlie surprisingly turns to the nuclear option for representation, Jay, played by ruthless, yet exceedingly funny Ray Liotta. He's the caricature of the expensive shark-lawyer. In court, Jay tries to destroy Nicole implying she's a drug user, asking "Coke?" Charlie won't take the bait and responds with a low key funny line, "Not in any real way. She was addicted to Tums for awhile."
Baumbach and cinematographer Robbie Ryan (The Favourite, The Meyerowitz Stories) shot so many closeups of Driver and Johansson as Charlie and Nicole. They capture their individual reactions, and to each other, to the turmoil they've unintentionally created for themselves and their son, Henry. The long scene where they meet at Charlie's new apartment to discuss how the situation has escalated is a case in point. It's especially disturbing when it boils over. 
Even in the darkest moments of the story, Baumbach tries to inject a bit of humor. Deciding what to order for lunch during uncomfortably tough legal negotiations becomes a respite and a brief, appreciated diversion. Trick or Treating with Henry with each parent separately is difficult for all involved. One attempt at humor that fell flat involves the awkward scene when a vapid, humorless and clueless social worker spends an evening observing Charlie's parenting skills. Henry doesn't help. He's not very cooperative on any level. The disaster ends in the worst possible way that literally involves bloodletting.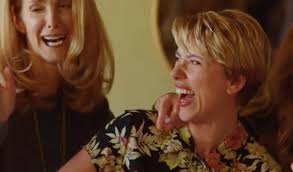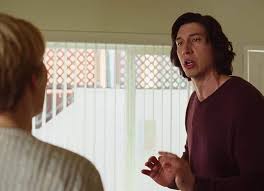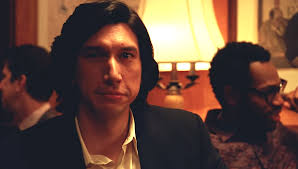 Baumbach's resolution of this story reminds us that time does provide a chance to reflect and heal. As ugly as the story gets, this marriage story allows these characters the ability to regain their balance and forgive. The shot where Nicole and Charlie are facing each other and one morphs into the other shows they still care about each other's well being even though they've gone their own ways. 
The prime example of that is when Charlie, long post divorce, is at a bar with his theatre company and sings an emotionally charged rendition of "Being Alive" from Stephen Sondheim's Broadway show, Company. This beautiful moment lets him, and us, know that he might be ready to stop take a chance on love again even if it could mean pain. Who knew he could sing? This is drives home Driver's truly stand-out performance. 
As a couple, Scarlett Johansson and Adam Driver created a conventional happy family that fell apart. But individually, Driver soars in his performance of a self-centered, work-obsessed man who travels an agonizing path learning what love might actually be. Scarlett Johansson plays the good cop trying to find freedom from her husband as painlessly as possible, but comes to realize it's just not that easy. 
Baumbach makes this a heartbreaking saga about divorce and the end of a relationship, but thankfully shows with positivity in the end, that the love that precedes it can never be totally erased.  
Netflix             2 Hours 16 Minutes          R
from Movies and Shakers https://ift.tt/2NZfq89