Buckle up! Heart pounding action puts you in the driver's seat with Christian Bale racing 200 miles per hour. And wait till you see Tracy Letts as Henry Ford II take the ride of his life with Matt Damon behind the wheel. 
This film is based on the real auto racing duo that built a car for Ford to beat Ferrari at La Mans in 1966. It shows the trust, respect and friendship between British driver Ken Miles (Christian Bale) and genius American car builder, Carroll Shelby (Matt Damon) who took on the biggest project of their lives. And the bill was sent to Henry Ford II who just wanted to beat Enzo Ferrari at his own game. 
Director James Mangold makes it very clear that this is a buddy movie filled with high speed competition and crashes, but only one scene in the whole film was CGI (computer generated). The rest was actually shot live on race tracks, driving cars fitted with cameras on a Biscuit Rig. The driving gets more and more exciting throughout the film. Stunt coordinator, Robert Nagle, told us that he invented the Biscuit Rig to use here and on the Fast and Furious films.
Bale lost 70 pounds coming off his Oscar nominated role as Dick Cheney in VICE, just so he could fit in the race car cockpit. Bale's known for yo-yo weight gains and losses for past roles including The Machinist and Dark Knight. But now he says he's over it.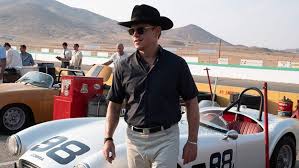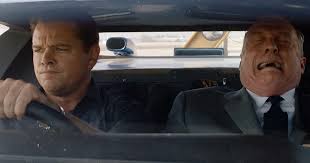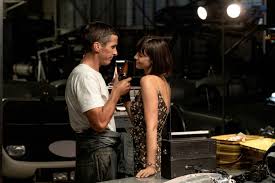 As Miles, he is difficult but a loving family man with a great wife (Caitriona Balfe – The Outlander, Now You See Me) who understands and supports his need for speed. And his son (Noah Jupe – Honey Boy, A Quiet Place, Wonder) not only adores him, but is just as passionate about car racing. Jupe is a convincing young actor. Although Bale's back playing and sounding like a Brit from Birmingham, his native Welsh accent is as different as someone with a New York accent talking with a Texas drawl. 
Henry Ford's business was in a slump. His marketing gurus wanted to jump start whatever they could to get noticed. Carroll Shelby was commissioned to design a race car for Ford that could blow past a Ferrari at the most prestigious race in the world; Le Mans, France. Ferrari had won many times over. Shelby knew he could build the car, but not without the best driver on the planet who knew cars inside and out. Leo Beebe (Josh Lucas) and Lee Iacocca (Jon Bernthal) are Ford's marketing managers who get in the way. Lucas is especially good as the exasperating bad guy who puts up road blocks off the track. He's much different here than the more likable guys he usually plays. 
Both Shelby and Miles were down on their luck, needing money. Ford found out Ferrari, who hand-built a small number of cars each year, was in financial trouble. When Ford made an offer to buy them out, proud Italian owner Enzo Ferrari refused to ink Ford's offer to relinquish control, lock, stock and engines. Bad blood became the impetus for Shelby to build a car to rival the Italian winner and, against Ford's wishes, Shelby put Ken Miles in the driver's seat. The goal? To build a car that could win the grueling 24-hour LeMans car race and show up the Italians.
Mangold creates a believable bond showing Shelby and Miles close enough to poke fun at each other. He gives Miles a loving family with wife Mollie and son Peter. But when she thinks he's hood winking her, she steps on the gas weaving in traffic to shake the truth from her husband. It's a very human scene. Balfe plays the role well, without being too cute or overly dramatic.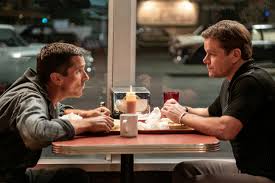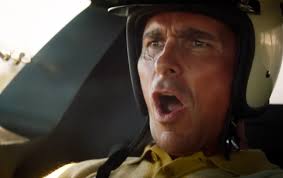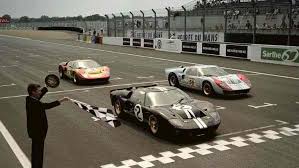 Damon as Shelby shows his soft spot for Miles and fights for him in ingenious ways. Shelby was a maverick in his own right, risking his health and business when he couldn't drive anymore, but he found his niche designing cars. The scene where Shelby calmly completely pisses off Beebe by locking him in an office is choice. The reaction on both sides is very amusing. So is when Shelby takes Letts as Henry Ford II for a high speed spin in the car he's designed for the automaker. Stunt coordinator Nagle and Damon had already worked out the scene. Letts knew he was going to experience great speed, but not the twist at the end. Letts' reaction is priceless and a scene to remember. 
The racing scenes will have your heart pumping as you sit in the car with Miles seeing the instruments showing RPM's climb into the red zone at 7000 creating enough stress to break up a car. Mangold also captures Bale's improvised patter, talking to himself and to his vehicle in the racing scenes as you see him close-up shifting to get max speed. The sound design captures his changing the gears and the enormous power of the engines.  
Bale captures the character and all of the machinations of  being a race car driver so well that Nagle says after only one week of training, he's convinced the actor could do it for real if he wanted to. Director Mangold finely tunes their friendship as they work together to win Le Mans. It is well developed and played out on and off the track in this film. Whether you're a car buff or not, this story about friendship and determination is totally engaging, putting you in the driver's seat, pedal to the metal, at nearly 200 mph for a riveting 2 and a half hours. 
20th Century Fox          2 hours 32 minutes                PG-13
from Movies and Shakers https://ift.tt/2OhwuVt