This French film slowly and methodically unveils the scandal of priests preying on children in their churches in Lyon decades ago. Writer/Director Francois Ozon based this film on a true story in which one man faces his nightmares and one-by-one, gets two other victims to try to make the predator priests and their superiors take responsibility. Some of these men have children of their own now and want to make sure it doesn't happen to them or to anyone ever again. 
Alexandre (Melvil Poupaud), François (Denis Ménochet), and Emmanuel (Swann Arlaud) are very different, but they are the three principle victims who expose the vile behavior that the priests made sure would be hidden from their parents, teachers and other children forever. The guilt and stress put upon these men is unconscionable. And it took courage to confront it and share it with their wives and even with their children. The film shows these parents much more open in Europe, being very frank about the behavior describing it to their friends and family members. Exposing priest predators has also been rampant in many cities in the United States. Spotlight, the movie, is a good example of Boston Globe journalists uncovering and bringing to justice those in Boston who preyed upon children.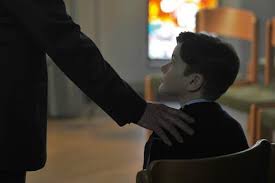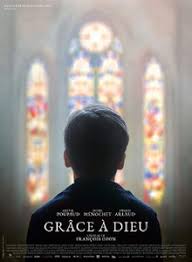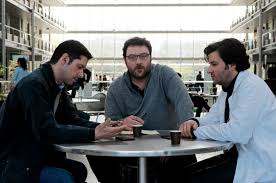 This film comes at the subject from a different point of view. It follows the victims as men, and includes the machinations they had to go through to get the hierarchy of the church and police to listen to the charges of abuse. These are men who, after living with the secret for their whole lives, finally decide to make those who abused them come out and take responsibility for their vile behavior. The true story upon which the film is based is an ongoing scandal in France, with Philippe Barbarin, Cardinal of Lyon, convicted in March 2019 for concealing the conduct of Father Preynat.
The scene where the men and their families meet has them compare notes on what they had to experience as boys. François is boisterous and funny, but you can see he's seething under the surface. The meeting becomes a heated discussion as to how to handle the situation. It really brings to the fore how difficult and sensitive holding that secret into adulthood has has affected their relationships and their lives.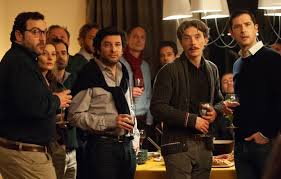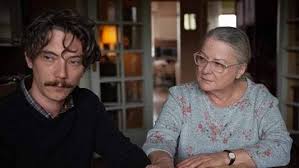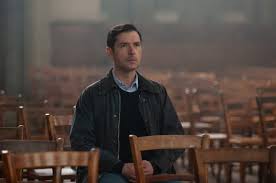 This is an important and well-documented film that does not show specific sexual encounters, but they graphically describe them showing enough to know how the priests lured the boys into succumbing to their vile behavior. One instance described but not shown is especially hard to forget. Emannuel has been scarred for life by the experience relaying that his genitals actually became deformed because of what the priest did to him. 
This film ultimately shows how difficult it was for Alexandre to persuade these victims, who really didn't want to dig up the past and join the fight. But it also shows their courage to help make sure predator priests can't be protected by their church superiors or by secrecy.
Music Box Films  2 hours 17 minutes          N/R
from Movies and Shakers https://ift.tt/2rw2xcP