This throw-back of a film noir detective story with Edward Norton in charge, on and off the screen, is better than we expected. It's clues and blues about power, corruption and race, and the detective office is right out of central casting, Norton is Writer, Producer, Director and stars as Lionel, a detective's right hand man who has Tourettes Syndrome.
Co-producer, Gigi Pritzker (Drive, Hell or High Water, The Way Way Back, Rosewater), told us  at the Chicago International Film Festival that Norton studied hard to get Tourettes Syndrome right. Norton plays Lionel as smart and intuitive with an acute memory for details. He spews out what sound like random phrases as his head jerks sharply. It can be disturbing to watch, but pay attention to what he says. Lionel is the truth teller in this movie. 
Norton started working on this adaptation of a 1999 novel by Jonathan Lethem shortly after it was published. But he decided to set it in the 1950's which mirror some of the same problems big cities now face. Set in that era, It also gives it a grittier, more historical look with an appeal reminiscent of detective films like Chinatown.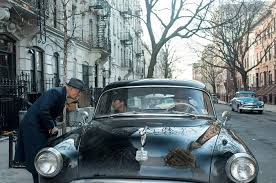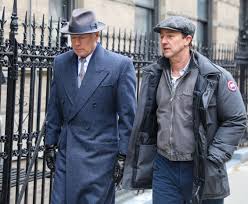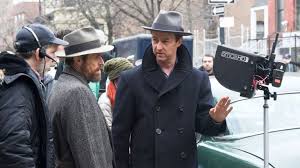 Lionel is also the narrator of the film, filling in the blanks where necessary. He's trying to solve the murder of his boss, and the mentor the head of a Detective agency in New York City in the 1950's. Frank Minna (Bruce willis, plucked Lionel out of a Catholic orphanage and trained him to work with Frank's buds in the agency, Danny, Gilbert and Tony, (Dallas Roberts, Ethan Suplee and Bobby Cannavale), who grew up together in the same orphanage. 
Minna leaves just enough clues that when he is bumped off, Lionel sets in motion the search for his killer. More clues about every character and what they're up to, including what happened to Frank, are telegraphed throughout the film.
Moses Randolph (Alec Baldwin) is based on a real man named Moses who was New York City head of the Burrough Authority. He's a powerful businessman who is manipulating the Mayor (Peter Gray Lewis) to enact urban removal of Blacks, Hispanics and low income families living in Brooklyn and Harlem. His goal is to build high-priced, highly-taxed property to build his own profit center. His wife, played by Leslie Mann, is a real piece of work, in the movie for about a minute. Moses' henchmen are big, tough guys who don't mess around, especially the biggest guy, (Radu Spinghel) who you would not want to meet in a dark alley. 
Moses Randolph's brother (Willem Dafoe) enters the picture. He's the frantic and frustrated architect Moses keeps using, abusing, then pushing aside. What's up with that? On the trail to find out who killed Frank, Lionel meets Laura Rose (Gugu Mbatha-Raw), a stunning, young, Black lawyer trying to fight the city's corrupt plans to move Black families out. Her boss and champion activist, Gabby Horowitz (Cherry Jones) gives a rousing speech at City Hall to no avail. Talking to Laura, Lionel finds out there's more going on here that's connected to Moses. Interesting choice for Norton to show that when Lionel is with Rose, he seems calmer and doesn't seem to have Tourettes.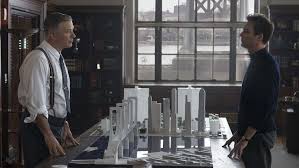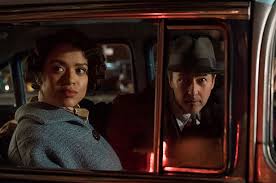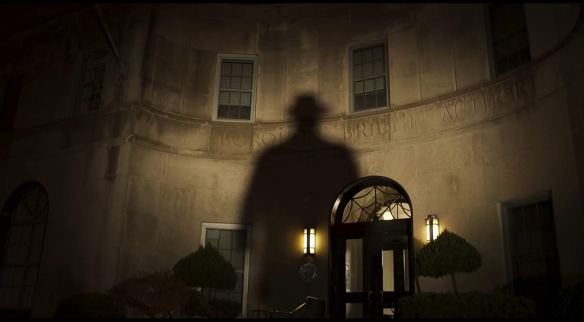 Rose's father, Billy, (Robert Wisdom) owns The Rooster, a blues club in Harlem that may have another tie. Closeups of the musician in the band playing Miles Davis style soulful trumpet (Michael K. Williams) in the smoky dark club, sets the scene. Horn music throughout the film sets a melancholy mood for Lionel's depression about losing Frank and his search for the truth. But those who might have information keep getting killed before he can get to them.  Norton makes Lionel pretty much a loner going to these gritty places alone and getting roughed up more than once. He makes you really feel for this guy.
Scenes in the club, at City Hall where protests are going on, Laura and Lionel walking through a neighborhood under construction, and with Moses Randolph at the Steam Bath with his cronies, back alleys and shadow on fire escapes all create what it was like in New York City during this period. And this film brings in more complicated issues for Lionel to deal with than just his mentor's murder. 
Norton took on a huge project, obviously a labor of love, producing, writing and directing himself acting as well. It gets sappy towards the end and there are several places where it could have been judiciously edited so it didn't last 2 and a half hours. Long running times seem to be trending these days. But Norton holds your attention creating a good tribute to film noir, loaded with colorful characters. 
Warner Bros.        2 hours 24 minutes         R
from Movies and Shakers https://ift.tt/2qjC1mg