Finally, this female American hero gets her due in the first feature-length film about Harriet Tubman that times feels more like a history lesson than a big studio biopic. It's amazing Tubman's story has not been told before on the big screen. However, Director Kasi Lemmons (Eve's Bayou, Talk to Me) cast right with Cynthia Erivo who embodies this American treasure and what she went through to earn freedom from slavery before and during the Civil War. 
Lemmons took a script from the 1990's, updated and re-envisioned it, adding more accurate details of Tubman's life. The screenplay, written by Lemmons and Gregory Allen Howard, dwells more on family separation than the violence against slaves in the years leading up to the war. Writer/Director Lemmons describes the film as a cross between 12 Years a Slave, Django Unchained, and Wonder Woman, but in this film, Tubman was just trying to keep her family together. 
Lemmons cast Cynthia Erivo (Tony, Grammy and Emmy winner) because she could act, sing, and she could run fast. She did a lot of running in Widows and has to do even more in this film. Erivo plays Tubman as a woman who literally ran for her life to get freedom from slavery, for herself and for others. 
There's been was some question about Erivo playing the role, instead of an American actress, because she is British, having been born in London of Nigerian parents. But she handles the role well, along with a Southern accent, of the 5-foot tall freedom fighter who brought more than 100 slaves North. Tubman became a conductor on the Underground Railroad. It was thought to have been guided by God, having visions, some attribute  to her being hit hard on the head with a heavy hammer when she was 13. The scene of her walking slowly, neck deep, across a river, looking to God for help, is a graphic example showing why she was called Moses for leading her people to freedom. It also shows the religious overtones of the film.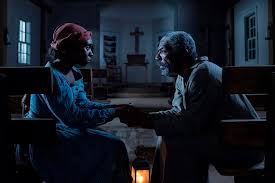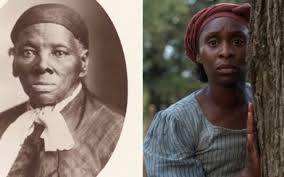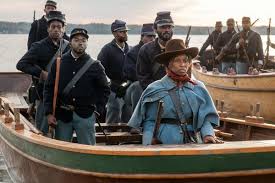 The tenor of the film is more tense than violent following her solo perilous journey. It is rather slow moving and not with a lot of dialogue. Cinematographer John Toll (Iron Man 3, Tropic Thunder, The Last Samurai) shoots so many closeups of Harriet's face as a still blank stare into the camera that we think it loses some of its dramatic power. Seeing how small she appears in overhead shots of her running in the shadows and then in open fields with the sun glowing on her face, you see how impossible her journey must have been 150 years ago. This film shows how she only had the North Star and her quiet strength and determination to guide her to freedom.
Tubman's real name was Araminta, "Minty" Ross. When her sisters were sold to leave their farm in Maryland to work in the deep South, that was her breaking point. The Ross family had been promised freedom when Minty's mother reached the  age of 45 by her landowner. But he died and this heirs didn't honor the promise. Eliza Brodess (Jennifer Nettles) and her son Gideon (Joe Alwyn) are the mean masters selling off Minty's relatives to get money to keep their struggling farm alive. Even though Gideon was not a real person, his character helped flush out what Harriet was up against. 
When Harriet escapes the first time, she gets support from Pennsylvania abolitionist and civil rights activist, William Still (Leslie Odom Jr.). Odom Jr.   plays Still with fire and passion for the cause. He is convincing. Harriet also gets supports from Marie Buchanon (Janelle Monáe) who takes her in. Monae (Hidden Figures, Moonlight) is excellent playing a soft spoken, sympathetic free woman and business owner who plays a major role in Harriet's life. Unfortunately, Buchanon was not a real person but Monáe is able to help fill in some gaps and make the story more interesting through her presence.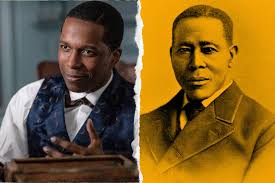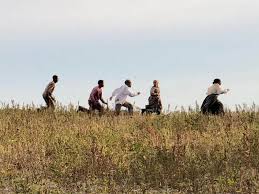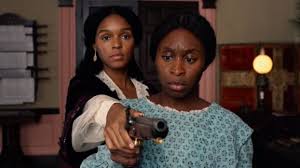 The score and songs in this film added by Terence Blanchard add emotion throughout. Vondie Curtis-Hall (actor and husband of Director Lemmons) plays the Reverend singing two songs. Blanchard also used Nina Simone's "Sinner Man" to good effect when Harriet is being chased by slaveowners. Erivo wrote "Stand Up" for the film and worked with Blanchard to write, "Our Time is Near (Our People are Free)," a more contemporary song,  that plays over the credits. 
Harriet Tubman was, and still is, a female superhero who symbolizes freedom. Lemmons picked a leading lady loaded with talent to play this important American in a film which has been a long time coming. But, this film is really more of a textbook lesson than an emotional heart tugger. Erivo plays Tubman like the photo we know, so serious and stoic, she's practically devoid of personality. And this movie shows that Harriet Tubman deserves to replace Andrew Jackson on the $20 bill.
Focus Features            2 Hours 5 Minutes            PG-13
from Movies and Shakers https://ift.tt/2JCLZpC