This is one subversively funny, sarcastic and unnerving satirical comedy trip into Nazi War-Time Germany. Writer/Director Taika Waititi (Thor: Ragnarok), a self-described Polynesian Jew, walks an artistic tightrope in this venture. And he says Fox Searchlight would only green-light the project if he took on the role of Hitler, himself. 
Waititi uses Christine Leunens' book "Caging Skies" as the source material he takes entirely off the rails. It follows 10 year Johannes Betzler, or JoJo, (Roman Griffin Davis) a quiet Aryan boy, who blindly follows the Führer. JoJo even crafts an imaginary friend and life advisor who is Hitler himself. The ultimate in evil is played with exuberant glee by Waititi who appears and disappears at just the right moments. But his greatest asset is his casting of JoJo. It took four months to discover Roman, who is a real find. Here is this cherubic face with very expressive big, blue eyes spouting Heil Hitler and the party line. He's enthusiastically prepping for Hitler Youth Camp as if he's about to enlist! Archive footage of the massive crowds graphically shows the energetic fervor the Hitler created in the '30's.
But Waititi also makes the boy both gentle and hateful in such an innocent way that we never entirely lose sympathy for him, despite his desire to make Hitler proud. His good buddy, Yorki (Archie Yates) seems to understand Jojo and takes all his bad decisions in stride. They're forced to grow up faster because of the war and Waititi gets laughs showing them in perilous situations that sometimes turn out to be unexpectedly funny. Yorki is given one of the best lines in the film as the Reich crumbles he says, "It's not a good day to be a Nazi."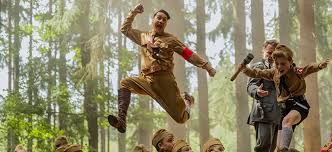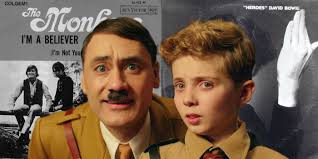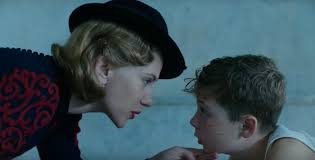 We understand that some people, especially in the Jewish Community, find any attempt to inject humor in a story concerning Nazism offensive. We feel, however, there is a place for this hate-satire to shine a light along with a laugh. Slapstick comedy is used all through the film. A good example is when JoJo, in weapons training, blows himself up with a misplayed grenade. He was trying to show the other boys at camp what a solid warrior he could be after he failed to kill a rabbit to show his blood lust for the cause. 
While it might be easy to laugh off the nincompoop Nazis as knock-off Hogan's Heroes  characters, Waitiki uses satiric comedy as counterpoint to the deepening darkness of reality in a totalitarian state. It's not hard for Waititi to portray the Nazi's as bumbling incompetent idiots, especially in weird one-eyed war officer, Captain Klenzendork (Sam Rockwell) or the menacing Gestapo agent (Stephen Merchant). Rockwell, fills the bill well  as Waititi's pompous and ridiculous foil. Rebel Wilson plays the familiar, clueless, off-kilter character we've seen in other films. But the director has them playing with ardent seriousness just like the rest of the Nazis in town.
JoJo's delusional devotion to the Nazi leader doesn't entirely hide his inner gentle soul in spite of Waititi's Hitler constantly goading the boy into making bad decisions, the simplest of them consistently refusing the Führer's offer of cigarettes to the 10-year-old. And fortunately, Jojo's brainwashed darker impulses are countered by his mother. Rosie (Scarlett Johansson) is a warm, loving presence who happens to be hiding a teen-age Jewish girl, Elsa (Thomasin McKenzie) in a secret room in their house. Rosie is secretly active in the resistance, but she keeps Elsa's existence from her son for fear he will turn her over to the authorities and get them all in trouble. Johansson shows a hard-edged tenderness  in this role, in contrast to some of her MCU appearances, but shows her strength in a different way. She keeps it light with her son and their relationship is charming.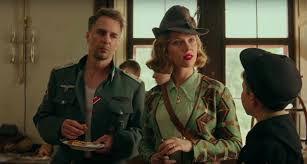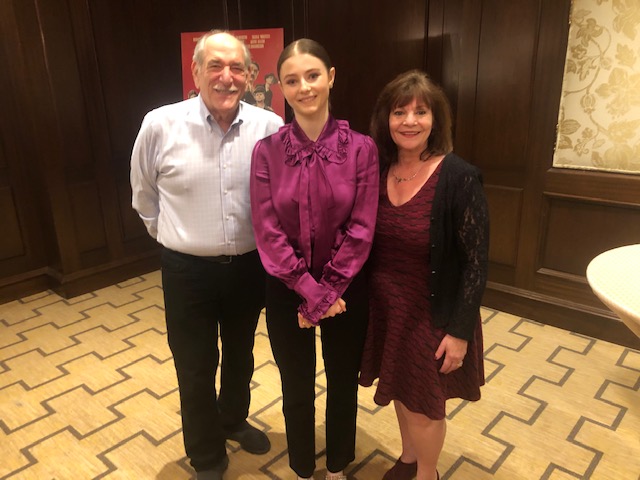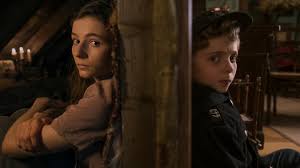 When Elsa and Jojo actually do meet, there is trepidation on both sides. McKenzie speaks softly, but shows a great deal of inner strength and confidence for a young girl in her situation. She tolerates Jojo, for the most part, knowing that he must be very confused. His beliefs are so different and dangerous compared to hers. 
As Jojo develops a bond with Elsa and the net closes on Rosie's resistance activity, the young boy is beginning to learn about love and kindness. But Jojo also finds himself caught between two worlds that can never find middle ground. Ultimately he must make a choice.
One of the most terrifying moments in the movie is where Thomasin McKenzie shines the brightest. When Elsa faces down the Gestapo, she's cool and inventive under pressure. We can sense the fear, but she never cracks. McKenzie is so convincing, it gives Jojo the strength to keep up the ruse which changes their relationship. 
Comedy can be serious, especially when it comes to war with the Nazis. His storytelling style has been compared to that of Wes Anderson, with a touch of Mel Brooks and The Producers thrown in. Waititi's goal is to wake people up so they become more receptive and aware about what's going on around them before it's too late. What is unspoken is how relevant some of the themes of this movie play on today's world stage. As the war comes to an end, Jojo, too, realizes what's really going on. That's why we recommend you hop on over to catch JoJo Rabbit. 
Fox Searchlight Pictures           1 Hour 48 Minutes          PG-13
from Movies and Shakers https://ift.tt/2NeqEnm