Beautiful! Brutal! and Brilliant! This Korean comedy thriller is more like two films in one. Director Bong Joon-Ho (Snowpiercer) has carefully thought out this clever take on the haves and have-nots that we'll call US Plus! It begins as a funny drawing room comedy that switches pretty abruptly to a horror-fying turn of events. It won the Palme d'or at Cannes this year, the first South Korean film to do so. Yes, there are subtitles. Not only are they helpful, but they disappear after awhile because the acting and visuals tell as much of the story. 
The cinematography by Hong Kyung-pyo is magnificent, including the scenes with streams of natural light into the home of the haves, as well as the eerie dark lighting in the recesses of the basement. The director's split second timing of people moving around that architecturally amazing home will make you stop breathing. Just when you think everything is going along smoothly, director throws a clue, then another and then a sharp curve. 
One of Bong's favorite collaborators is actor Song Kang-ho. His dead pan face helps the plot throughout never letting on what's about to happen. He is the Patriarch of a piss poor family who seize an opportunity to create a better life for themselves by lying about who they really are. They use high-tech photoshop skills and role playing to slyly and cleverly replace the servants who take care of a wealthy family.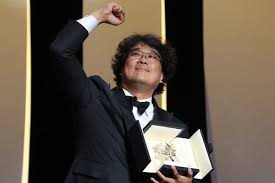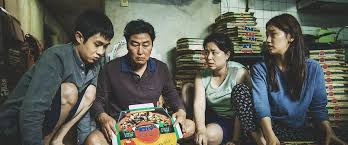 First the son Ki-woo (Choi Woo-shik) gets a job as English tutor to Da-Hye, the daughter of a rich family. He does this as a favor to his best friend who is going away for the summer. Ki-woo makes way for his sister, Ki-jung (Park So-dam), to become an art therapy instructor for the rich family's younger son, Da Song. They're on a roll. His Dad, Song Kang-ho replaces the family's driver, and his mom, Choong-sook becomes housekeeper in chief, replacing Moon-Gwang. 
It's amazing how trusting is the rich wife, played by the beautiful Cho Yeo-jeong. She seems so carefree except for her concern for her young son. 
The smart, big money-making handsome hunk of a husband is a little wary, but seems to enjoy the quirkiness of his new driver. The rich family seems to be happy with the situation until their old housekeeper comes back to get something out of the basement which has been turned into a bunker hiding something that abruptly changes everything. There's so much more to this epic story. Who is going to smell a rat first? 
Fast talking and calculated movement keeps their little secret even though there are some gasp worthy close calls. They result in some very funny moments in addition to subtle statements on the current state of society. That's when the poor family finds out what the old housekeeper is up to, and vice versa, turning the film on its head taking an abrupt, frightening and gruesome turn. This is not a film for the weak or faint hearted. What is sweet and interesting as the poor family infiltrates the mansion becomes shocking. This is not just a story about trading places or lifestyles. It becomes a mystery that unravels with gruesome consequences.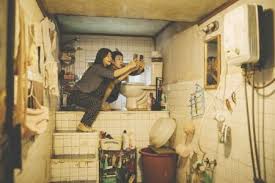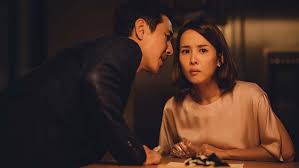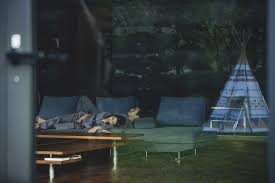 Boon Joon-ho uses clever tools to enhance his intricate plot keeping you interested every step of the way. And just for good measure, he throws in visuals of extreme flooding in the poor family's basement apartment to add to the mayhem. There is even a funny scene involving the rich couple getting sexy on the living room couch while the poor family gets to hear their groans hiding under the coffee table next to them. It's well played and edited. 
The cinematography in this film is literally, to die for, in this perfect architectural setting. The actors create believably perfect characters manipulated well by the director. It's a fascinating story, if you can tolerate the ending. The director knows just how to create brutal images that make an impact.
When all is said and done, you might even question who's side you're on? Will you be rooting for the poor family or the rich one? We're on the Director's side for his masterful handling of this dark comedy with a blatant message about class warfare. Just know that this fairy tale ends horrifically ever after. 
Neon       2 hours 12 minutes          R
from Movies and Shakers https://ift.tt/2N3tM5E