Eddie Murphy is back and a riot in a role as a smiling, potty-mouthed entrepreneur with style and chutzpah! He plays Rudy Roy Moore, the raunchy stand-up comedian, rap and blaxploitation movie pioneer who used it all to become a success in the 1970's.
Director Craig Brewer (Hustle and Flow) loved Moore's "glorious flaws" and makes this one fun film showing them off. Emmy and Golden Globe-winning writers Scott Alexander and Larry Karaszewski (Ed Wood, The People vs. O.J. Simpson and working on Coming 2 America) had fun putting words in Murphy's mouth. The  secret to Moore's success is that he stole what made others a success and came up with his own way of working on a persona. In this case, he becomes Dolemite! That's right up Murphy's alley. His talent is the ability to morph into any character and looks like he's having a ton of fun playing Moore in this film.
The film shows how Moore, working in a record store, saw Moms Mabley, Redd Foxx and Richard Pryor's filthy comedy records flying out the door and decided to make and market some of his own. Wrapped in brown paper, they were attractive to raunchy comedy fans. Moore is even credited with the first rap as he imitated his idol, Mohammed Ali, rhyming tropes like " Float like a butterfly, sting like a bee." Of course, Moore's fast-talking was filled with obscenity flashing a big, bright smile.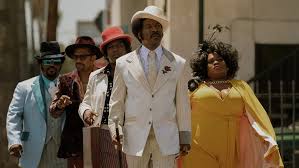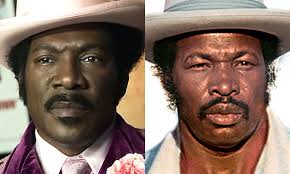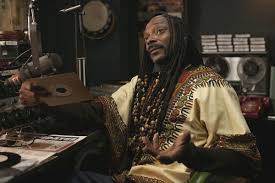 Murphy carries well the flashy outfits topped with fedoras and a big bow tie to show off Moore's success as he keeps recreating his bad self. Costume designer, Ruth E. Carter (Oscar winner for Black Panther) comes up with some crazy looks for Murphy to strut Moore's stuff. Assorted Afro hairstyles of the '70's complete his look. And the dresses are sleek and silky for the ladies. 
Moore liked sexy, crime-based action movies and kung fu and decided to make himself the leading man in one himself. The scene where Murphy talks about how he's going to act showing off what he thinks are kung-fu moves will crack you up. Moore took the money he earned from his stand-up comedy tours to bankroll his first raunchy, bloody, action movie. 
Moore hires a writer(Keegan-Michael Key) to write his alter ego starring role as a pimp coming out of prison who wants revenge on his enemy. He picks up a zaftig, side kick who is an ex-backup singer named Lady Reed played by DaVine Joy Randolph. Randolph is a full-figured actress who has a Masters from the Yale School of Drama. She's also Tony nominated  and is a trained opera singer who plays very fine with Murphy in this role. No doubt you'll be seeing more of her. 
Brewer really shows what Moore was able to do as a filmmaker. You see him scrambling with a make shift cast and crew, setting up scene after scene to shoot in a dilapidated hotel. Some of the best takes are from Wesley Snipes as D'Urville Martin, the director of Moore's first Blaxploitation masterpiece. After each ridiculous scene, he looks at the camera with a dead-pan expression of befuddled confusion that is very funny. Credit to Murphy for hiring Snipes whose career had been halted by tax and legal problems. 
Moore's first film became such a big hit, ($58 million in today's dollars), that he made six more Blaxploitation films! You could compare it to "The Room" or "The Disaster Artist." They were all bad, not in the good sense, but became popular nonetheless.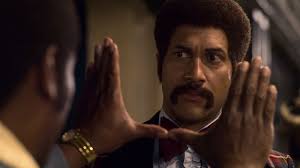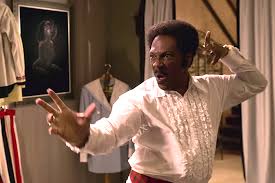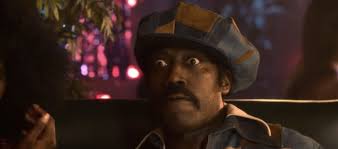 You can tell Murphy had a good time making this film, every time he flashes that big smile. It is the perfect comeback for him having fun playing off Craig Robinson, Keegan-Michael Key, Chris Rock, Snipes and especially in scenes with Snoop Dogg. Snoop actually gives the real Moore credit for influencing his own style.  He says that if there were no  Rudy Ray Moore, there would have been no Snoop Dogg. 
Brewer likes stories about the underdog and this is no exception. Moore wanted to be somebody and he was a gutsy pioneer who knew how to tap into his own outrageous, obscene talent. Murphy gives Rudy Ray Moore plenty of personality in a perfect role for this talented actor. Dolemite is dynamite and because of Eddie Murphy, his name you'll remember. 
Netflix/Davis Entertainment          1 Hour 57Minutes               R
from Movies and Shakers https://ift.tt/2nPZHh8