This sequel to the successful 2014 Maleficent is bigger, but that doesn't mean better. Unfortunately it's filled with over-blown battles, predictably flat dialogue and feeble attempts to create too many cute CGI characters Disney can sell in its stores. Finnish director, Joachim Rønning, and writers Linda Woolverton, Michael Fitzerman-Blue, and Noah Hapster make this tale much darker. They introduce multitudes of social issues and battles while introducing so many characters that there isn't a lot of room for emotional connection. 
This story doesn't build on the original, but reimagines that fairy-inhabited magical forest of the Moors. This is where there are pixies with prickly porcupine spikes, little mushroom people and huge walking trees who appear to be Groot knock-offs from Guardians of the Galaxy who all live in harmony. Ruling over this happy land is the beautiful, good Queen Aurora (Elle Fanning) of the Moors. That's right, she's Sleeping Beauty. But Aurora's godmother, Maleficent, (Angelina Jolie) is who grabs your eyes and won't let go with her stylized cheek-bones and stark make-up, satanic horns and giant wing-span.
The first chapter concerns Aurora and her love, the handsome, but somewhat dull Prince Philip of Ulstead (Harris Dickinson replaced Brenton Thwaites from the first film). When he proposes, the prospect of happily-ever-after is mixed with the political possibility of peace between fairies and humans who have had a contentious history. 
Maleficent reluctantly agrees to accompany Aurora to dinner with the prospective in-laws at their magnificent castle. It's fun watching Maleficent try to put on a happy, polite demeanor for the banquet and even force a smile through her clenched teeth and the stark, and the new shade of dark red lipstick than was in the original film. But Philip's mother, Queen Ingrith (Michelle Pfeiffer) has other plans for the evening. Ingrith is every bit as strident as Maleficent. She prods and goads her rival until she can't take it anymore.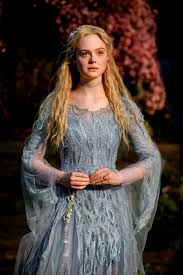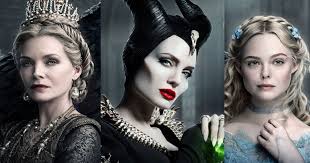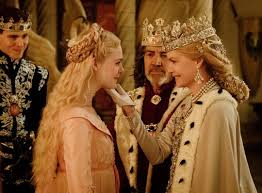 When Maleficent blows up and demolishes the banquet hall, an evil plot is put in motion. During all this chaos, Philip's father, King John (Robert Lindsay), suddenly collapses. Ingrith insists he's fallen under a her rival's curse and demonizes Maleficent and the fairies of the Moors as the enemy.
Michelle Pfeiffer also steps up to play a memorable villain. She is both cruel and scheming and finds ways to fuse old and new fairy tale elements. You have to appreciate her steely-eyed gaze and calm, soft, menacing tone. Plus, Michelle Pfeiffer's Queen Ingrith may be the best dressed villain in Disney history. Her opulent pearl and diamond studded dresses are meticulously tailored and impressive. Pfeiffer as Ingrith is outrageously beautiful and just as calculating.
Jolie's Maleficent is not evil, but due to her horns and wings she's perpetually misunderstood, allowing her enemies to poison opinion against her. Sam Riley is back as the Raven/Human Diaval. He serves as Maleficent's sidekick and conscience and does well playing both. 
This film introduces another line of fairies with horns and wings, the Dark Fay, a proud species she never knew existed but to which Maleficent is also belongs. Chiwetel Ejiofor and Ed Skrein are the leaders of the Dark Fay taking opposing positions on whether or not to wage war against the humans.
This is where Maleficent:Mistress of Evil veers into politically pointed territory including feminism, racial prejudice, racial profiling, war, even genocide. The scene where Ingrith's stone-faced, robotic, red-haired henchwoman, Gerda (Jenn Murray), plays a deadly organ concerto in the chapel is the most frightening moment in the film. It's up to the adorable trio of fairies we loved so much in the first film to come to the rescue. But these beloved fairies are terribly underutilized.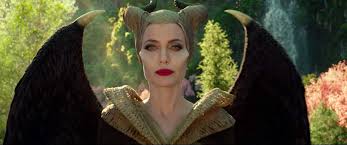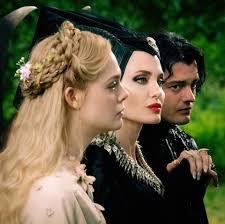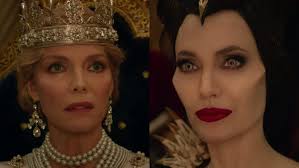 While we appreciate the effort to use the Disney platform for important issues, there's so much jammed in here that the message gets lost. There is too much going on with all the explosions and loud, dramatic score and the over-reliance on computer effects, red biochemical bombs bursting and sweeping overhead shots to intensify the action. Some of the dragon-like creatures are even reminiscent of Game of Thrones. Disney packs in old with the new with the spinning wheel from the original Sleeping Beauty making an appearance.
Despite all of the action and distractions,  it's hard not to be won over by Jolie's portrayal of Maleficent as a multi-faceted woman of power with a strong compassionate element as well. She began as the wicked witch and has morphed into a caring, loving mother-figure to Aurora. There are moments where she is seen as vulnerable and very feminine when she drapes her wings around herself like a comforting robe. It's very much in contrast to the avenging warrior she becomes in the final act. This jumbled, effects-heavy, epic breaks the fairy-tale prime directive: keep it simple.  But kids seem to be able to handle darker storylines now. Like most sequels, this one isn't better than the original, but it is a huge action adventure with powerful women that can tug at the heart. Is there a happily ever after? What do you think. 
Walt Disney Pictures            1 hour 58 minutes         PG
from Movies and Shakers https://ift.tt/31nfLog