This film is a long, flawed piece of art, but it still manages to hold attention. Despite the poignant performances, from young and older actors, piecing it together becomes somewhat of a tiresome exercise by the end. 
Translating a 748 page 2013 Pulitzer Prize winning book by Donna Tartt into a 2 and a half hour movie is no easy chore, especially with so many characters in this heavy melodrama. Director John Crowley follows the path set out by the book which had plenty of time to work on the page, but his vision is confusing on film. A terrorist bombing in an art museum sets the plot in motion, but the rest of the movie moves at a deliberately slow pace.
13-year-old Theo Decker is in the Metropolitan Museum with his mother when a bomb blasts through the gallery where he's looking at 17th century Dutch painter Carel Fabritius', The Goldfinch.  His mother who had already moved on to the next gallery, is killed. Theo makes off with the painting which is his only tie to his mother and the secret that becomes the focus of the story. 
Theo, abandoned by his alcoholic father, is taken in by the family of likable school friend, Andy (Ryan Foust.) He looks shell-shocked, afraid to show emotion. Nicole Kidman plays Samantha Barbour, Andy's Mom, and becomes Theo's compassionate mother figure. Kidman and Oakes both show sensitivity and trepidation through very subtle facial movement. She never gushes, but she has a heart big enough to love this child right along with her own. Her quiet demeanor hides the emotional distress she carries in her relationship with her schizophrenic husband.  Fathers are not good guys in this film. She offers him pills to help him sleep to fight off his nightmares and drugs play a part throughout the rest of the film.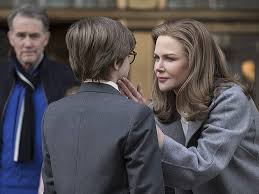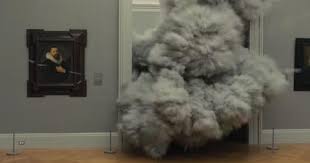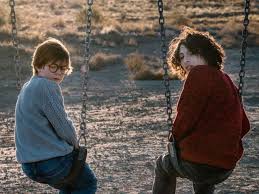 Just when Theo might become a part of this family, Theo's absent father (Luke Wilson) shows up with his gum chewing wife, Xandra. Sarah Paulson is just miscast in this role and wasted in more ways than one. Wilson plays the belligerent father and conman who takes Theo to live with him in Las Vegas. Director Crowley and Cinematographer Roger Deakins show the vast contrast between the big city and his new home in the desert using overhead shots to expose miles of beige sand and beige homes below. It's just as bland and dusty on the ground. 
Roger Deakins' cinematography (Blade Runner 2019, Skyfall, True Grit) is beautiful. He skillfully details the explosion, which looks similar, and he admits, is patterned after those in his previous films. This film is basically character driven, but Deakins enhances with closeups on their faces when there is little change in expression. His work also shows great contrast between three cities affecting the character's lives in the story. You see sophisticated and colorful New York City, the bland desolate desert around Las Vegas, then picturesque Amsterdam in what almost seems like watching three separate movies.
In Las Vegas, Theo meets another lost boy who puts in a thoroughly engaging performance. Exuberant young Boris is played by Finn Wolfhard  (It and It Chapter Two, Stranger Things).  At first it was hard to accept the Russian accent coming out of Wolfhard, but he won us over with his enthusiasm as a drug-fueled friend for Theo. The scene looking down on them bonding by the side of a swimming pool in the dark is a good buddy scene.
Another traumatic loss for Theo and an outburst from Xandra cause Theo to run to New York where Hobie, played by Jeffrey Wright in a powerful performance, serves as another lifesaver for Theo. He takes the boy in and basically raises him, teaching him the art of restoring and selling fine antique furniture. Hobie is patient, opening his home and heart unconditionally.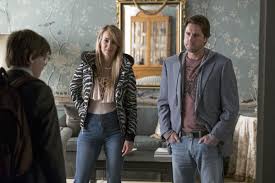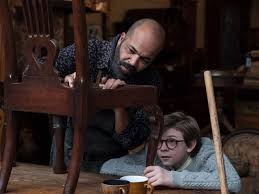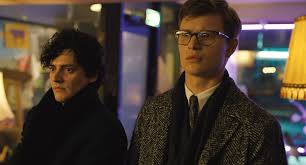 Ansel Elgort (Driver, The Fault in our Stars) plays Theo as an adult. He is a more than competent actor. Here, he is less expressive and even when he finally loses composure, it's not enough. Theo is still morose over the loss of his mother and the The Goldfinch painting is his only tie to her. When something happens to the secret he has been holding onto for all these years, we expected more of a reaction. 
In the end, Theo meets up with just about every living person from his past. Even Boris as a grownup! Boris (Welsh actor, Aneurin Barnard – Dunkirk) is just as much fun in his adult version. His exuberance stands out against Theo's sophisticated and sedate persona. He gets Theo involved in his international drug business. They end up in Amsterdam and then back in New York over a bad drug deal with consequences. 
Tying up the loose ends of this film is a major project. Theo goes full circle meeting up with those he knew as a child. The third act tries to make all the pieces fit. There are some continuity problems, especially when one character gets shot but doesn't seem to be hurt in the next scene. Director Crowley's efforts to tackle this complicated work, Deakins' beautiful cinematography, and the performances of Oakes, Kidman and Wright draw you in to care about Theo's journey. Despite a great effort, we found this film confusing, convoluted and contrived. 
Warner Bros.        2 hours 24 minutes          R
from Movies and Shakers https://ift.tt/2USDKdi