Jason Sudeikis is in the driver's seat throughout this film, not necessarily in a vehicle.He drives the comedy as well as the drama in every scene spouting high speed dialogue. It's based on real events in the early 1980's about a renowned auto designer for General Motors (GTO, Firebird, plus), and eccentric inventor. It was John DeLorean's dream to build the ultimate vehicle carrying his own name. Lee Pace, (Captain Marvel, Guardians of the Galaxy, The Hobbit series) plays the intimidating, scheming dreamer who wants to build a revolutionary machine at all costs. And this film shows how it cost him dearly. 
Pace gets to do heavier drama with a confusing but seething characterization trying to keep DeLorean a man of mystery. Pace plays DeLorean as unbalanced as the man was purported to be.
Sudeikis plays Jim, who's been busted for flying in drugs and is forced to out his drug dealer. He is set up in a house next door to John DeLorean and his wife. He gets involved with his neighbor against the pleas of his excitable but level-headed wife, Ellen (Judy Greer) to steer clear. But they become friendly. 
Delorean is living the high life and Jim is out of his league. He's even having trouble paying the mortgage. Jim has big dreams, too, but seems to be good at screwing things up by talking too much. Sudeikis handles the non-stop banter with eyes flashing back and forth, constantly trying to defuse with comedy, defending his recklessness to everyone, especially his wife.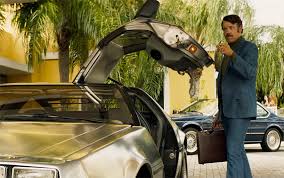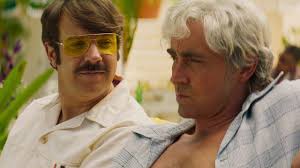 In spite of his nervous behavior, you want to like him and you feel sorry for him. He just wants to be successful and he really does love his family. He's a pilot and uses that skill to be a drug runner and he got caught. He is forced to become an FBI informant under the thumb of Special Agent Benedict Tisa agent played by Corey Stoll (First Man, House of Cards and The Good Wife TV series). His job is to catch DeLorean using drug money to finance his business. 
Delorean is one messed up dude and you find out later in the film why. He has control issues. It's always got to be his way is the highway, whether he's driving or not. He's demanding, rude, and self-centered. His wife, Christina (Isabel Arraiza)  seems to live in fear, jumping to his orders.
The film is played like a TV crime story. Even though Sudeikis, as Jim, talks at max speed, the story proceeds slowly bouncing from Sudeikis on the witness stand to his relationship to DeLorean and the web it created. Corey Still is essentially is the loathsome FBI agent who doesn't really care about Jim or anyone else. All he cares about is getting another conviction.
Director Nick Hamm and Writer Colin Batemen teamed up again (The Journey). The camera work is pretty straightforward, although the most visually arresting scenes are the party scenes in DeLorean's mansion.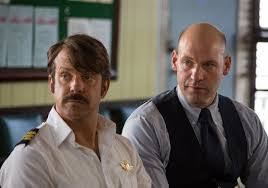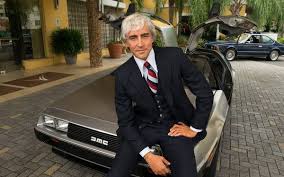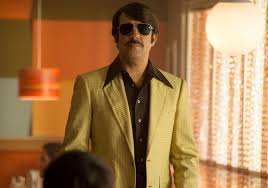 Batemen sure puts a lot of words in Sudeikis' mouth which he delivers rapid-fire throughout. Sudeikis as an appealing con man gives an impressive performance in a movie that's uneven. Judy Greer grabs the scene whenever she's on camera. She's the loving wife who is well aware of Jim's shortcomings and of his continually putting the family in harms way. 
Credit to the  Director and the Production design team for the early '80's  details, especially for the costumes, hair and makeup. And for the disco music of that era, including Get Down on It, Boogie Oogie Oogie, Full Tank, Funk Drive. At times, the film devolves into a kind of TV court drama, even including a periodic musical stinger a la Law and Order.
A credit at the end of the film thanks everyone for working under difficult circumstances. The film was shot in Puerto Rico during Hurricanes Irma and Maria. 
Sudeikis shines with both his comedy and drama in a less than stellar movie. It has a great cast who tell an interesting story that gets a bit bogged down in the details. Even though the DeLorean car was a clunker, you may want to take this film for a spin. 
Universal Pictures 1 hour 48 minutes        R
from Movies and Shakers https://ift.tt/317aLVy