If you saw the first IT from 2017, based on Stephen King's 1986 novel, this is much more of the same, actually too much more. Flashbacks from the original fill out the film, but that's still no reason to make this It almost 3 hours long. Brought back together in their Derry, Maine hometown, you follow each character as a kid and then as the adult they've become.
The return of the young actors who comprise the "Losers Club" shows again how director Andy Muschietti and writer Gary Dauberman worked with an ensemble cast that deserved all the praise and box office cash the original It raked in. Dauberman apparently felt the need to follow each character as child and adult. It just takes too long.
Pennywise (Bill Skarsgård) is back on the prowl looking for revenge and comes up with some creative ways to taunt his old targets, as well as some of the young kids in town now. A very disturbing scene opens this film before the opening credits. It's the brutal beating of a gay couple by Derry townies that sets the scene. The scenes are not only graphic, but it's interesting that a big Hollywood studio left it in. Pennywise uses this hate to fuel his return. And we're off and running.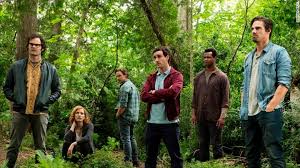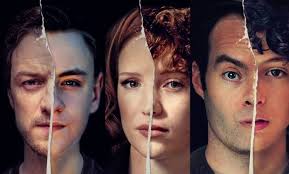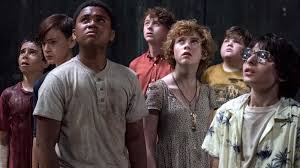 James McAvoy is earnest as the still stuttering Bill Denbrough who writes horror novels and can't seem to write a good ending for his books, one of which is being made into a movie starring his wife, Audra (Jess Weixler). Jessica Chastain puts in a strong, stoic performance as Beverly Marsh. We called it after seeing the original. She had to play Bev grown up. She was a young rebel who is now a high powered designer trapped in an abusive marriage to Tom, (Will Beinbrink). She is still strong-willed. Jay Ryan as Ben Hanscom has gone through the greatest transformation from child to adult. He was the fat kid who has become a hunk of a famous architect.
Bill Hader is a standout as Ritchie Tozier who turned his sassy wisecracking into a stand-up comedy career. He's scruffy, disheveled and alternates between hilarious and heartbreaking. James Ransone as Eddie Kaspbrak is an insurance risk management expert who naturally over-analyzes his situation. Isaiah Mustafa's Mike Hanson is the only "Loser" who remained in Derry. He's the town librarian and because he stayed his memories are still clear concerning Pennywise. He sees that there's something going on now that is too much like what he and his friends, "The Losers" had to deal with long ago.
Flashbacks from the original include young "Loser" Jaeden Martell (Bill), Sophia Lillis (Bev), Jeremy Ray Taylor (Ben), Finn Wolfhard (Richie), Jack Dylan Grazer (Eddie), Chosen Jacobs (Mike), Wyatt Oleff (Stanley).
In this conclusion the adults have to face violent dreams turned into the reality of fighting their ultimate clown/demon, Pennywise, again. The kids swore a blood oath 27 years earlier to band together to defeat Pennywise if he ever returned. It's time to honor that oath.Is the scary clown Pennywise active once again. The childhood friends are now 40-something adults who have left Derry and the frightening events of their youth far in the rear view mirror. They hardly know each other and are dealing with their own grown-up demons. Stanley (Andy Bean) can't bring himself to return.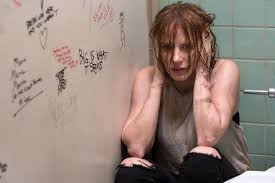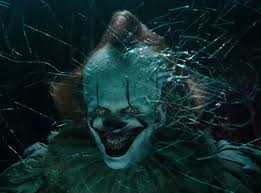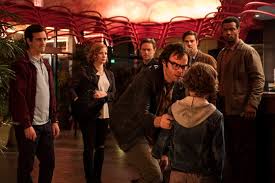 Each of the adult "Losers" has to face their fears. There are a couple of moments that will make you jump. The rest will make you squirm. There are gross, distasteful, scary scenes and chases, but only a couple that will get you out of your seat. When Bev decides to revisit where she lived with her Dad, she's invited in by the creepy old woman who lives there now. There is great tension and foreboding by the way their movements are shot in shadow. Look out!
The special effects are so frequent and over the top that they begin to lose their effectiveness. The lighting or lack thereof on Pennywise's entrances and exits help set a scary tone, but not enough. There are all kinds of creatures, big and small, and plenty of red balloons floating around to herald what's coming. The sets get more and more elaborate. There always seems to be a fun house with someone caught in a room full of mirrors. But look for Stephen King and a famous director to make cameo appearances in this film. That was fun.
The film starts with an effective message about homophobia, but ends with a tepid one about bullying. Muschietti shows the "Losers" battling their fears in a juvenile and simplistic way. There are a couple of terrifying moments, but overall, we were disappointed. Like author Bill's character having the lack of a good ending for his movie, this one isn't much better.
Warner Bros. 169 Minutes R
from Movies and Shakers https://ift.tt/34qGa7G