Comedian Jillian Bell runs into the spotlight showing dramatic as well as her quirky comedic chops as the least likely woman to run a marathon. This is Writer Paul Downs Colaizzo's directorial debut based on the trials and tribulations of his best friend in his 20's who turned her life around through running. But this film is much more than that. His approach is inspiring but also realistic.
Prosthetics were used to bulk up Jillian Bell to show what Brittany was up against. But Bell actually lost 40 pounds pounding the pavement while making this film. Brittany is a rudderless party animal who tries to get her doctor to give her Adderall for fun. But the Doc (Patch Darragh) gives her a dose of reality instead. Healthy diet and exercise.
Brittany is lost and needs to not only find herself, but a way to like herself. Her self-deprecating humor will make you laugh but it's sad. And there's plenty of body shaming coming from all sides that's funny and heartbreaking at the same time. This is where Bell and the director both shine, as they show Brittany's classic clown character laughing on the outside but crying on the inside. Her emotional support comes from her sister Shannon (Kate Arrington- Ray Donovan, Elementary TV series) and brother-in-law Demetrius (Lil Rel Howery – Good Boys, Get Out)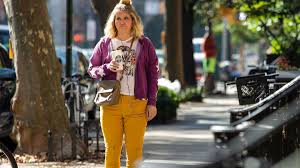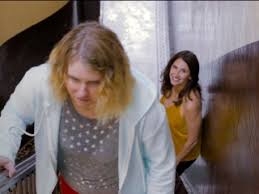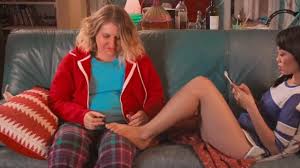 Frustrated and angry at the world, she hates her skinny exercise freak neighbor, Katherine, (Michaela Watkins – both excellent together in Sword of Trust). Brittany half-heartedly tries to find a way to exercise, but with no job, and no money, expensive health clubs are not an option. So she slowly takes to the streets with Seth (Micah Stock – Bonding TV Series, Life Itself) and the three become close and a real team.
Seeing Brittany struggle trying to just make one block is pathetic. Colaizzo shoots Bell as Brittany from all angles, huffing and puffing as others fly by. And you really get a sense of the pain she endures using those muscles that have been dormant since childhood.
Bell has a great sense of comedic timing, which she uses delivering just the right amount of pathos as well as the funny stuff. Her attempt to find a job as a Nanny, telling the prospective Mom/boss that she sat for Joe Biden's kids, is a case in point. But she hits the jackpot being a dog walker for a wealthy family who never comes home. But they have another dog walker who is there all the time. Jern (Utkarsh Ambudkar-The Mindy Project, Pitch Perfect, Barber Shop) is a gem. He's very laid back and has no problem letting Brittany stay at the same time he's staying at this NYC palace. She's as white as they come and he's brown. They're both smart asses. As they spar, they get to know and, even like each other. It's an unusual pairing,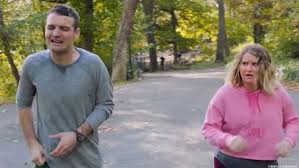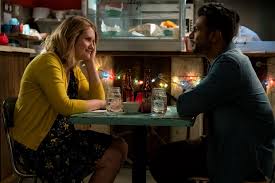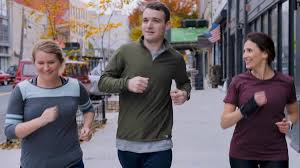 The scenes where Brittany is taking account of her body with periodic weigh-ins show how she's making progress. You start to root for her, especially when she decides, along with her running mates, to run the marathon. The charm of this movie is that you really care for these characters and the friendships they've made. When it turns more dramatic about Brittany's self-discovery process, the film doesn't lose you. There is an honesty to the push and pull to these relationships.
You'll see whether Brittany runs the marathon and stick with it to the credits to see the real Brittany O'Neill the movie is based upon. An excellent first feature for Writer/Director Paul Downs Calaizzo, this film follows a young woman's journey to gain confidence and self-respect by taking responsibility for herself. But more important, this film makes Jillian Bell a star we think will be in it for the long run.
Amazon Studios 1 hour 43 minutes R
from Movies and Shakers https://ift.tt/347tQcd